Free NBA Picks: Saturday, Feb. 24, 2018, Opening Line Report and Handicapping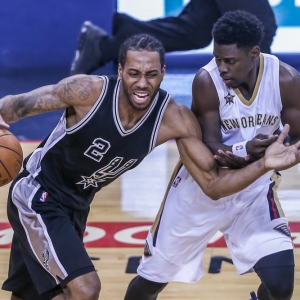 For the past 20 years, the San Antonio Spurs have been the NBA's model organization. They have won five titles in that span, made the playoffs every year and won at least 50 games each of the past 18 years - they probably would have all 20 if not for the 1998-99 lockout. The 50-win streak could end this year and the Spurs might be done as we know them because of this unusual Kawhi Leonard situation. Leonard had been limited to nine games this season and not played since Jan. 13 with something called right quad tendinopathy injury. I don't know what that means but do know that Leonard has been medically cleared to play. Yet, Leonard hasn't yet because he doesn't want to, and Coach Gregg Popovich admitted this week that his superstar might not all season. In one regard, that's weak of Leonard as his team is paying him around nearly $19 million this season. On the flip side, Leonard is still young (26) and can become a free agent after next season. He shouldn't ruin his career if he doesn't feel right. There have been some reports of discord, however, between Leonard and the franchise. It used to be unthinkable that Leonard, a quiet guy who likes the low-key atmosphere around the Spurs, would ever leave San Antonio as a free agent. It's not so unthinkable now and you know the Lakers will put the 2019 full-court press on the L.A. native.
Magic at 76ers ( -8, 218)
A 5 p.m. ET tip from the City of Brotherly Love. The Magic were rare home favorites Thursday but lost their fourth straight, 120-113, despite the returns of Aaron Gordon and Nikola Vucevic from injuries. Orlando had 69 first-half points and just 44 in the second. Vucevic had 19 points and six boards and Gordon nine points and five rebounds. Philadelphia won its sixth in a row Thursday, 116-115 in Chicago. Ben Simmons scored a career-high 32 points, making two free throws with 5.6 seconds left for the win. Joel Embiid had 30 points and 13 rebounds. Orlando has won 14 of its past 18 trips to Philadelphia, but those 76ers teams were terrible and Philly won this season's first meeting there, 130-111 on Nov. 25. J.J. Redick scored 29 points, including 8-for-12 from three-point range.
Key trends: The Magic are 1-4 against the spread in the past five meetings. The "over/under" is 6-1 in the previous seven.
Early lean: 76ers and over.
Grizzlies at Heat (-7.5, 196)
Miami was in New Orleans on Friday night and Memphis hosted Cleveland. The Grizz are in full tank mode, so it wouldn't shock me if Marc Gasol sat out the second of a back-to-back under the guise of a minor injury. Miami won easily in Memphis on Dec. 11, 107-82. The Heat, without an injured Hassan Whiteside, shot 65 percent from the field while outscoring the Grizzlies 62-40 in the second half. Gasol was just 5-for-14 for 16 points.
Key trends: The Heat are 5-1 ATS in their past six in the second of a back-to-back. The over has hit in six straight Saturday games for Memphis.
Early lean: Heat and over.
Celtics at Knicks (+4.5, 206)
Boston was in Detroit on Friday. New York ended an eight-game losing streak and also won for the first time since Kristaps Porzingis' season-ending injury on Thursday, 120-113 in Orlando. Trey Burke scored a season-high 26 points. Former starting point guard Jarrett Jack was a healthy DNP-CD as the Knicks are looking at younger guys the rest of the way. This is the final meeting between these teams. Boston leads 2-1 with the home team winning all three. With a win, the Knicks would secure at least a tie in the season series for the first time since the 2013-14 season.
Key trends: The Celtics are 5-2 ATS in the past seven meetings. The under is 8-3 in the Knicks' past 11.
Early lean: Knicks and under.
Thunder at Warriors (-9.5, 233)
The ABC Saturday night prime-time game. The Thunder won their second in a row but didn't exactly play great Thursday in a 110-107 victory in Sacramento. Russell Westbrook hit a buzzer-beating 3-pointer off an inbounds pass. OKC had blown a 23-point lead. Westbrook had 17 points, 15 rebounds and 11 assists for his 18th triple-double of the season - he was only two turnovers shy of an unwanted quadruple-double. Golden State beat the Clippers on Thursday, 134-127. Steph Curry had 44 points on 14-for-19 shooting. The Warriors are now 7-1 this season in the next game against an opponent after losing the first meeting The Thunder have to be mega-confident already against the Warriors as Oklahoma City has routed the Dubs twice this season, including Feb. 6 in Oakland.
Key trends: The Thunder are 1-5 ATS in their past six in Oakland. The under is 7-1 in the previous eight meetings.
Early lean: Warriors and under.
Bulls at Timberwolves (-11, 219.5)
Could be a letdown game for the Wolves after visiting Houston on national TV Friday night. The Bulls blew a five-point lead in the final minute and lost 116-115 at home to the 76ers on Thursday. Former starters Justin Holiday and Brook Lopez were both DNP-CD with younger players David Nwaba and Cristiano Felicio taking their spots. The latter didn't do much but Nwaba had 21 points. Bobby Portis had a career-high 38 off the bench. Minnesota was upset in Chicago in Jimmy Butler's return to the Windy City on Feb. 9, 114-113. Zach LaVine scored a season-high 35 points against his former team as the Bulls rallied from 17 down. Butler had 38 points.
Key trends: The Bulls are 2-9 ATS in their past 11. The over is 4-0 in the Wolves' past four at home.
Early lean: Bulls and over.
Trail Blazers at Suns (+6.5, 220.5)
If Portland were to end Utah's 11-game winning streak on Friday night in Salt Lake City, bet big on the Suns here even though they also played Friday, hosting the Clippers. The Blazers go for the four-game season sweep, winning each by at least seven. We got a glimpse of the year awaiting Phoenix when it was destroyed 124-76 at home by the Blazers on opening night. That was the worst loss in franchise history.
Key trends: The road team is 5-1 ATS in the past six meetings. The over is 5-2 in the previous seven.
Early lean: Blazers (unless Friday upset) and over.
Mavericks at Jazz (-8.5, 206)
This has the potential to be a huge letdown game regardless for Utah, whether it wins a 12th straight Friday vs. Portland or has that long winning streak end. Dallas was at the Lakers on Friday. Two excellent rookies and Slam Dunk Contest competitors here in Utah's Donovan Mitchell (he won the Dunk Contest) and Dallas' Dennis Smith Jr. (he had easily the best dunk in the contest) - both proof you don't need a Top 5 pick to find a potential star. Utah won the first meeting in this series on Oct. 30, 104-89 at home. The Jazz have won the past three at home vs. Dallas.
Key trends: The home team is 4-1 ATS in the past five meetings. The under is 7-3 in the Mavs' past 10 in the second of a back-to-back.
Early lean: Mavs and under.
Lakers at Kings (+3, 219.5)
Los Angeles hosted Dallas on Friday and was to welcome back Lonzo Ball from a knee injury; will the team allow the rookie to play in the second of a back-to-back right off the bat? Sacramento stole defeat from victory on Thursday in a 110-107 loss to OKC on Russell Westbrook's buzzer-beater. Zach Randolph scored 29 points to lead five Kings in double figures. Rookie De'Aaron Fox (conjunctiveitis) was out. The Lakers and Kings have split two meetings, each wining at home by double digits.
Key trends: The home team is 4-1 ATS in the past five meetings. The over is 9-3 in the Kings' past 10 at home.
Early lean: Lakers and over.
Read more articles by Alan Matthews