Halloween 2018: First-Ever Horror Movie Betting Odds with Wagering Predictions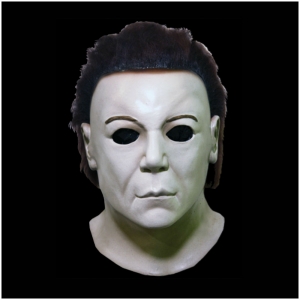 When it comes to iconic horror villains, one name stands out from the rest and, that name is Michael Myers. On Friday, Oct. 19, 2018, Blumhouse Productions brings back the legendary killer in the re-launch of 'Halloween'. This version of 'Halloween' is a direct sequel to John Carpenter's 1978 original film, and it is rumored that this new version will ignore all other sequels. Director David Gordon Green originally wrote the film to include the other 'Halloween' sequels in this movie, but with the final script he acknowledges only the original.
With this re-launch of 'Halloween', there are so many unanswered questions it was a no-brainier for me to create some betting lines and give horror film fanatics a taste of entertainment gambling! I asked James Oster, a horror aficionado from Arrow in the Head and JoBlo, what he thought about the timing of this new version of 'Halloween', and he gave me some interesting thoughts. ( Check out his preorder for his upcoming film 'Sick for Toys', which will be available Sept. 4 ). Here is what Oster replied, "The Halloween franchise has been an interesting one. As a fan, I'm always looking forward to a new sequel, but usually I'm less than excited by the final product. However, the latest feels like the right time for a couple of reasons, the main one simply being that it is the 40th anniversary. After all, the franchise did very well with H2O for its 20-year anniversary. For me, that is reason enough to be at least a little excited to see a new film. Of course, the other reason is that it was the right time in terms of a seemingly solid team behind the new film. Once again, Blumhouse hired someone not exactly known for horror, like they did with Jordan Peele and 'Get Out'. That worked out pretty darn well! This time we have the very talented David Gordon Green directing a script written by Green and Danny McBride. It may seem like a risk, but that risk has paid off of course with 'Get Out', as well as 'A Quiet Place', which was an impressive achievement from John Krasinski. And even more importantly, Blumhouse managed to bring in John Carpenter in as an executive producer -- as well as the film's composer -- who will be once again working with Jamie Lee Curtis reprising her iconic role". Also, let's throw in that the MPAA has given this 'Halloween' 2018 a Rated R due to "Horror violence and bloody images, language, brief drug use, and, of course fan favorite's nudity". With all that said, not only does this movie get me excited to watch, but for a guy who does entertainment betting odds it gives me plenty of ideas on betting propositions!
Online sportsbook MyBookie.ag has listed four 'Halloween' 2018 betting propositions, and some of them are really good head-scratchers. Of course, Michael Myers is the main betting focus, but there is also a very intriguing Laurie Strode, aka Jamie Lee Curtis, betting proposition. I do believe that prop will probably get the most attention by bettors, media, and forum talk.
Here are the Odds for Halloween 2018 - Provided by MyBookie.ag.
How Many On-Screen Kills will Michael Myers Have in Halloween 2018
Over 6.5 -135
Under 6.5 +115
As you can tell, the oddsmaker used the key phrase 'On-Screen Kills' because in Halloween films or in any slasher film there are dead bodies assumed to be killed by the killer. A perfect example is in the original 'Halloween' movie where the second death by Michael Myers was the Mechanic, but it was never was shown on film until Loomis finds the truck abandoned in the middle of a field. The original 'Halloween' film had five 'On-Screen Kills' and the 'Halloween' remake in 2007 had 17 'On-Screen Kills', so should see something in the middle. I don't see Michael Myers achieving double-digit kills in this re-launch movie because of the director being David Gordon Green and it being a Blumhouse Production. Blumhouse Production usually produces more psychological thrillers and not traditional slasher films, so I don't see a gore-fest coming out of the theaters in October. When all is said and done I do see Myers getting his share of killings in this re-launch, and I'm predicting Myers to have 'Over' 6.5 deaths, including one shocker!
How Many On-Screen Kills Michael Myers will have Using a Knife
Over 3.5 -120
Under 3.5 +100
If you are a Michael Myers fan then you already know his iconic weapon is a butcher knife or any kind of knife. In the 1978 Halloween movie Myers stabbed to death a total of four characters, and three of them were on-screen deaths. Oddsmakers posted this total at 3.5, and the reason why we posted this number is because of the 'R' Rating. This movie will show the dominance Myers has as an unstoppable force, and his death weapon will be the iconic butcher knife. I see him killing around four characters by the knife. I would be shocked if this version of 'Halloween' isn't a complete gore fest, and the last Halloween movie in 2009 had seven kills by a knife. I see the same trend in 2018.
Will Michael Myers Kill Laurie Strode (Jamie Lee Curtis) in the Movie
Yes -160
No +130
I was so excited to hear about the re-launch of 'Halloween', but when I heard that Jamie Lee Curtis was coming back to play Laurie Strode in Halloween 2018 my mind quickly went to the question of whether they will kill her off in this re-launch. I interviewed Jimmie Gonzalez, writer/director of the 2016 psychological thriller 'The Red Man' and a Las Vegas DJ, about what would happen to Curtis' character in this movie, and here is his response on Curtis coming back to play Laurie Strode, "Ever since her 2012 Horrorhound Convention appearance, it appears Jaime Lee has embraced her fans and her relationship to the franchise with sincerity. She may have tried to kill herself off in 'Resurrection', and admitted to 'phoning it in' on 'H2O', but this time it feels like she's really doing it for us fans. That and a little less risk working with its original creators as well as the mighty Blumhouse team".
Let's face it, the $1 million question in my eyes for 'Halloween' 2018 is "will Michael Myers Kill Laurie Strode?". Oddsmakers made the 'yes' option a small favorite, and one of the reasons why this prop may be a small favorite is because killing her off could rejuvenate the franchise and give new 'Halloween' fans new characters to root for. Gonzalez is on the other side of my prediction, stating: "I predict she'll stick around for another, truly embracing her spot on the Scream Queen podium alongside other ass-kicking genre females such as Sigourney Weaver and Linda Hamilton".
I was shocked in 'Star Wars: The Force Awakens' when they killed off Han Solo. and I believe I will be shocked again on Oct. 19 when Michael Myers kills Laurie Strode!
Who Will Have the Bigger Opening Weekend (WorldWide)
The Predator +750
Halloween 2018 -1000
After an eight-year absence, on the weekend of Sept. 14, 2018, we get to see another version of 'The Predator', and the cast of this new version is pretty good. I can't believe the first Predator movie was made in 1987, and boy do I feel old just typing that. Bookmakers made 'Halloween' a big favorite (-1000) in this proposition, and I have to agree with the big number. I know people are going to point out that in 2009 'Halloween II's' weekend gross number was $22,378,059 worldwide and 2010's 'Predators' did $41,274,167, but this time around will be different. Not only is 'Halloween' going to have a huge opening weekend, but I do believe Michael Myers and Jamie Lee Curtis are more popular than an ugly alien that got beat up by Arnold Schwarzenegger. Also, let's throw in the fact that on the same weekend 'The Predator' opens we have another horror film opening the same weekend, 'Don't Leave Home'. That movie won't do big office numbers, but it could take away some small change from 'The Predator'.
I have made entertainment betting odds, bet on entertainment odds, and researched entertainment betting odds, but I can promise you these four 'Halloween' betting props are the first-ever horror/slasher gambling related options that I have ever seen! Finally, horror movies are getting an entertainment betting point-of-view, and hopefully we will see more. Maybe we will see some for the next 'IT' since that sequel comes out in September 2019!
Raphael Esparza is one of the best handicappers in all sports. This weekend Esparza will have plays from MLB, WNBA, CFL, Soccer, Boxing, and don't forget NFL Preseason kicks off this week. Esparza is looking for another winning football season, and right now Esparza has his football packages available. Last year in College Football Esparza cashed not ONE but TWO 8-Unit College Football Game of the Years and this football season he looks to dominate the gridiron. New clients can take advantage of Doc's no-hassle $60 free picks offer and get Esparza's weekday picks. Click Here for $60 worth of free picks .
Read more articles by Raphael Esparza