Handicapping the LA Clippers and Detroit Pistons after Blake Griffin Trade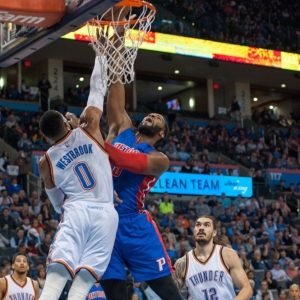 The NBA trade deadline was pretty busy, and thanks to the Cavaliers it was pretty interesting. The most interesting trade of the season, though, happened well before the deadline. When the Clippers and the Pistons pulled the trigger on the deal - that came seemingly out of nowhere - with Blake Griffin as the centerpiece, they really made waves. It seemed to tell us a lot about where both teams were - even if one of them doesn't seem to know it. Now that the dust has settled and more than a week has passed, it's a good time to look at where the teams are at and what this deal means now and going forward:
Clippers: The biggest issue with the Clippers is that they can't come to terms with what they are. In losing Chris Paul in a trade in which they simply couldn't have gotten equivalent value, losing Patrick Beverley to injury for the year, and then trading away Blake Griffin, it was clear to everyone outside of L.A. that the run had come to an end and it was time to regroup, lick their wounds, and get ready for the next attack. Instead, they seem determined to exist in some nether-region. They want to be the Denver Nuggets - a team that is rarely either bad or good but just is. They exist, and they are easy to forget about.
Lou Williams is a nice player - one who would have had a value on the market. But they gave him an extension on deadline day instead. It's a nice deal, and he is a good player, so you can't complain, but keeping him around says that at some level they are only sort of committed to rebuilding - or, even worse, they have somehow made themselves believe that they can compete. And they really can't. They sit ninth right now. They sit only a game out of fifth, but finishing fifth in this conference is totally meaningless - you just get crushed by a top team in the first round. They aren't getting to fourth no matter what, and they aren't good enough to even be in the same league as the Warriors, Rockets, Spurs or Thunder, so what's the point? You need to be a mega-power to have any chance in the West, and Lou Williams isn't the missing piece for that.
The bigger concern, though, is that they didn't trade DeAndre Jordan away. He's going to opt out in all likelihood - because having Lou Williams locked up isn't the thing he was missing to make a commitment himself - then he'll leave a team that promised him far more than they delivered. So the Clippers will get nothing, when there were plenty of teams interested in giving them something for him. Probably too much. Again, the only way the Clippers could justify keeping him is if they think they can compete and that he is a big piece of that. They can't and he isn't, so this just is incompetent.
This team isn't horrible - in fact, their 28-23 ATS mark is pretty decent. But they are far, far from good, too - and until they come to terms with the fact that getting to good from where they are is not a linear movement then they will continue to underwhelm. And they will likely become worse and worse to bet on, too - they are 3-5 ATS in their last eight, and that doesn't really feel like they are underachieving.
Pistons: The Pistons made a big gamble, and now they have the luxury of never having to play without at least one of Andre Drummond or Blake Griffin on the court. They are big weapons as long as they can stay healthy, and they have shown very nice chemistry together in limited samples so far. It was a big gamble for the Pistons but one that makes a lot of sense in that slow moves weren't likely to move the needle for the team. They made a small trade at the deadline, too, to show that they are serious.
So, they are serious about winning. And they are very well coached. But so what? Like the Clippers, they currently sit in ninth in their conference - they are functionally tied with the eighth-place Sixers but have played two more games. And Miami is only a game ahead. I'd still bet on Philadelphia if I had to because of the talent of their young players, so even getting into the playoffs is far from guaranteed. Unlike the West, though, if they can get in the chances of success are much better. Boston is looking mortal, Toronto is very good but not terrifying, and who knows what Cleveland is right now, so there is at least a sliver of a chance that a team could come from outside to win - which just isn't true in the West.
The team has won five straight games but is just 2-3 ATS in that stretch and a dismal 2-8 ATS in their last 10. They have not been a pleasure to bet on lately. People who are fans of this team are just giddy about how they are playing and what the future could hold this year. Personally, as someone who could care less about the team on an emotional basis, I need to see a whole lot more before I feel like I have a conclusion to make.
WOW! Doc's is offering $60 worth of member's picks absolutely free - no obligation, no sales people - you don't even have to enter credit card information. Get $60 worth of premium members' picks free. Also, for a limited time only get three top NBA handicappers for the price of one! Click Here . Get free NBA basketball picks today at Doc's Sports basketball predictions page .
Read more articles by Trevor Whenham