2018 March Madness Bracket Predictions: West Region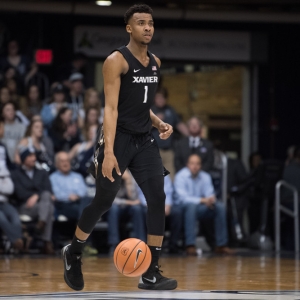 Every year there is one region that is so brutally loaded with potential Final Four participants that it is dubbed "The Region of Death". Well, this year the West Region is whatever the opposite of "The Region of Death" is. This section of the bracket is kind of a mess, with a host of flawed contenders all attempting to avoid enough upsets to back their way into the Final Four.
The most notable characteristic is of this year's West Region is that it features the two teams, Gonzaga and North Carolina, that conspired in last year's National Championship Game. Throw in No. 1 seed Xavier, the team that Gonzaga beat to advance to the Final Four, and there are some potentially juicy revenge storylines for the second weekend.
But that is assuming that any of those three teams can avoid the pitfalls and perils that await every team set to confront the perils of the NCAA Tournament.
The West Region semifinals and finals will take place on Thursday, March 23, and Saturday, March 25, in Los Angeles. Here are Doc's Sports March Madness bracket predictions for the West Region:
No. 1 Seed: Xavier Musketeers (+470 to win the West Region)
The sight of Xavier as a No. 1 seed may confuse casual college basketball fans. But yes, the Musketeers are really this good. Xavier was the Big East regular-season champion and has lost to only two teams - Villanova and Providence twice apiece - since Thanksgiving weekend. If guards are the key to March then Xavier is in good shape. Trevon Bluiett and J.P. Macura are one of the best backcourts in the nation, with freshman Paul Scruggs serving he role of dutiful apprentice. The rest of the roster is filled with athletic big men that defend, rebound and execute at a high level.
Xavier Tournament Predictions: I know there are plenty of skeptics, but Xavier is definitely a Final Four contender. Especially in this shaky region. The Musketeers made the Elite Eight with essentially the same group last season, and they really don't have a clear weakness on either end of the court. Doubt this team at your own risk.
No. 2 Seed: North Carolina Tar Heels (+250 to win the West Region)
It has been an erratic season for the defending National Champions, with a low of a home loss to Wofford and a high of blasting Duke for a second time en route to the ACC semifinals. On the surface this team seems like a contender. But their defense can be erratic, with one of the worst 3-point defenses in the nation coupled with the lack of a true rim protector. This team is playing its best basketball at the right time, though. And if Joel Berry can recapture his March magic from the past two seasons then UNC will be in the mix for another trip to the Final Four.
North Carolina Tournament Predictions: I don't know why it is so tough to trust this team, but it really is. They have a slew of great wins but also just enough head-scratching losses (especially at home) to make me wonder if they are capable of another deep run as they try for a third straight title game appearance. It could come down to a rematch with Michigan, a team they beat by 15 back in November, to determine who emerges from this region.
No. 3 Seed: Michigan Wolverines (+500)
Last year the Wolverines got hot at the right time, riding an early March hot streak to a Big Ten title and a march to the Sweet 16. They appear to be following the same script this season, heading into the NCAA Tournament on a nine-game winning streak after another Big Ten Championship. Michigan's calling card is offensive execution and 3-point shooting. But the Wolverines have also turned themselves into a Top 10 scoring defense as well. Moritz Wagner is the emotional leader of this team. But the big shot makers are seniors Muhammad-Ali Abdur-Rahkman and Duncan Robinson. If this team is to keep rolling then those two will have to get hot and stay hot.
Michigan Tournament Predictions: It will be interesting to see how a long layoff impacts Michigan as they will go 11 days in between games. But if they continue to play like they did in their league tournament - where they handled Michigan State and Purdue by 11 and 9 points, respectively - then this team could run the table to San Antonio.
No. 4 Seed: Gonzaga Bulldogs (+350)
Last year's runners up must feel like they are taking a trip down memory lane. They are once again in the West Region, and they could have to face the team they beat to go to Mark Few's first Final Four (Xavier) and the team that beat them in the title game (North Carolina) if they want to make it to back-to-back national semifinals. The Bulldogs have an experienced backcourt, with last year's starters Silas Melson and Josh Perkins running the show. But Gonzaga's engine is its powerful frontcourt. Senior Jonathan Williams is a stud. And sophomores Killian Tillie and Rui Hachimura are a handful both inside and out.
Gonzaga Tournament Predictions: Gonzaga has lost just once since Christmas, and they enter the tournament on a 14-game winning streak. If they shoot like they have over the last three weeks then this team can definitely punch its way into the second week. But they really haven't been tested much this year, and I don't think they have enough high-end talent to make it back to the Final Four.
No. 5 Seed: Ohio State Buckeyes (+1150)
The Buckeyes have been one of the most surprising and overachieving teams in the country this year. This group had missed the NCAA Tournament in back-to-back years and was replacing long-time coach Thad Matta. But the return of Keita Bates-Diop, the Big Ten POTY, and improved chemistry has led to a big season for the Buckeyes. Ohio State has lost to most of the best teams it faced this year, and the Buckeyes really doesn't have any pro prospects outside of Bates-Diop. That talent disparity with the other top teams in the region will be too much to overcome.
Ohio State Tournament Predictions: At this point it is all gravy for Chris Holtman and his squad. I think that if they can avoid falling victim to the 5-12 upset then that would be nice. And anything past a third game would have to be considered a minor miracle.
No. 6 Seed: Houston Cougars (+1450)
It took a little longer than he would have liked, but Kelvin Sampson is back in the NCAA Tournament for the seventh time in his 11-year coaching career. Sampson's team runs a four-guard offense that is led by superb scorer Rob Gray. This team defends tenaciously, and they have the experience and moxie to go up against anyone in the country. The Cougars have also been one of the best bets in the nation, going 19-10 against the spread on the year and taking advantage of being perpetually undervalued. However, they haven't been great on the road, and I have to wonder how much they have left in the tank.
Houston Tournament Predictions: Houston came up just one shot short of winning the American Athletic Conference title last Sunday. Will they have a letdown this week? Gray is legit. But Michigan and UNC are terrible matchups for this team, and Houston's only prayer of a deep run revolves around those two teams getting upset. I wouldn't bank on it.
Best first-round matchup: No. 6 Houston (-4) vs. No. 11 San Diego State
San Diego State was good enough to beat Gonzaga, and the Aztecs come into the NCAA Tournament on a roll, winning nine straight. They are talented but erratic. And they are probably catching Houston at the right time. The Cougars had to play a grueling weekend of games in Orlando, finishing up on Sunday, and now they have to turn around and head to Wichita. This game may not be aesthetically pleasing since both teams can really lock down on defense. But I won't be surprised if this one isn't decided in the last two minutes.
Best potential second-round matchup: No. 2 North Carolina vs. No. 10 Providence
There really aren't many good second-round matchups in this bracket. I mean, I really had to dig deep for this one, and it is still kind of a stretch. Providence is coming off three straight overtime games in the Big East Tournament, so anyone watching the Friars lately have been getting their money's worth. And the defending National Champion Tar Heels are always going to be a draw. I feel like Providence matches up very well with the Heels. And with versatile, athletic wings on both sides, I can see this game turning into a track meet.
Upset Alert (first round): No. 5 Ohio State (-8) vs. No. 12 South Dakota State
This is a classic 5-12 matchup. Ohio State is the "name" school from the major conference. South Dakota State is a nobody school from a nobody conference. But a closer look shows that this game could be a tight one. This is the third year in a row that the Jackrabbits have played their way into the dance, and they almost knocked out Maryland in a 5-12 game in 2016. SDSU is one of the highest-scoring teams in the country, they have a bunch of guys that can knock down threes, and they have a legit go-to guy in Mike Daum (23.8 points per game). Add in that this would be just Ohio State's second game in 21 days, and this one has all the makings of an upset.
Upset Alert (second round): No. 1 Xavier (-5.5) vs. No. 8 Missouri/No. 9 Florida State
I have already claimed that Xavier is a legit Final Four contender. And they are. But outside of Kansas, which will have to take on the Seton Hall-N.C. State winner, none of the top two seeds in any region have as difficult a second-round matchup as Xavier. Florida State has beaten teams like Florida and North Carolina, and they have some high-end athletes. Missouri has taken out Kentucky and could be improving with Michael Porter in the fold. Either way, Xavier should not have a cakewalk into the second weekend.
Team That Makes Me Nervous: No. 8 Missouri
Cuonzo Martin has completely botched the Michael Porter Jr. situation. Porter, the No. 1 recruit in the country heading into the year, was medically cleared to play on Feb. 22. Instead of letting Porter get his feet wet and gain some chemistry with his teammates over the final three games of the regular season, Martin held him out and then threw him into action in the SEC Tournament. Porter went 5-for-17 in 23 minutes, taking twice as many shots as anyone else despite it being his first game since November. But now he's had another week to practice and get his game going. And Porter will likely start against Florida State now that Jordan Barnett is suspended for one game. About half of Missouri's losses this year were by four points or less. If they an just get back to full strength they have the ability to take out Xavier and make a mess of this bracket. Or they could lose, meekly, against Florida State. I don't know if there is anything in between.
2018 West Region Predictions: There are so many shaky teams in this region that it is ripe for some insanity. Xavier is probably the weakest No. 1 seed. North Carolina has not played like a No. 2 seed at all this year. Michigan hasn't played in two weeks. Gonzaga hasn't played anyone decent in three months. Ohio State has been overachieving all season. And Houston is running on fumes. There is no powerhouse here. There is no one that isn't extremely susceptible to an upset. But despite all that, I think that when the dust settles this region will be pretty chalky. Xavier has a pretty soft path to the Elite Eight. And Michigan and UNC appear to be on a collision course. One of those three teams should elevate their play enough to survive this spotty region.
Robert Ferringo is a member of the Basketball Writer's Association of America and a professional sports handicapper for Doc's Sports. He is considered one of the best college basketball handicappers in the country and has posted 10 of 11 winning seasons. He is looking for a monster March run and will have his 8-Unit NCAA Tournament Game of the Year Thursday after nailing his 8-Unit Conference Tournament GOTY last Friday (Arizona). You can sign up for his college basketball picks and get more information here .
Want free March Madness betting picks? Doc's Sports has you covered - get $60 worth of March Madness picks free from any of Doc's Sports expert handicappers. Get $60 worth of premium members' picks free . Get daily free college basketball picks on Doc's Sports NCAA hoops predictions page .
Read more articles by Robert Ferringo
---
Most Recent March Madness Betting