Super Bowl Coin Toss Betting 2018: History and Trends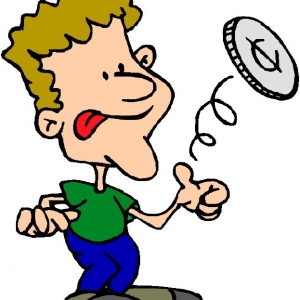 There are dozens and dozens of Super Bowl prop bets available, and the number seems to grow almost exponentially every year. And I mostly love prop bets - the more the better. There is one that has been available for years, though, that truly and completely drives me insane. It's just so stupid. I'm speaking, of course, about the coin toss prop bet . So dumb.
There are, obviously, two sides to the coin they use. Unless they are secretly using a weighted coin then each side is just as likely to come up as the other side. It's the definition of a 50/50 proposition. But the price for the bet is at -105 at BetOnline and even worse than that at many places. So, you know exactly and precisely what the risk of a bet is, and you know exactly what the potential reward is. You can very accurately determine how much value there is - much less than none in this case. No matter how smart you are and how good you are at handicapping you are absolutely and certainly guaranteed to lose money over the long term making this bet. There is absolutely no upside. Each outcome is totally random, and what happens one year has absolutely no bearing on what happens the next year. It's like the sportsbooks are hanging up a giant neon sign inviting morons to throw their money away - and thousands and thousands of idiots do just that every year. Even when you win a coin toss prop bet you lose.
Just for kicks, though, let's treat this moronic bet like something real and even remotely worthy of our time and attention. Let's look at the history of the bet to see if we can spot trends and find an edge (Spoiler alert - of course we can't, don't be an idiot). Here are a few 'useful' trends for your 'handicapping':
History: There have been 51 bowl games played so far. The sample size is small, so we can't expect a perfect split of heads and tails. It has come close, though - tails has come up 27 times and heads 24. Tails is on a hot streak, winning four straight times. But heads had won five straight times before that, so It still has the edge over the last nine years. So maybe heads is due. Or maybe tails going to stay hot. Or maybe it's just totally random. I can't be the only one who can't believe we are actually having this conversation, can I?
Winning edge: So, does winning the coin toss give you an edge in the outcome of the game? That would at least make this prop somewhat interesting - if the coin toss winner had a big advantage then the drama of the toss would be intense. But that just isn't even close to true. In fact, the winner of the coin toss has actually lost the game 27 times and won 24. And over the last decade the coin toss winner has a 5-5 record. There is no edge to be gained here. Or anywhere else for that matter. It's just a random coin toss, people.
New England Patriots: The Patriots are veterans of playing in this game. But they haven't learned how to be good at the coin toss. They have played in nine prior Super Bowls as a franchise and have won the coin toss only twice. In the seven appearances of the Belichick era they came out on top only once. There is some good news here, though - Belichick has lost the coin toss every time he has won the Super Bowl as head coach. Patriots fans should be hoping for another loss. I guess. In fact, Belichick's Giants squads lost the toss both times they won the Super Bowl with him as defensive coordinator, too, so he is a master at overcoming a lost coin toss.
Philadelphia Eagles: The Eagles have played in the Super Bowl just twice - against the Raiders and the Patriots. Both times they won the coin toss and lost the game. And both times they picked tails.
Location: The game has been played in Minneapolis once before - Washington handed Buffalo their second of four straight Super Bowl losses in the Metrodome in 1992. The toss came up heads. That's what Washington called. And none of that is at all relevant to the outcome of this game. Prior to this year the game has been played indoors 15 times. Tails has won the toss nine of 15 times, which is at a solidly better rate than tails have won overall. So maybe the lack of natural sunshine favors tails. Or something.
Get free picks from any Doc's Sports handicapper - there is no obligation for this offer and no credit card required. Just sign up for an account, and you can use the $60 in free picks for any Doc's Sports expert handicapper and any sport. Get $60 worth of premium members' picks free .
Read more articles by Trevor Whenham