Off-the-Radar Pitchers that Have Been Bankroll Boosters in 2019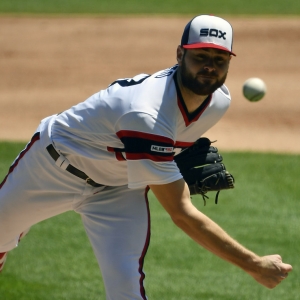 There are some pitchers out there who are producing big profits without any surprise at all - that Clayton Kershaw is among the most profitable in the league is no shock, for example. But more often among the most profitable pitchers are several names that few could have seen coming. And it is those who did see the potential in these more off-the-radar arms that are probably showing nice profits on the season. Here are five pitchers who are producing far more profits than most people would probably guess:
Lucas Giolito, Chicago White Sox (+9.6 units): If I had asked you who the most profitable pitcher in baseball was right now, how many guesses would you have needed to land on Giolito? There are 30 teams with five starters each. Without looking at the records of pitchers, I would have been impressed if you picked him within your first 100 guesses. But here we are - the 24-year-old is leading the way. And it's not fluke - he's pitching like an ace. He's 8-1 with a very chintzy 0.95 WHIP in 11 starts, and the team is 9-2 in his starts - including wins in his last seven. He's confident, he's dialed in, and he has been getting better as the season goes along. And because he doesn't play for a great team, the prices on his outings are still reasonable in most spots. There is obviously no guarantee that he will keep this up, but right now betting on him has certainly been a pleasure.
Jose Berrios, Minnesota Twins (+7.8 units): This one is a little less surprising, because Berrios is largely putting up the same kind of performance that he did the last two years as he has established himself as a starter. He's a talented young pitcher, and he continues to show it. The obvious difference, though, is that those years he was on a team that strived to be just mediocre, while now they have all of a sudden morphed into an unbeatable super force. When a pitcher has a 3.27 ERA and a 1.13 WHIP on the best team in baseball (yes, the Twins have the best record in baseball - which seems totally appropriate given how few things seem to make any sense at all in the world right now), he is very likely to be making bettors money. The team is a stellar 10-2 in his starts, and one of those losses was entirely on him and an off day. If you believe that the Twins can keep rolling, then you have to believe in Berrios, too.
Brandon Woodruff, Milwaukee Brewers (+7.7 units): There is definitely a trend here so far - reasonably young pitchers fairly early in their careers putting up decent, consistent numbers. Woodruff's 12 starts this year match the total he had in his two years in the league - including just four last year. But the way he is pitching, he is quickly cementing a spot in the starting rotation. The Brew Crew is 10-2 in his 12 starts and has won his last seven outings. There is a slight cause for concern coming from his last outing. Facing an underwhelming Pittsburgh squad, he allowed six runs in just four ugly innings and was bailed out by his offense in a crazy 12-10 win. He has bounced back well the last couple of times he has had off games, but we'll want to see if he does so again next time out.
German Marquez, Colorado Rockies (+7 units): Here's another relative youngster - the 24-year-old is in his third full year as a starter. We haven't seen a big leap forward from him this year, but we didn't need to. He was a good pitcher right out of the gate and has only improved with time. His key stats are trending slowly but consistently in the right direction. The team is 10-3 in his 13 starts, and all three losses were in games in which he didn't have his best stuff. Marquez has already proven his long-term reliability over the last two years, and the Rockies are solid enough - currently third in the wild card hunt in the NL and a red-hot 9-1 in their last 10 - that the good times could keep rolling for a long while yet.
Jordan Lyles, PIttsburgh Pirates (+6.8 units): Lyles is a different case than the rest on this list. He is 28 and has eight years of MLB experience before this. After starting out as a starter is his first five years, though, he had to put in a lot of bullpen time - he had just 18 starts among 113 appearances for three different teams over the last three years. This year, though, he landed in Pittsburgh and has secured a rotation spot throughout. And he is earning it with a career-low WHIP and an ERA that is well below his career average. And the team is 8-3 in his 11 starts, which is impressive for a team on the wrong side of .500. His last three starts have not been particularly sharp, though, and the Pirates have lost the last two, so we might want to wait and see how his next couple of starts look before booking our spot on the Lyles bandwagon.
Read more articles by Trevor Whenham