Expert MLB Handicapping: Nationals Surging After Slow Start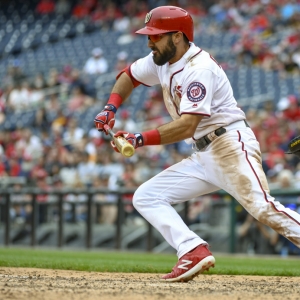 This is not how they told us that this was going to turn out. The Nationals lost Bryce Harper, their biggest star ever, this offseason - to their divisional rival, no less. But they didn't really put up a real fight to keep him, and they were very vocal about their insistence that they were going to be just fine. I don't want to be critical, but 28-33 is, by no measure, just fine, especially for a team with high expectations. The news isn't all bleak - they are playing their best baseball of late, and despite their struggles they are only 6.5 games out of the lead and only 4.5 games out of a wild card spot. So, what's going on with this team? And what does it mean for bettors? Let's take a look:
Recent form: It's hard to know what happened on May 24 that changed everything - though playing the lowly Marlins certainly didn't hurt. Before that day, they had come off a totally unacceptable sweep by the Mets in New York. You can't be losing to an inferior divisional foe. But they took those frustrations out on Miami, beating them badly in three straight at home before dropping the final game. Then they beat Atlanta twice in Georgia, then took two of three in Cincinnati, and then swept a two-game set against the White Sox. That means that they have gone 9-2 in their last 11, and that has certainly made a terrible record look better.
And they have more chances to keep it going, with four in San Diego, two at the White Sox, and four versus Arizona. That's a winnable stretch. And then after four home games against Philly and three against Atlanta, they finish off with the most ridiculously easy stretch of games a team could possibly hope for into the All-Star game - Miami six times and Detroit and Kansas City three times each. With the schedule they have for the next month, they have a very good chance of getting on the right side of .500. If they aren't there, though, then it's time to write them off for this year.
Juan Soto: This is a really interesting situation. One of the reasons that the team was comfortable with letting Harper go - despite an unwillingness to spend all of the world's money on one player - was that they had their next superstar on board in Soto, who was the runner-up for Rookie of the Year last year as a 19-year-old. Soto has just massive potential. And how he has been doing on reaching that potential depends on how you look at it.
Over the season as a whole, his numbers are very similar to last year and perhaps just a small step down. The numbers are still strong, but you would hope for a young, talented guy to take a step forward as things get more familiar. But when you break things down, things are different. After hitting .250 in March and .247 in April, he found his game in a big way in May, hitting .380 with a stellar 1.127 OPS. He was a beast. And while June hasn't started out quite that strong, it's still a step up from how he started. So, while his overall average hasn't moved forward, he's coming off the best month of his career, and that is certainly positive.
Stats are very important, but only if we constantly remind ourselves that they don't always tell the whole story.
Trade deadline: Not signing Harper certainly gave them some more financial flexibility, and they are in position to be players at the trade deadline - especially if they do take advantage of the next month. They could use a closer and are sure to be one of the eight or 10 teams attempting to grab Ken Giles from Toronto. And they could certainly use another starter, with guys like Stroman or Sanchez from Toronto, Colome from the White Sox, or Diekman in Kansas City all fitting the bill.
If they do turn a corner, then adding some talent could provide a real boost for the team. And they are fortunate that they are going to be buyers instead of sellers as long as they have a solid month, so it won't be the distraction to the team that it could be.
Betting performance: Betting on this team has been no fun at all - only the Royals have cost bettors more money on the season so far. And their struggles have been equal opportunity - they have burned money both at home and on the road.
But the good news is that they are up almost six units in their recent hot streak, which has recouped about 30 percent of the losses they had suffered at their lowest point. It's been a good stretch. As with everything else about this team, though, it won't matter unless they can keep it rolling from now until the break.
From a betting perspective, the next month is particularly significant. They will be heavy favorites in a lot of games against the worst of the league, so losing those could really crush their bettors' pocketbooks.
Read more articles by Trevor Whenham