Handicapping Golden State and Denver Battle for Western Conference No. 1 Seed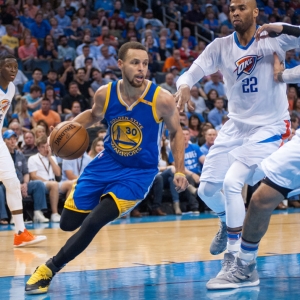 The Western Conference of the NBA is, at the top, a two-horse race at this point. And it is not likely the showdown that anyone expected. Golden State is there - obviously. But they aren't fighting with Houston or Oklahoma City, and we aren't seeing a Steph and KD vs. LeBron showdown. No, it's Denver that is fighting limb-for-limb with Golden State. Right now, Golden State is a half-game ahead, but only because they have played one more game. And with 20 or fewer games left, the four-game lead the Nuggets have over Oklahoma City and Portland isn't insurmountable, but it is fairly secure. So, our focus is on three things, then - which team is more likely to win the conference, does it really matter, and what does that mean for bettors?
The odds: The oddsmakers would suggest that this isn't a real race - not in the big picture, anyway. Regardless of who actually wins the conference, Golden State is a massive -370 favorite to win the conference and represent the group in the NBA Finals at Bovada . Denver, meanwhile, is the fourth choice at +1100. That is behind Houston at +650, and, insanely, the Lakers at +900. I would say without a hint of hesitation that Denver's chances are dramatically better than the Lakers', but it obviously makes perfect sense that the Nuggets, and everyone else, are so far behind the Warriors. And that won't be changed by which team wins the conference.
Experience: We don't really need to talk about experience when it comes to the Warriors anymore. They have all you could ever possibly need. Denver, while very talented, is a much different story. They haven't even made the playoffs since 2013, and last year was the first time since then they had even cracked .500. And it's not just a lack of postseason experience - this team is crazy young. Jokic, while he feels like an established veteran, is only 23. Jamal Murray is just 22. Paul Millsap and Isaiah Thomas are the only guys on the roster in their 30s, and Thomas only passed that milestone less than a month ago. The talent is real, and Murray and Trey Lyles are Canadian which makes them particularly hardy, but the disparity in experience is enough here to make the race for first place in the conference fairly meaningless. It would be different if this was hockey or baseball, but the NBA is not a league where upstarts come from nowhere to shine.
Motivation: The Warriors were a distant second in the West last year, finishing seven games behind the Rockets. And they won the NBA Championship with a sweep. They could care less at this point what happens in the regular season. They had no particular urgency to catch the Rockets last year, so you can be sure they aren't going to be worried about not having home-court advantage against a team as raw as the Nuggets if it comes to that. For Denver, the accomplishment of winning the conference would mean everything given where they came from. For the Warriors it means nothing. That doesn't mean that Denver will win - just that they will put more of themselves into the race than Golden State will.
Coaching: Steve Kerr has won three championships. Michael Malone has never coached a playoff game. Malone's last assistant job was with Golden State, but that came under Mark Jackson, so it doesn't count. This is a massive coaching mismatch, for what it's worth.
Head-to-head: The teams have played two of their four head-to-head games so far. Denver won narrowly early on and got crushed in January. Golden State won that latter game by 31, fueled by an NBA-record 51-point first quarter. That, among other things, is a big reason why the Warriors aren't too worried about where they wind up in the standings.
Remaining schedule: Golden State has 10 road games remaining, compared to a dozen for Denver. Both have one four-game trip, and the rest are shorter. Both teams face reasonably solid schedules, with a few weaker teams but mostly contending squads. Neither team has an edge here.
The bottom line: There are some races that are important. Bettors need to pay attention to what they mean and really work hard to find their edge. This is not a race like this. Denver could win. Maybe they are more likely to do so, but maybe not. But it doesn't matter. Golden State is going to win another title. Denver will win a series, but two will be a big accomplishment.
Read more articles by Trevor Whenham