2019 March Madness Bracket Picks: Expert Predictions for West Region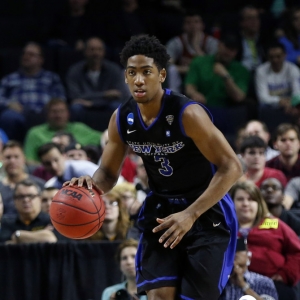 Every year there is one region that is so brutally loaded with potential Final Four participants that it is dubbed "The Region of Death". Well, this year it is the West Region, and frankly it's not even close.
Gonzaga, Syracuse and Michigan have all been the Final Four in the past three years. Florida and Florida State have each made the Elite Eight in the past three years. This region features two of the best offensive players in the country (Marquette's Markus Howard and Murray State's Ja Morant), while also featuring two of the best defensive teams in the country (Syracuse and Texas Tech). It also boasts the three best mid-major teams in the country by a wide margin (Gonzaga, Buffalo and Nevada).
Throw it all together, and you have no fewer than eight teams that have a realistic shot of reaching the West Region Finals in Anaheim and playing for a shot at the Final Four.
The West Region semifinals and finals will take place between Thursday, March 28, and Sunday, March 31, in Anaheim. Here are Doc's Sports March Madness bracket predictions for the West Region:
No. 1 Seed: Gonzaga Bulldogs (+150 to win the West Region)
The Bulldogs were the No. 1 team in the country and headed for the No. 1 overall seed in the NCAA Tournament before losing in a shocking upset in the WCC Tournament. Gonzaga will try to regain its confidence and avoid another disappointing postseason result while navigating this bracket. That loss to St. Mary's snapped a 21-game winning streak, and this squad has been absolutely dominating most of the season. Rui Hachimura and Brandon Clarke are future pros, and point guard Josh Perkins is one of the most experienced players in recent NCAA history. Perkins has helped guide the Bulldogs to three Sweet 16s and a Final Four in the past three seasons, and this is his last shot at getting coach Mark Few that elusive national championship.
Gonzaga NCAA Tournament Predictions: Killian Tillie may be the X-Factor for this team. The 6-10 junior missed most of the season with injury. But if he is healthy and shooting the ball well from the outside, then the Bulldogs will absolutely have enough firepower to shoot their way out of this loaded bracket, setting up a potential rematch with a Duke team that they beat in Hawaii back in November.
No. 2 Seed: Michigan Wolverines (+310 to win the West Region)
The Wolverines were last year's runners-up and have been outstanding in March the past few seasons. Michigan doesn't have the same momentum behind them this year, but this is still an excellent team capable of shooting anyone out of the gym on any given night. Zavier Simpson is the next in a long line of outstanding Michigan point guards. Jordan Poole, Ignas Brazdeikis and Charles Matthews offer depth and talent on the wing. And big man Jon Teske can hold his own against bigger, more athletic frontcourts. Michigan executes at a high level on both ends of the court and has blown out some of the best teams in the nation, including a 27-point win at Villanova, a 17-point win over North Carolina, and a 19-point win over Purdue. Depth is a major problem for this group, though, as only six guys play more than 13 minutes per game.
Michigan NCAA Tournament Predictions: Only one team has beaten the Wolverines in the past month: Michigan State. Michigan did lose to their rivals three times, though, and I wonder how much this team has in its emotional reserves. They play only six or seven guys. An injury, foul trouble, or just an off shooting night from one or two guys would make this squad extremely vulnerable. I think it is a stretch to think this team could make it to back-to-back Final Fours.
No. 3 Seed: Texas Tech Red Raiders (+570)
I am a huge fan of this Red Raiders team. They have been one of the best teams in the country over the past six weeks. Yes, Texas Tech slipped up in its conference tournament, losing to upstart West Virginia in a tight game. However, the Red Raiders are kind of a Virginia-lite. Texas Tech is one of the best defensive teams in the country, holding opponents to just 36.8 percent shooting from the field. Wing Jarrett Culver is a future pro, and seniors Matt Mooney, Tariq Owens, Brandone Francis and Norense Odiase lend a ton of experience. There aren't a lot of moving parts to this team. They just kind of do what they do in a ruthlessly efficient manner. And when they are hitting shots from the outside, they are as good as anyone in the country.
Texas Tech NCAA Tournament Predictions: The Red Raiders are absolutely a threat to win this region, and I think they are by far the best No. 3 seed in the field. Prior to the Big 12 Tournament, they had won nine straight by an average of nearly 20 points per game. If they find that level again, they will be one of the toughest outs in the entire tournament.
No. 4 Seed: Florida State Seminoles (+650)
FSU has been playing outstanding basketball over the past two months, winning 14 of 16, with the two losses coming against North Carolina and Duke. FSU made a surprise run to the Elite Eight last season, and they may have an even better team this time around. The Seminoles are one of the deepest teams in the country and also one of the biggest, with five regulars standing 6-foot-8 or taller, including 7-foot-4 center Christ Koumadje.
Florida State NCAA Tournament Predictions: Leonard Hamilton is one of the best coaches to never take his team to the Final Four. You have to think that one is coming for him at some point? Had Florida State been placed in one of the other regions, I would've liked their chances a bit more. But there is too much size, depth, talent and experience on this roster for FSU to be dismissed in a loaded region.
No. 5 Seed: Marquette Golden Eagles (+1800)
The Golden Eagles have Markus Howard and you don't. Howard, despite barely standing six-feet tall, can one of the most unstoppable forces in college basketball this year. He is averaging 25 points per game and has gone off for 30 or more points 10 times. Howard has scored 40 or more three times and topped out at 53 points in a win at Creighton back in January. Howard is not Marquette's only weapon, though. Brothers Sam and Joey Hauser are both deadeye shooters from the outside. Marquette also has some decent size in the interior and finished in the Top 25 in field goal defense. If this team gets anything from its veteran post players, then Howard is good enough to carry them out of this region.
Marquette NCAA Tournament Predictions: Again, if Marquette was in any other region they would be at the top of my list of mid-tier seeds capable of reaching the Final Four. However, the West is so absolutely stacked that Marquette may not survive its opening-round game. If they find a way to survive the opening weekend - watch out.
No. 6 Seed: Buffalo Bulls (+1700)
The Bulls aren't just one of the best mid-major teams in the country; they are one of the best teams in the country, period. Buffalo won at West Virginia and at Syracuse this year. They also nearly won at Marquette, were it not for a Herculean effort from Markus Howard. Buffalo pulled a huge upset in the NCAA Tournament last year, blasting No. 4 Arizona by 21 points as a No. 13 seed. Four of their five starters from that team are back this year, and the senior trio of Nick Perkins, Jeremy Harris and C.J. Massinburg has no intention of ending their college careers without a fight. Buffalo has won 12 straight games, and there is no team in the field that they are scared of.
Buffalo NCAA Tournament Predictions: Stop me if you heard this one: I love this Buffalo team but absolutely hate their draw. They have to wait to face a play-in game winner - either St. John's or Arizona State - and won't have an easy time with either potential opponent. Buffalo's stay in this tournament will be shorter than it should be. And that's a damn shame.
Best first-round matchup: No. 5 Marquette (-4) vs. No. 12 Murray State
This isn't just the best first-round matchup in this region. It is the best first-round matchup in the entire NCAA Tournament. Markus Howard vs. Ja Morant is must-see television. These are two of the best offensive players in the nation, and it is almost a guarantee that one of them is going to go off for 30 or more points. Murray State nearly won at Alabama and at Auburn this year, so they are more than capable of taking out high-major squads. Murray State also played in the NCAA Tournament last year, losing to WVU in the first round, so they won't be overwhelmed by the bright lights. This game should be awesome.
Best potential second-round matchup: No. 3 Texas Tech vs. No. 6 Buffalo
The Red Raiders made it as high as No. 7 in the country this year. Buffalo was ranked as high as No. 14. This matchup is worthy of a Sweet 16 or even a regional final. Instead, these two teams may trade blows just to see who can survive the opening weekend. It has been 20 games since anyone held Buffalo below 75 points in a game, and they've topped that mark in 30 of their 34 games overall this year. They are absolutely an elite offensive team, and this game is the proverbial unstoppable force (Buffalo's offense) going up against the immovable object (Texas Tech's defense).
Upset Alert (first round): No. 6 Buffalo vs. No. 11 Arizona State or St. John's
As much confidence as I have in Buffalo as a potential Sweet 16 team, I have to admit that they might not win a single game in this tournament. Arizona State has wins over Kansas and Mississippi State this year. They also have a slick young backcourt of Remy Martin and Luguentz Dort. Dort is one of the most underrated freshmen in the nation. St. John's boasts its own superstar backcourt with Shamorie Ponds, Mustapha Heron and Justin Simon leading the way. ASU and St. John's were the last two teams in the field. But here they are. And they both have enough talent that hey could get hot for a couple nights and knock off a higher seed.
Upset Alert (second round): No. 1 Gonzaga vs. No. 8 Syracuse
Syracuse is a notoriously tough team to beat in win-or-go-home settings. The Orange's 2-3 zone is extremely difficult to prepare for, and SU seems to thrive in the underdog role. Last year they won three NCAA Tournament games, including a huge upset over No. 3 seed Michigan State. And in 2016 Syracuse upset Gonzaga in the Sweet 16 en route to the Final Four. Syracuse hasn't been very good over the last six weeks and is just 4-7 in its last 11 games. Yet, they are always a dangerous opponent in March, especially when facing a team that is unfamiliar with their quirky style.
Team That Makes Me Nervous: No. 7 Nevada
No team in the country got screwed more than Nevada. The Wolfpack were preseason No. 7 in the country and reached as high as No. 5. This team is better than the one that went to the Sweet 16 last year, and they are absolutely capable of making a run to the Final Four. However, because of their brutal draw, they would have to beat Florida and Michigan just to make it to the second weekend. Nevada is not without flaws. Their outside shoot is suspect, and there are questions about Jordan Caroline's health. However, this is the most experienced team in college basketball, and the roster has seven guys on it that have scored at least 1,000 points in their college careers. They did not play well in their conference tournament, though, and it is tough to say how this team will respond to receiving such a terrible seed.
2019 West Region Predictions: Honestly, your guess is as good as mine in this region. It is very tough to bet against Gonzaga because of how good and how consistent they have been all season. However, there are legitimately six teams that I could see making the Final Four from this region, and that says nothing of a Cinderella team emerging like last year's Loyola-Chicago squad did out of a stacked South. I think that Texas Tech offers the best value, and I could see this team clawing its way to Minneapolis.
Robert Ferringo is a member of the Basketball Writer's Association of America and a professional sports handicapper for Doc's Sports. He is considered one of the best college basketball handicappers in the country and has posted 10 of 12 winning seasons. He is looking for a monster March run and will have an 8-Unit NCAA Tournament Game of the Year this week. You can sign up for his college basketball picks and get more information here .
Read more articles by Robert Ferringo
---
Most Recent March Madness Betting