2019 March Madness Bracket Predictions: Expert Picks for East Region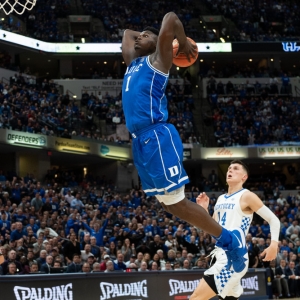 In general, I think that the NCAA Tournament selection committee did a pretty decent job with this year's field. It is a weaker, more watered-down field than we've seen in the tournament in several years, and there weren't all that many difficult decisions to be made. Setting the field was a layup, and the committee didn't blow it.
That said, they didn't get everything right. The first thing that jumped out at me was what a comically easy path the Duke Blue Devils have been given in their NCAA Tournament bracket.
It is easy for tinfoil-hat-wearing conspiracy theorists to look at the East Region and claim massive Duke bias. The theory would be that the NCAA desperately wants Duke and its megawatt star, Zion Williamson, in the Final Four. So that selection committee did everything it could to pave the way for the Blue Devils, putting them in a favorable local region and giving them he weakest group of teams to fight through. I attribute this to incompetence more than nefarious intent. But no matter how you look at it, no team in the field benefits from their draw as much as the Blue Devils.
Ironically, one of the storylines in the bobblehead media on Monday was how Michigan State got "screwed" by being placed as the No. 2 seed in Duke's region. I think that misses the point. Michigan State has a relatively tough road to get to the regional final, with potential matchups with Louisville, LSU or Maryland. Duke, on the other hand, has the weakest No. 4 seed and the weakest No. 5 seed in the entire 68-team field, and the Blue Devils should waltz into the regional finals.
There is a reason everyone hates Duke. They get special consideration from the officials, from television and media personalities, and the NCAA selection committee. And that just makes it all that much sweeter when the Blue Devils eventually lose.
The East Region semifinals and finals will take place between Thursday, March 28, and Sunday, March 31 in Washington, D.C. Here are Doc's Sports March Madness bracket predictions for the East Region:
No. 1 Seed: Duke Blue Devils (-155 to win East Region)
Duke's fantastic freshman class of R.J. Barrett, Zion Williamson, Cam Reddish and Tre Jones gives them a level of talent that most schools can't replicate. Williamson and Barrett are arguably the two best players in the country and realistically could go No. 1 and No. 2 in this summer's NBA Draft. Despite media reports to the contrary, this team is not an unbeatable juggernaut. They can't shoot. Duke is No. 340 in the country in 3-point shooting and No. 238 in free throw shooting. Eventually they are going to run into a team that has the size and athleticism to match up with Duke's beastly freshmen. When they do, the Blue Devils will have to win with execution. That's a tall task for a bunch of freshmen. Duke's rookies have also been somewhat injury prone. And if they lose one of their top four players, they don't have the depth to replace them.
Duke NCAA Tournament Predictions: I think Duke will make it to the Final Four. This is by far the easiest region, and their path is absurdly easy. I don't think that this is a championship-caliber team, though, and I don't see the Blue Devils cutting down the nets.
No. 2 Seed: Michigan State Spartans (+410 to win East Region)
Tom Izzo has done another brilliant coaching job, and has his Spartans playing their best basketball at the right time. It's easy to forget that last year Michigan State was one of the favorites to win the NCAA Tournament before flaming out in the second round. Michigan State won the Big Ten regular-season and tournament titles, and they have won 10 of their last 11 games. Cassius Winston has been the best point guard in the country, and the Spartans have a nice mix of skill, experience and athleticism. There is really nothing at either end of the floor that the Spartans don't do well. That's not to say that they aren't vulnerable. MSU lacks some of the surefire NBA-level talent they've had in recent years. Grit and guile (and Winston) have gotten them this far. How much further than it take them?
Michigan State NCAA Tournament Predictions: I think that Michigan State hit its peak while winning the Big Ten Tournament. I think the Spartans have a very difficult draw, with potential matchups against Louisville, LSU or Maryland waiting for them. I know a lot has been made about Michigan State drawing the short straw with Duke as the No. 1 seed in the region. But I don't think that the Spartans will have to worry about the Blue Devils because I think Michigan State will get bounced before they would have to face Duke in the Elite Eight.
No. 3 Seed: LSU Tigers (+1500)
Despite one of the younger rosters in the country, LSU has been one of the surprise teams in college basketball this season. They won the SEC regular-season crown and played their way into the Top 10. However, off-field controversy led to the suspension of coach Will Wade. LSU didn't exactly handle the distraction very well, losing their first game in the SEC Tournament last weekend. LSU has a fantastic one-two punch with point guard Tremont Waters and forward Naz Reid. The Tigers are as physically gifted as any team in the field, and they can pound teams on the interior. The obvious question marks, though, are the youth and the off-the-court issues hanging over this club's head.
LSU NCAA Tournament Predictions: There is no way to predict a lengthy run for this team. They are talented. But there is just too much going on around this program for it not to be a major distraction. Also, LSU played a ridiculous seven overtime games this year - winning five - and they went 10-4 in games decided by five or fewer points. That type of late-game, close-game magic can be fickle this time of the year.
No. 4 Seed: Virginia Tech Hokies (+1600)
The Hokies shrugged off the late-season loss of stud senior point guard Justin Robinson to secure their third straight NCAA Tournament bid. Virginia Tech is one of the sharpest offensive teams in the country, boasting a whole bunch of guys that can make a whole bunch of shots from anywhere on the court. Nick Alexander-Walker is a potential star with outstanding versatility. And upperclassmen Kerry Blackshear, Ahmed Hill and Ty Outlaw are still looking for the group's first tournament win.
Virginia Tech Hokies NCAA Tournament Predictions: It is a bit disingenuous to suggest that the Hokies played well without Robinson. They went 6-5 in 11 games without him and just 1-5 in games against teams currently in the NCAA Tournament field. Yes, that win was over Duke. But it was at home, and the Blue Devils were without Zion. I think this team is overrated, and I don't expect them to stay very long.
No. 5 Seed: Mississippi State Bulldogs (+2350)
Ben Howland's rebuilding job in Starkville is now complete as the Bulldogs head to their first NCAA Tournament in a decade. Howland has a tough, athletic bunch, led by senior Quinndary Weatherspoon and his 18.2 points per game. Senior center Aric Holman gives them an option near the basket, and freshmen Reggie Perry and Robert Woodward look like futures stars in the SEC. Looking at statistics would give you a bit of a skewed perception of this team. For example, they are No. 36 in the country in 3-point shooting. However, they don't shoot a lot of them, and none of their guards shoots better than 40 percent. Also, despite what their numbers suggest, the Bulldogs are a very solid defensive team, and they are capable of winning games a variety of ways.
Mississippi State NCAA Tournament Predictions: I am not a big fan of point guard Lamar Peters. The junior is too erratic to trust. And if this team has a shorter-than-it-should've-been stay in this tournament, I can all but assure you it will be because of him. The first win, over upset-minded Liberty, may be the toughest. And if they win that one, I think this team has the goods to get to the Sweet 16.
No. 6 Seed: Maryland Terrapins (+2900)
Forget about Duke: Maryland is actually the youngest roster in the East Region. They have just one senior on the roster, and seven of their top eight players are freshmen and sophomores. The post duo of Bruno Fernando, a potential Top 10 pick in the NBA Draft, and freshmen Jalen Smith, is as talented as any frontcourt in the nation. Guards Anthony Cowan and Darryl Morsell are bulldogs, and Mark Turgeon's squad has a lot of fight in it. That said, Maryland's youth and lack of depth has been exposed in the second half of the year. They are just 6-7 in their last 13 games. And while they play a lot of good teams tough, they haven't proven that they can consistently beat good teams.
Maryland NCAA Tournament Predictions: Maryland played one of the easiest nonconference schedules in the country. They got off to a great start in Big Ten play but have faded down the stretch. This team arrived a year early. This will be good experience for this group moving forward. But anything past one win would be a big surprise.
Best first-round matchup: No. 7 Louisville (-5) vs. No. 10 Minnesota
The best part of this matchup may be the storyline behind it. Rick Pitino coached at Louisville for 16 years before being unceremoniously ousted due to off-court controversy. Now his son, Dickie, will try to lead Minnesota to an upset win over his father's old program. Chris Mack is in his first season at the helm in Louisville. But he has had NCAA Tournament success at Xavier and will have his team ready to play. Minnesota forwards Amir Coffey and Jordan Murphy can play. They will wage a two-on-two battle with Cardinals Jordan Nwora and Steven Enoch in a game that should be fast and physical.
Best potential second-round matchup: No. 2 Michigan State vs. No. 7 Louisville
What Louisville team is going to show up in the NCAA Tournament? Will it be the one that started the year 16-5 and blew out North Carolina by 21 points in Chapel Hill? Or will it be the one that limped to a 4-8 finish with no wins of note in the past month? The Cardinals actually beat Michigan State 82-78 in overtime back in November. That game was in Louisville, and Michigan State will be playing with revenge on a neutral court. These are two blue-blood programs going toe-to-toe, and there will be a lot of talent out on the court. It should be a 40-minute fight.
Upset Alert (first round): No. 5 Mississippi State (-7) vs. No. 12 Liberty
This is a notorious 5-12 matchup, and those have been a goldmine for upsets. Eighteen times in the past 19 years at least one 12 seed has knocked off a 5 seed in the first round. The Bulldogs are playing a long way from home and will be in completely unfamiliar territory, as this is the program's first tournament game in 10 years. Liberty is one of the best shooting teams in the country (No. 12 in field goals and No. 64 in 3-point shooting) and they will treat this game like the National Championship.
Upset Alert (second round): No. 3 LSU vs. No. 6 Maryland
Maryland matches up really well with the higher-seeded Tigers. The Terps are one of the few teams in this bracket that has the frontcourt size and depth to hold their own on the inside against the Tigers. The Naz Reid vs. Bruno Fernando matchup would be and outstanding preview of two big men headed for the NBA. And watching Tre Waters deal with feisty Maryland point guard Anthony Cowan would be entertaining as well. The Terps are not the type to be intimidated, and I definitely think they could hold their own against the Tigers.
Dark Horse Team: No. 7 Louisville
There are plenty of holes in this roster. But Mack is a great coach, Nwora is a legit go-to guy capable of carrying this team, and there are enough bit parts on this Louisville team to make them a problem for anyone. They already beat a healthier Michigan State team once this year. They could do it again. And if that happens, then I don't know if there is much standing in the way of this team and a run to the Elite Eight.
Team That Makes Me Nervous: No. 3 LSU
I just don't know what to expect from the Tigers. And they are in a very volatile section of this bracket. Maryland, LSU and Louisville all have the talent to make a run to the Elite Eight. And they all have enough warts to flame out in the first round. LSU has been skating on thin ice all season, winning a lot of close games. And while they have enough be a threat to Duke, I have a hard time seeing them navigating a tricky pod and the off-field issues that are surrounding this group.
2019 East Region Predictions: I think that we're going to see at least two significant upsets in this region. There are so many boom-or-bust teams, and there are a lot of teams here that are either really young or that are missing key pieces because of injury. I'm looking for either Maryland, LSU or Louisville to make a run to the second weekend, and I think that Michigan State will get upset before any potential meeting with the Blue Devils. This bracket was really tailor made for the Blue Devils, and I don't think that anyone will stand in their way. I wouldn't have picked Duke to win any of the other three regions, as presently constituted. But the East is kind of a mess, and I don't think they will have any problems.
Robert Ferringo is a member of the Basketball Writer's Association of America and a professional sports handicapper for Doc's Sports. He is considered one of the best college basketball handicappers in the country and has posted 10 of 12 winning seasons. He is looking for a monster March run and will have an 8-Unit NCAA Tournament Game of the Year this week. You can sign up for his college basketball picks and get more information here .
Read more articles by Robert Ferringo
---
Most Recent March Madness Betting