2019 March Madness Bracket Predictions: South Region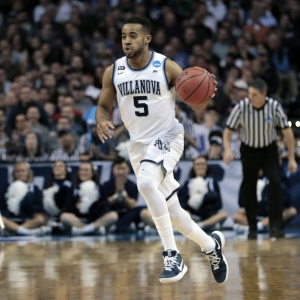 Here is my first sentence in last year's South Region predictions:
"I know that this has a great chance to come back to bite me but I'm just going to come right out and say it: I don't trust Virginia."
I went on to say about the Cavaliers, the No. 1 overall seed in last year's tournament and consensus title favorite, "deep down I think you and I both know that Virginia isn't winning the national title."
Man, did I nail that one.
Now the Cavaliers enter the 2019 NCAA Tournament as somewhat of an afterthought. Duke, Michigan State, Gonzaga, Kentucky, North Carolina and several other blue blood programs are sucking up all the oxygen when it comes to predicting a national title winner. Virginia, though, isn't garnering nearly the adulation or attention that they received last season.
From a handicapping perspective, that brings one word to mind: value.
Last year Virginia was obviously the most overrated team in the field. This year you could argue that they are underrated. And while I was selling the Cavs heading into last year's Big Dance, I am somewhat bullish on Virginia this year.
If the Cavaliers are going to earn that elusive slot in the Final Four, they are certainly going to have to earn it. Heavyweights like Tennessee and Villanova, as well as top-tier programs like Wisconsin, Oregon, and Purdue, all stand in their way.
The South Region semifinals and finals will take place on Friday, March 28, and Sunday, March 30, in Louisville, Kentucky. Here are Doc's Sports March Madness bracket predictions for the South Region:
No. 1 Seed: Virginia Cavaliers (+120 to win South Region)
The Cavaliers have waited more than 365 days for their shot at redemption. Last year Virginia became the first No. 1 seed to ever lose to a No. 16 seed when they were humiliated by Maryland-Baltimore County. The Cavs are again a No. 1 seed and will attempt to exorcise their demons on Friday against Gardner-Webb. Virginia has size, athleticism, sound guard play, great shooters, and the best defense in the country. There are two things they don't have: top-end, NBA-caliber talent and experience. UVA has just one senior on the roster. And other than De'Andre Hunter, I don't know if there is an NBA-level player on the team. That lack of high-end talent is what has cost them in past tournaments. We will see if their chemistry, cohesion and system can overcome that this time around.
Virginia NCAA Tournament Predictions: The Cavaliers won't lose in the first round again this year, of that I have zero doubt. However, Tony Bennett still hasn't been to a Final Four, and that is an even bigger hurdle. I think UVA has the goods to make it to Minneapolis. But until they show some mental toughness in March, they can't be counted on.
No. 2 Seed: Tennessee Volunteers (+380 to win South Region)
Tennessee spent a portion of the season as the No. 1 team in the country, and they are on the short list of teams hunting for the national championship. The Volunteers are in the Top 20 in both field goal offense (No. 7) and field goal defense (No. 18), and they are one of the most efficient squads in the nation. Grant Williams is a go-to guy on the interior and averaged 19 points, 7.6 rebounds and three assists per game. Admiral Schofield is the go-to guy on the perimeter and leads a group of four guards that all average 10 or more points. This team is mentally tough and proved its bona fides by dealing Gonzaga its first loss of the year.
Tennessee NCAA Tournament Predictions: This is easily one of the best teams in the country. And I think that their odds to win the region should be closer to +200. Guard play wins in March, and the Vols have a stacked backcourt of experienced players that are not afraid of a big shot. The only problem with this team is that they don't really have NBA talent, and Rick Barnes has been a terrible postseason coach. The deeper they advance, the greater the chance those limits get exposed.
No. 3 Seed: Purdue Boilermakers (+600)
The Boilermakers lost as much talent and experience as any team in the country from last year's team, with four senior starters exhausting their eligibility. Fortunately, they still have junior Carsen Edwards, one of the best offensive players in the nation. Edwards is a one-man gang but has plenty of support. Seven-foot-three center Matt Haarms is a beast on the interior. Coach Matt Painter surrounds him with shooters like Ran Cline and Grady Eifert. Purdue is a gritty defensive team. And their game plan is to basically grind teams down, keep games close, and then let Edwards and Haarms win them games in the final minutes.
Purdue NCAA Tournament Predictions: Matt Painter has brought a lot better teams than this to the NCAA Tournament and come up short. They've made it to back-to-back Sweet 16's, and I do think that they have a great opportunity to make it there again. But barring a Herculean effort from Edwards, I think the Sweet 16 is this team's ceiling.
No. 4 Seed: Kansas State Wildcats (+1350)
It is bizarre how much this season is becoming a carbon copy of last year's. Last year the Wildcats played their way into the tournament as a No. 9 seed but lost their top player, forward Dean Wade, to injury on the eve of the tournament. This year's team is virtually all the same players from last year, and they've played themselves into a four seed. But once again, on the eve of the tournament, they appear to have lost their top player, forward Dean Wade, to injury. What are the odds of that? Kansas State is a top-tier defensive team that has a pair of stellar senior guards, Barry Brown and Kamau Stokes. But the key is obviously Wade. He is a double-double machine and one of the best players in the Big 12. With him, Kansas State could make some noise. Without him, they could be in tough.
Kansas State NCAA Tournament Predictions: Last year they made it to the Elite Eight without Wade. Could they possibly do that again? I think that would be stunning. This would be a legit sleeper team if Wade was healthy and in form. Without him, I think their stay will be short.
No. 5 Seed: Wisconsin Badgers (+2000)
The Badgers have spent most of this season as kind of a replacement-level NCAA Tournament team. They've beaten most of the decent and bad teams they have faced. They've lost to most of the good ones. They play their uninspiring brand of bland ball with determination and purpose. And now they are just kind of here, taking up space in the NCAA Tournament field. Ethan Happ will end his Badgers career as one of the most decorated and accomplished players in school history. The entire Badgers scheme revolves around Happ. They play a four-out, one-in offense with Happ using an array of awkward-but-effective post moves to efficiently score. That forces teams to start to double-team Happ, and that opens things up for everyone else, in theory. The problem is that other than D'Mitrick Trice, none of the rest of the Badgers are that good. And including their home win over Michigan on Jan. 19, the Badgers are 1-6 against the rest of the NCAA Tournament teams seeded No. 5 or higher.
Wisconsin NCAA Tournament Predictions: Wisconsin is a little like Syracuse in that their quirky style makes them a dangerous team in March because they are hard to prepare for. However, like the Orange, at the end of the day the Badgers just aren't very good outside their top one or two players. A Wisconsin run to the Sweet 16 wouldn't stun me. Neither would a first-round exit.
No. 6 Seed: Villanova Wildcats (+1100)
Oh hey, I know you; aren't you the defending National Champions, the Big East regular-season champions, and the Big East Tournament champions? Villanova may be one of the most underseeded teams in the tournament. The Wildcats aren't anywhere close to as good as they were last year when they cut down the nets. However, the Big East is not pushover conference, and the Wildcats owned it once again. Phil Booth and Eric Paschall are super seniors and legit go-to guys. The problem for these guys is that the rest of the team is too young and too inexperienced to be counted on for any type of consistency. What team will show up this week: the one that got bombed by 27 by Michigan and lost to Furman and Penn? Or the one that dominated their Thanksgiving tournament, including a title game win over Florida State? Is it the team that won 11 straight from December to February? Or the one that lost five of its last eight heading into the Big East Tournament - which they promptly won? Your guess is as good as mine.
Villanova Tournament Predictions: I do think that this team deserved a better seed and more respect from the general public. Villanova has two won titles in three years and has been fantastic in March under Jay Wright. Don't sleep on these guys.
Best first-round matchup: No. 8 Mississippi (-2) vs. No. 9 Oklahoma
Neither one of these teams really move the meter, nationally. But this game features a slew of good guards, some really athletic wing players and two excellent coaches in Ole Miss's Kermit Davis and OU's Lon Kruger. Both teams are ice-cold coming into the tournament, with the Sooners dropping eight of 12 and the Rebels on a 2-5 slide. But both are capable of getting hot in a hurry, and I think that the winner can give Virginia some problems in Round 2. Terence Davis (Ole Miss) and Christian James (OU) are two senior lead guards that want to extend their careers. I think this one will be very competitive and should come down to the final minutes.
Best potential second-round matchup: No. 3 Purdue vs. No. 6 Villanova
Both of these teams have the potential to do some serious damage in this bracket. The Boilermakers have been very, very good over the past three months, going 17-4, and the only two teams that have beaten them since Jan. 9 are Maryland and Minnesota. Both teams take an inordinate amount of their total shots from behind the 3-point line. That means that this could turn into a wild game. Both schools are used to playing in big games and electric environments, and this one could have the feel of a regional final rather than a simple second-round matchup.
Upset Alert (first round): No. 5 Wisconsin (-1.5) vs. No. 12 Oregon
There was clearly something off about Wisconsin in the Big Ten Tournament. Ethan Happ was benched in the Badgers' first game, and then a Wisconsin team that rarely gets blown out got run out of the gym by Michigan State in their second contest. Oregon, on the other hand, is one of the hottest teams in the country. They've won eight straight games and steamrolled their way to the Pac-12 Championship (and automatic bid) by winning four games in four nights. Both teams win with defense and a deliberate style. But Ducks have all the athleticism that Wisconsin lacks and all the momentum right now.
Upset Alert (second round): No. 2 Tennessee vs. No. 7 Cincinnati/No. 10 Iowa
I can't knock the Volunteers at all. This is a Final Four-caliber Vols team. But Rick Barnes has failed to make it out of the opening weekend the last seven times that he has brought a team to the NCAA Tournament. That includes last year's No. 3 seed Volunteers flopping against Loyola Chicago in Round 2. Cincinnati is playing very close to home (nearby Columbus), and they should have strong crowd support. Iowa is dangerous because the Hawkeyes have decent size and a quartet of perimeter guys that can knock down shots. If Iowa beats Cincinnati, in what is basically a home game for the Bearcats, then that would show some mental toughness from a group that too often exhibits none. And if they come out and hit some shots against the Vols, they could make it interesting.
Dark Horse team: No. 6 Villanova
Last year the Wildcats won the National Championship by absolutely demolishing six straight opponents. Two teams stayed within 12 points of these guys in last year's dance, and the Wildcats' average margin of victory was 17.7 points per game. No, this year's team isn't even close to last year's group. But they do have four of the eight guys that played on that team back, and they have proven this year that they can win big games on the road or on neutral courts. They are the champions until someone knocks them off.
Team That Makes Me Nervous: No. 3 Purdue
I just don't know how seriously to take this team. Carsen Edwards can absolutely go off and carry this team to an Elite Eight. The problem is that Matt Painter has been a bit of a dud in the NCAA Tournament, and he's never guided a team past the Sweet 16. This Purdue team has overachieved this year considering what they lost last season. How long before they get exposed?
2019 South Region Predictions: If Tony Bennett is finally going to guide a team to the Final Four, he is certainly going to have to earn it. There are pitfalls waiting for Virginia throughout this bracket. That said, I do think that this year's Cavaliers are a lot better than last year. It's basically the same team only a year older, a year wiser, and a year more motivated. Their best player, De'Andre Hunter, didn't play in last year's first-round loss, and that defeat came after a draining ACC tournament title run. I think that Virginia is in a good spot, and I think that if Tennessee gets tripped up prior to the Elite Eight then the Cavaliers will finally break through and win a trip to Minneapolis.
Robert Ferringo is a member of the Basketball Writer's Association of America and a professional sports handicapper for Doc's Sports. He is considered one of the best college basketball handicappers in the country and has posted 10 of 12 winning seasons. He is looking for a monster March run and will have an 8-Unit NCAA Tournament Game of the Year this week. You can sign up for his college basketball picks and get more information here .
Read more articles by Robert Ferringo
---
Most Recent March Madness Betting