NBA Totals Betting: Best and Worst Teams on Over and Under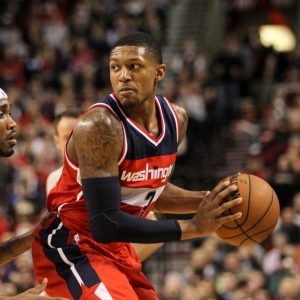 There are some teams that are really good at producing profits in the NBA when it comes to totals. And there are those that really aren't. And, as you will soon see, there is little relation between totals profits and success on the court. In fact, it seems evident, if only this year, that being good at basketball makes it hard for you to be good at being consistent when it comes to totals. Here's a look at the best and the worst of NBA teams against the total as of March 3.
Best
Washington, 40-23: Despite their changes and issues this year, the Wizards still rank fourth in the Eastern Conference in terms of points per game. Most people wouldn't guess that. And they are second worst in the entire league in points allowed, ahead of only Atlanta. Take a team that scores more than people think and couldn't stop a team of middle school girls from getting 100 points, and it is very tough to post a number that they will go under with any consistency. They are deservedly the most profitable totals team in the league.
Memphis, 25-39: The Grizzlies have scored 2.5 points per game less than any team in the league, 5.4 points less than any Western Conference team, and 9.1 fewer than any team playoff team in the West. This is not a good offense, and the trade deadline hasn't changed that in a big way. And they have allowed the fewest points per game of any team in the NBA. If that's not a combination for creating plenty of unders, then I don't know what is.
San Antonio, 38-25: The Spurs have a pretty mediocre offense and a pretty mediocre defense. They are having some success, though, and are likely a playoff team. That has been enough for them to consistently outplay the expectations of bettors - at least when it comes to totals. DeMar DeRozan and Rudy Gay are two of the three drivers of this offense, and neither of those guys has ever done much to help their teams go under.
L.A. Lakers, 25-37: LeBron has gotten lazier on defense as his career has gone along, and he is happier than ever this year to hide by covering the weakest player on the court. There isn't enough to cover up for that, and there just isn't enough offense on this roster. People expected big things when the King arrived in L.A., and unless your definition of big things is missing the playoffs by five games then this has been a massively disappointing year - unless you have consistently bet them to go under.
Atlanta, 36-28: They have an offense that is about average and a defense that has allowed 2.1 more points per game than any other squad in the league. Of course, they aren't going under as much as they are going over. What's a little surprising is that they haven't gone over even more.
Worst
Milwaukee, 31-32: The Bucks have been the most profitable team in the league against the spread because they have consistently exceeded expectations. But oddsmakers obviously have a much better handle on what to expect from this team when it comes to totals. Best ATS and worst on totals - that's really something.
Utah, 31-30: The Jazz have gone through a massive turnaround since the calendar changed years. In 2018 they were a total disaster and were looking like a team that was somehow going to miss the playoffs. Suddenly they are not just a playoff lock but are in contention to grab home-court advantage in the first round. They went under the total a disproportionate amount early on - like eight unders and 10 of 11 in December. But they have really found their game now and have turned the balance back to even overall.
Oklahoma City, 31-32: This is the second-best offense in the West and a respectable enough defense. Add that all together and you might suspect that we would see more overs. But this team is pretty much what we expected them to be, and that reliability and adherence to expectations has made it really easy for oddsmakers to dial in this team.
Philadelphia, 32-31: They have scored the second most points of any Eastern playoff team and have allowed the second most points as well. But, like Oklahoma City, they are performing with a consistency that is making things easy for oddsmakers.
New York, 31-32: They have the third-worst defense in the conference, but that is coupled with a fairly incompetent defense - and that's being kind. Those balance each other off for the most part and have made it hard for them to do anything in terms of totals with any consistency.
Read more articles by Trevor Whenham