Super Bowl Facts 2019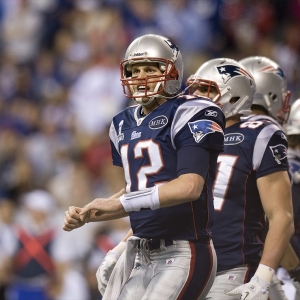 When you are handicapping a Super Bowl, you have to look everywhere you possibly can for inspiration and the edge you need to make a profit. There are all sorts of Super Bowl facts and tidbits out there that could really be helpful when it comes to making a decision. These are not those kind of Super Bowl facts. They are facts for sure. And they are about the Super Bowl. But nothing in this collection will have anything to do with how the game turns out. I promise.
- A lot will be made of Tom Brady's age - he will break his own record as the oldest guy to start at QB in a Super Bowl, and he can break Peyton Manning's record for oldest guy to win one. He's significantly older than the Rams' oldest player - starting left tackle Andrew Whitworth turned 37 in December, while Brady has been 41 since August. The gap between Brady and his next oldest teammate is even bigger - Stephen Gostkowski will turn 35 in the days leading up to the Super Bowl. More striking than that, obviously, is that Rams coach Sean McVay will only turn 33 on January 24. So, when McVay was born Brady was in third grade. And when Brady won his first Super Bowl in 2002, McVay had been old enough to get his driver's license for all of 10 days.
- The youngest active player in the game is lightly-used Rams running back John Kelly, drafted in the sixth round out of Tennessee, who turned 22 in October. He was born in the fall of 1996, when Brady was a freshman at Michigan.
- At 6'4", Brady is taller than many of his teammates, but not the tallest on the squad. That honor goes to starting left tackle Trent Brown, who is 6'8". Brown is also the heaviest player on the team, weighing in at an elephant-like 380 pounds. The Rams also have a 6'8" tackle - Rob Havenstein - but he can't touch Brown on the scale. Havenstein is one of two Rams who top out at 330. The smallest guy in the game is Rams corner Nickell Robey-Coleman, who at 5'*" and 180 is apparently so small that referees can't see him commit pass interference no matter how blatant it is.
- We talked about this a lot last year, but it is worth revisiting the fact that Bill Belichick's boat dealer will be cheering hard for the Pats. Belichick had a boat called Six Rings - named after the two Super Bowl rings he won as an assistant with the Giants, and the four he won with the Patriots. After winning last year, he traded that boat in for a new one called VII Rings. If New England wins this year, he'd have eight rings, and his boat would be outdated. There is nothing more vile than cruising in an outdated yacht. Or at least I imagine that's true.
- People who don't follow college football very closely will often talk about how the ratings players get in high school don't matter. They will point to a guy who was a two-star, or had no stars, and became a superstar in the NFL, and will say it means that recruiting rankings are pointless. This game makes it really tough to sustain that argument, though. The Rams have four starters who were five-stars - the highest rating a high school player can get, reserved for a small handful of the very best of best guys - and the Patriots have two. The Pats have six four-star guys, while the Rams have seven. So, in total 43 percent of starters in this Super Bowl were either four- or five-stars coming out of high school. For comparison, about 1 in 770 players who are rated at all are given four- or five-stars - 0.13 percent. So, the concentration of four- or five-star recruits in the Super Bowl is about 331 times higher than the concentration of them among random high school players considered good enough to be rated at all. And before you say that any guy with a pulse can be rated, consider that there are four starters in this game who weren't rated - most notably New England wide receiver Chris Hogan, who was largely ignored by scouts because lacrosse was his focus in high school. Being rated by scouting services is significant, and among guys who are rated these elite kids are very rare. The point isn't that only four- and five-star recruits become stars. It's that they are much, much, much more likely to do so than other guys.
- Both of these teams won their last game on the road, which means that they weren't the top seeds in their conference. That isn't very common lately. In the last five year prior to this one, only Atlanta wasn't a No. 1 seed - they were a No. 2, like these two teams. Before that streak started, though, it had been 20 years since two top seeds met for all the marbles.
Want free NFL Super Bowl picks? Doc's has you covered. New clients can take advantage of this great offer of $60 in free Doc's Sports members' picks for any handicapper on Doc's Expert Handicapper list. Just check out these guys' pages and see what great work they have done making money for themselves and their clients over the years. Get $60 worth of premium members' picks free .
Read more articles by Trevor Whenham