NCAA Football Predictions: Championship Week Opening Line Report and Picks
by Chris Vasile - 11/29/2021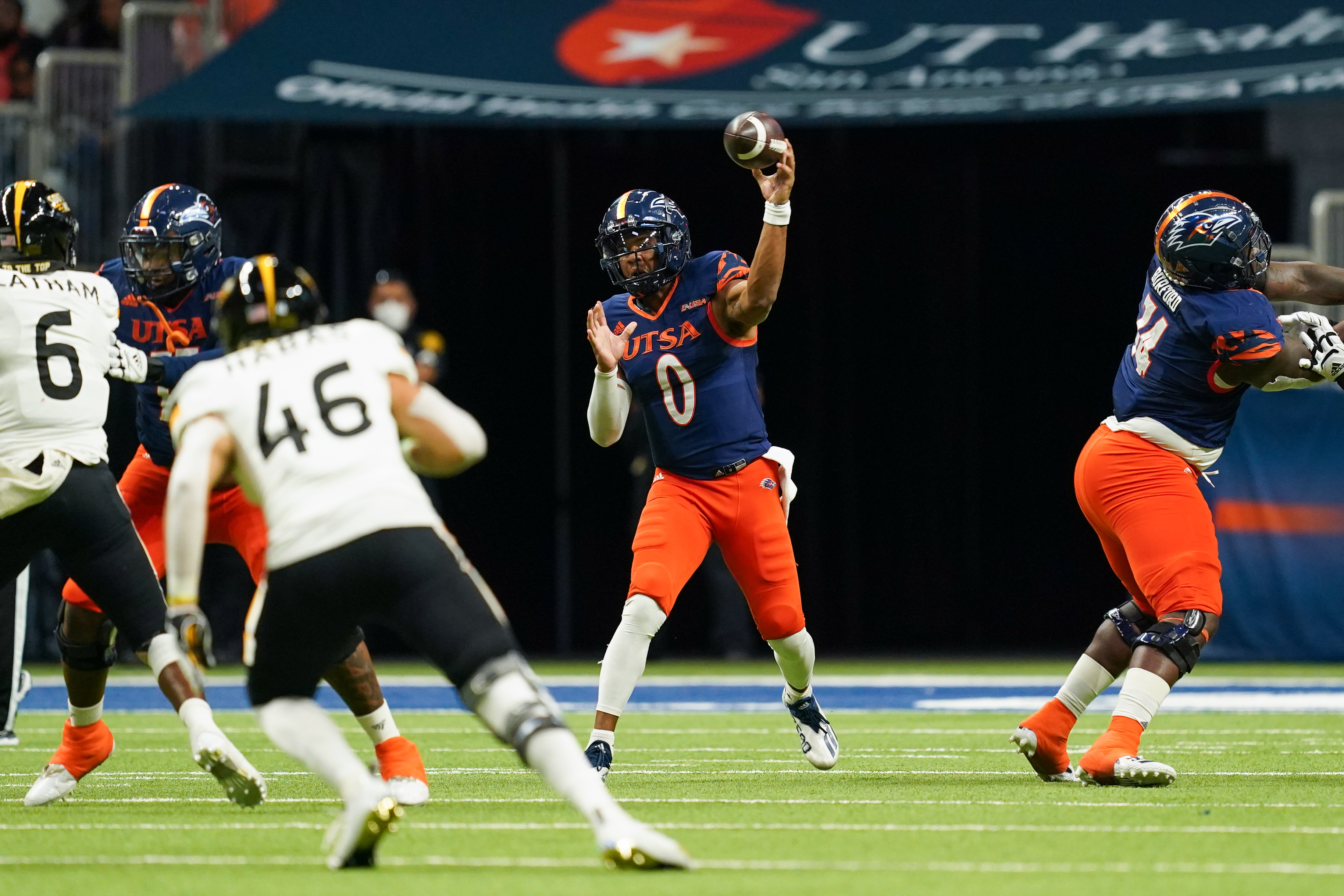 Ladies and gentlemen, welcome to the Opening Line Report: Championship Weekend edition. I cannot wait for this weekend's action, and I've taken the liberty to run through each one of the 10 games on the board to give you an idea of who might be worth backing this weekend. Let's finish the college football "regular-season" strong and build some momentum as we head into my favorite time of the year, Bowl Season.
As far as last week's results go, it started well as we hit both Michigan +8 over Ohio State and Oregon -7 over the Oregon State Beavers. We were then staring down a perfect 3-0 week as Oklahoma led Oklahoma State 33-24 heading into the fourth quarter before coughing up 13 points and ultimately losing the game for us. A 2-1 week is still profitable, and we look to carry that momentum into this weekend's conference championship contests.
Doc's Sports offers college football expert picks for every game on our college football predictions page.
Western Kentucky Hilltoppers at UTSA Roadrunners +1, 72,5
This game is being played on the home field of UTSA. However, despite that and despite the fact that UTSA posted an 11-1 record this season, they are still underdogs to Western Kentucky heading into this game. That is almost unheard of in the sense that a one-loss team, on their home field, is not even worthy of laying three points for home-field advantage. Western Kentucky has been on fire for the better part of two months, having reeled off seven straight wins, including last week's throttling of Marshall. The Hilltoppers sit first in the country in total yards per game, first in passing yards and second in points at 43.3. They will be up against one of the better defenses they've played during their winning streak, so it'll be interesting to see which unit comes out on top. The Roadrunners have a solid offense by their own account, racking up 444 yards per game, 254 yards passing and 179 yards rushing. They also put up 36.9 points per game. So, to say this game has the makings of a shootout would be an understatement. Either way, I'm rolling with the home side in this one as I think their defense makes one more stop than the Hilltoppers.
Pick: UTSA ML.
No. 11 Oregon Ducks vs No. 19 Utah Utes -3, 58
This game is being played on a neutral field. And for the Ducks, thank God. These two teams hooked up two weeks ago in Salt Lake City, and it was the Utes who dominated and rolled to a 38-7 win. Oregon essentially didn't get off the bus and now find themselves in a position to exact some revenge on their conference foes. I'm not sure what to make of this contest, as I think the Utes have the phycological advantage, but the Ducks have more talent. I'll take a shot with the over as this game is being played indoors and both teams should have success moving the ball up and down the field.
Pick: Over 58
No. 8 Baylor Bears vs No. 7 Oklahoma State Cowboys -6.5, 47.5
This game is also being played on a neutral field. The Cowboys had already clinched a spot in the Big 12 Title game heading into Bedlam, so they could have very easily folded up shop and given up down nine in the fourth quarter vs Oklahoma. Instead, they won the quarter 13-0 and are now riding a five-game winning streak into this showdown with Baylor. The Cowboys have the decided advantage in this contest on the defensive side of the ball, but the Bears might just be a better offensive unit. It'll be interesting to see if the Bears can run the ball with their 16th ranked attack against the Cowboys 10th ranked rush defense. When push comes to shove, I'll take the better defense.
Pick: Oklahoma State Cowboys -6.5
Kent State Golden Flashes vs Northern Illinois +2, 72
This game is being played on a neutral field. However, if this game is anything like the MACtion we've witnessed for the last 13 weeks, there are going to be points, points and more points. Both of these teams have defenses that are ranked in the 200's in all major defensive categories. They simply couldn't stop a pop warner team from scoring on them. So, who has the edge? Well, the Golden Flashes have the better offensive unit, so I'll side with them and the fact they are a bit closer to the venue than their counterparts. I know that's not really sound betting logic, but nothing ever makes sense when two MAC teams are involved.
Pick: Kent State -2
Utah State Aggies at No. 21 San Diego State Aztecs -4.5, 50.5
This game will be played on the Aztecs home field, and I'm not sure the venue would really make a difference for the Aggies. I think they are going to get blown out in this one. The Aztecs' defense is no joke. They are among the best units in the country. And the last time these two teams hooked up; San Diego State won 38-7. Utah State has been a good story this season, but at times their offense dries up and the defense can't hold anyone out of the endzone. This game means a ton to both programs, but San Diego State needs this for a 12-win season and to solidify the success they've had throughout the year.
Pick: San Diego State -4.5
Appalachian State Mountaineers at Louisiana-Lafayette Ragin' Cajuns +2.5, 52.5
This game is being played on the Ragin Cajuns' home field, and I expect it to be a really good football game. App State comes into this one at 10-2 and on a six-game winning streak, while ULL checks in at 11-1 and on a 11-game winning streak. These two teams stack up pretty evenly on both sides of the football if you look at the stats. If you look at intangibles, I give the edge to the Mountaineers, who have far more experience in big games than ULL. Let me take a shot with the Mountaineers on the money line.
Pick: App State ML.
No. 1 Georgia Bulldogs vs No. 3 Alabama Crimson Tide +6, 50
This game is being played on a neutral field, and I'm all over Georgia in this one. There are some folks out there who keep bringing up the fact that Georgia has no "really good" wins on their record. Well, you can only beat who you have on the schedule, and Georgia has beaten every single team so far. They are as complete a football team on both sides of the ball as you will find and should have the decided advantage on defense against Alabama's offensive unit. I suspect this line will drop by kickoff because nobody ever wants to bet Alabama, so I would advise waiting to get a better number. Either way, I think Georgia wins by at least seven points.
Pick: Georgia Bulldogs -6
No. 24 Houston Cougars at No. 4 Cincinnati Bearcats -10, 55
This game is being played at the home of the Bearcats, and with good reason. Cincinnati has steamrolled its way to a perfect 12-0 season, and there is only one more game in their path for them to reach the College Football Playoff for the first time in school history. Heck, it'll be the first time any team from outside the Power 5 conferences has been included in the CFP rankings. On paper, the Bearcats should roll. However, if you look closer at the stats, Houston will put up a very good fight as they are nearly even in most offensive and defensive categories. The Cougars enter 11-1. And with very little support being generated for them in this contest. I think Cincy wins, but Houston stays within the number.
Pick: Houston +10
No. 17 Pittsburgh Panthers vs No. 18 Wake Forest Demon Deacons -2.5, 72.5
This game is being played on a neutral field, and I think this game is going to fly over the points. Both teams couldn't stop a nosebleed. But their offenses are legit and rank third and fourth in points scored per game and sixth and 14th in total yards per game, respectively. The only thing that could slow down these offenses would be weather, but the forecast isn't calling for anything worth mentioning. Give me the over.
Pick: Over 72.5 Points
No. 5 Michigan Wolverines vs No. 16 Iowa Hawkeyes +10.5, 44
And lastly, this game is also being played on a neutral field and is the most important game in Michigan history since last week's game vs Ohio State. Michigan needs to win this game to get into the CFP and should have every chance to do so as they are the far superior team both on paper and with the eye test. Iowa has put together a nice season, but they simply don't have the offensive firepower to keep up with the Wolverines.
Pick: Michigan -10.5
Get college football picks on every single game, or if you want our very best bet premium picks by the experts, sign up for your free $60 account with a guarantee.