2021 AL Central Predictions and Expert Betting Advice
by Robert Ferringo - 4/1/2021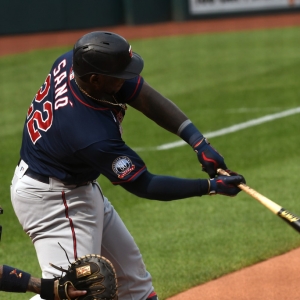 This division is still pathetic.
I've read all kinds of missives about Minnesota's potential as a World Series sleeper and Chicago's priming for a return to relevance. It's all nonsense. The American League Central is by far the most pathetic division in baseball. And winning the worst division in the sport doesn't make a team a true competitor for the American League crown.
The Central is very much a two-horse race. Minnesota and Chicago are clearly the class of the division, and the winner of that race may be determined by how much pain they are capable of inflicting on the other weak sisters in the Central.
For Cleveland, Detroit and Kansas City, simply not embarrassing themselves would have to be considered an accomplishment.
Doc's Sports offers free MLB picks for every game on our baseball predictions page.
Here is Doc's Sports 2021 A.L. Central picks and betting predictions:
CLEVELAND INDIANS
2021 Wins Over/Under: 81.5
Odds To Win 2021 AL Central: +900
Odds To Win 2021 AL Pennant: +3200
2021 Cleveland Indians Odds To Win World Series: +6400
Outlook: I really don't think that Terry Francona gets nearly enough credit for guiding the uber-consistent Indians. Cleveland has been shedding talent and contracts over the past three seasons. But The Tribe hasn't skipped a beat, finishing above .500 for eight straight seasons. Can Francona do it again after losing Francisco Lindor and Carlos Carrasco?
I doubt it.
Jose Ramirez and Eddie Rosario are both All-Stars. But that's not enough to paper over all the holes in a lineup may be even worse than the one that finished 2020 with the third-lowest OPS in the league. Cleveland compensated with a dominating pitching staff, spearheaded by Cy Young winner Shane Bieber. But just like with the lineup, the drop-off after Bieber is pretty stark.
MINNESOTA TWINS
2021 Wins Over/Under: 88.5
Odds To Win 2021 AL Central: +100
Odds To Win 2021 AL Pennant: +650
2021 Minnesota Twins Odds To Win World Series: +1800
Outlook: The Twins are the two-time defending division champions and are still the big boys on the block. But how seriously can we take a team that hasn't won a playoff game since 2004 and that has just one playoff series win in the last 30 years? There are a lot of fun, talented players on this roster: Miguel Sano, Jorge Polanco, Josh Donaldson, Andrelton Simmons, Byron Buxton and Nelson Cruz, to name a few. The Twins also continue to be a moneymaker, even against inflated intradivisional lines, because their high-powered lineup is capable of pounding opponents into submission.
Yet, this team still lacks anything even close to the type of frontline starters that World Series teams needs. Kenta Maeda, Jose Berrios and Michael Pineda are good enough for the regular season. They don't scare anyone in the postseason. Unless the Twins get serious about acquiring a clear-cut, stud No. 1 starter (or three), these guys are destined for another postseason flameout.
CHICAGO WHITE SOX
2021 Wins Over/Under: 90.5
Odds To Win 2021 AL Central: +140
Odds To Win 2021 AL Pennant: +450
2021 Chicago White Sox Odds To Win World Series: +1200
Outlook: You always want to be careful about being the last one to jump on the bandwagon of a team that "wins the offseason". That's the White Sox, who enter the 2021 campaign with as much buzz and hype as any team in baseball. The bandwagon definitely hit a severe bump when star outfield Eloy Jimenez was injured and declared out for the season. This team will still lean on Jose Abreu, Tim Anderson, Adam Eaton, and a diverse supporting cast to challenge the Twins.
Unlike the Twins, Chicago does have top-line starters leading its rotation with Lucas Giolito, Dallas Keuchel and Lance Lynn.
I'm still skeptical of this team. They went 35-25 in last year's 60-game season. Prior to that, they had averaged 70 wins per season in the previous seven years. So excuse me if I don't see the White Sox exploding to win over 90 games this year. Instead, I'm calling for this team to be a disappointment and an underachiever.
KANSAS CITY ROYALS
2021 Wins Over/Under: 73.5
Odds To Win 2021 AL Central: +4900
Odds To Win 2021 AL Pennant: +4900
2021 Kansas City Royals Odds To Win World Series: +12000
Outlook: I think if there is going to be a team to break out and exceed expectations in the Central this year, it will be the Royals. Kansas City showed some promise last year after back-to-back 100-loss seasons. Now they are at the stage of their rebuild where they are looking for some of the seeds they've planted over the last four seasons to start to produce.
The Royals are looking for several recent imports – Andrew Benintendi, Carlos Santana and Michael Taylor – to pay dividends. If they can also get bounce back seasons from Jorge Soler and Hunter Dozier than the lineup, including stud Whit Merrifield, could be better than average. Having Salvador Perez back from injury should also help the pitching staff, which improved its team ERA from No. 27 in 2019 (no Perez) to No. 12 last year.
I think this is a good team to buy low.
DETROIT TIGERS
2021 Wins Over/Under: 68.5
Odds To Win 2021 AL Central: +5000
Odds To Win 2021 AL Pennant: +8400
2021 Detroit Tigers Odds To Win World Series: +20000
Outlook: Detroit – much like Baltimore and Seattle – was a bit of a surprise last year. They were able to hang around in the playoff race a bit longer than expected before slinking back to 23 wins. Now, like the Orioles and the Mariners, I expect the Tigers to be in for a rude awakening and to come back to earth during this year's 162-game schedule.
The Tigers pitching staff was No. 29 in wins above replacement last year, and their position players No. 25, collectively, in WAR. Detroit was outscored by 69 runs in 58 games last season, and there simply isn't much talent on this roster. They should have enough proven MLB players to avoid 100 losses. But it will be close.
2021 American League Central Picks and Predictions: Predicted Order of Finish
1. Minnesota Twins
2. Chicago White Sox
3. Cleveland Indians
4. Kansas City Royals
5. Detroit Tigers
Get free MLB picks on every single game, or if you want our very best bet premium picks by the experts, sign up for your free $60 account with a guarantee.
Robert Ferringo is a professional sports handicapper for Doc's Sports. He is considered one of the top MLB cappers in the country and has turned a profit in three of four baseball seasons (and six of his last eight). Robert exploded for an incredible +$13,100 profit run in 2019 from mid-April to late July and he plans on doing it again this year. Robert has posted four of six winning years on the diamond and is looking for another big season. Click here for more information on his MLB picks.