2021 AL East Predictions and Expert Betting Advice
by Robert Ferringo - 3/31/2021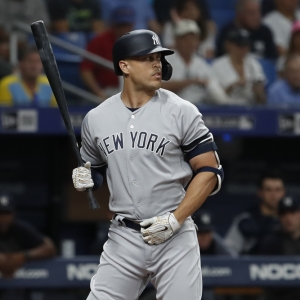 If betting value is what you crave, then I must direct you away from the American League East this MLB betting season.
The East is one of the most highly publicized divisions in baseball. New York and Boston are two of the sport's biggest draws, and Tampa Bay is the defending American League champion. Toronto is also an exciting team full of young, up-and-coming stars and has enjoyed its share of headlines. Mix it all together, and there are four teams that are going to be overpriced by the sportsbooks to counter the crush of public tickets they expect to take on these teams.
When I say that the A.L. East is "overpriced" or "overvalued," that isn't to say that it is overrated. This is one of the best and most competitive divisions in baseball. It should also be one of the most entertaining division races throughout the summer. These guys deserve all the attention that they get from the mainstream media. But turning a profit betting on this crop of high-powered franchises may prove difficult this season.
Doc's Sports offers free MLB picks for every game on our baseball predictions page.
Here is Doc's Sports 2021 American League East preview:
NEW YORK YANKEES
2021 Wins Over/Under: 95.5
Odds To Win 2021 AL East: -200
Odds To Win 2021 AL Pennant: +220
2021 New York Yankees Odds To Win World Series: +600
Outlook: Can they stay healthy and can they find enough starting pitching? Those are the only two questions standing between the Yankees and a return to the World Series. New York has been devastated by injuries over the last three seasons. The result has been the acceleration of the developments of a lot of home grown talent. But if the Yankees are going to meet their lofty expectations, they need their studs – Aaron Judge and Giancarlo Stanton in particular – to give them 150 games and 500 at-bats, something Judge hasn't done since 2017 and Stanton hasn't done since 2018.
Gerrit Cole is the anchor of a pitching staff with a lot of potential. New York is hoping that Corey Kluber regains his Cy Young form. And the potential midseason return of Luis Severino could give this roster a jolt. It's a high-risk, high-reward rotation that has two major support systems. The first is one of the league's best lineups providing run support. The second is one of the league's better bullpens. There won't be any value betting on this team this year, and we'll see if they can meet expectations.
TORONTO BLUE JAYS
2021 Wins Over/Under: 86.5
Odds To Win 2021 AL East: +430
Odds To Win 2021 AL Pennant: +800
2021 Toronto Blue Jays Odds To Win World Series: +1800
Outlook: The Baby Jays had a coming out party in last year's shortened season. They snuck into the playoffs and laid a foundation of excitement for the future with its young corps. Toronto did not stand pat after their promising 2020, paying market rates for George Springer and Marcus Semien to help bolster a Top 10 offense. We'll have to wait to see if the starting pitching is up to snuff. Hyun Jin Ryu quietly beat expectations after his big free agent signing last year. Now we'll see if Ross Stripling, Steve Matz and Tanner Roark can find any level of consistency after showing flashes throughout their careers.
The word is out on the Jays. This is a big buzz team, and the public is going to be loading up on them. They will have decidedly less betting value than they held last year. Those third-tier starting pitchers should keep their day-to-day moneylines playable. But you're only going to make so much money banking on quality starts from Steve Matz.
TAMPA BAY RAYS
2021 Wins Over/Under: 86.5
Odds To Win 2021 AL East: +500
Odds To Win 2021 AL Pennant: +1300
2021 Tampa Bay Rays Odds To Win World Series: +3000
Outlook: By now, you should know who the Rays are: collection of overachieving cast-offs and prospects that consistently and routinely beat their expectations. The Rays have beaten both their Pythagorean Wins and their Elo ranking each of the past three seasons and were within two games of wining a World Series last year. Tampa Bay shuffled the deck again this offseason, bidding adieu to standout starters Blake Snell and Charlie Morton. But players come and go in this franchise, and the Rays just keep on keeping on.
I do think the Rays are due for a letdown this year after their run to the World Series last season. They've never made the playoffs three straight seasons, and I don't know that they will this year. However, you're taking your life into your hands betting against this group, so proceed with caution.
BOSTON RED SOX
2021 Wins Over/Under: 79.5
Odds To Win 2021 AL East: +2000
Odds To Win 2021 AL Pennant: +2200
2021 Boston Red Sox Odds To Win World Series: +5400
Outlook: The Red Sox are still not very good and are in the midst of a rebuild. They definitely have some spoiler potential this year because they have one of the best offenses in baseball. Boston was No. 3 in team batting last year, and that was in spite of a horrendous year from J.D. Martinez. If Boston gets a bounce back year from Martinez and Rafael Devers, then they are going to be a major problem for their opponents.
Boston has its own major problem, though. Their pitching staff was a total train wreck last year, and it isn't much better this season. They were No. 28 in team ERA (5.58), No. 30 in WHIP (1.60) and No. 27 in quality starts. Without any significant talent upgrades, the Red Sox pitching staff should ensure plenty of softball-esque scores in Fenway again this season.
BALTIMORE ORIOLES
2021 Wins Over/Under: 64.5
Odds To Win 2021 AL East: +9900
Odds To Win 2021 AL Pennant: +9900
2021 Baltimore Orioles Odds To Win World Series: +25000
Outlook: Thanks to Boston's implosion last season, the Orioles actually managed to avoid the A.L. East basement. I don't think they'll be that lucky this year. Baltimore was No. 3 in American League profit for $100-per-game bettors last year. They were much more competitive than anticipated, but that was over the short sample size of the 2020 campaign. Over 162 games this year, all the weaknesses on this roster – terrible back-end pitching, leaky bullpen, terrible defense – will be exposed. Anything short of 100 losses would be another season of beating the market for the perpetually rebuilding O's.
2021 American League East Picks and Predictions: Predicted Order of Finish
1. New York Yankees
2. Toronto Blue Jays
3. Boston Red Sox
4. Tampa Bay Rays
5. Baltimore Orioles
Get free MLB picks on every single game, or if you want our very best bet premium picks by the experts, sign up for your free $60 account with a guarantee.
Robert Ferringo is a professional sports handicapper for Doc's Sports. He is considered one of the top MLB cappers in the country and has turned a profit in four of six baseball seasons (and six of his last eight). Robert exploded for an incredible +$6,100 profit run in 2019 during the first three weeks of the season and he plans on doing it again this year. Robert has posted four of six winning years on the diamond and is looking for another big season. Click here for more information on his MLB picks.