2021 AL West Predictions and Expert Betting Advice
by Robert Ferringo - 4/1/2021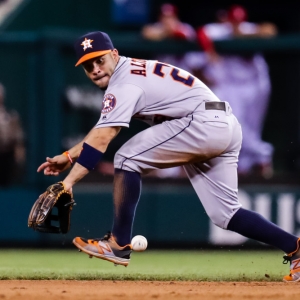 Two years ago, the Houston Astros were -800 to win the American League West. Playing the regular season was a mere formality, and Houston ended up taking the division title with 107 wins and a 10-game margin over second-place Oakland.
Last year Oakland won the West in the truncated 60-game season. That snapped a streak of three straight Astros division titles. And heading into the 2021 campaign, Houston is right around even-money to win the West. That shows how much more competitive this division is now, and the race could end up being a three-way dogfight between the Astros, A's and a potential sleeper in the Los Angeles Angels.
Doc's Sports offers free MLB picks for every game on our baseball predictions page.
Here is a look at Doc's Sports 2021 A.L. West picks and some betting predictions:
Houston Astros
2021 Wins Over/Under: 87.5
Odds To Win 2021 AL West: +125
Odds To Win 2021 AL Pennant: +1200
Odds To Win 2021 World Series: +2700
Outlook: Houston was the biggest beneficiary of fan-less 2020 season. It will be interesting to see if the Astros have to deal with the ire of the fans this year as a result of their role in the recent cheating scandal. The Astros were a flop in the regular season but managed to turn it on in the playoffs, coming within one game of a return trip to the World Series.
Houston has seen some significant changes to its depth chart over the last six months. Jose Altuve, Alex Bregman and Carlos Correa still form the core of the lineup. They will be supported by a lot of young, unproven talent. There is really no telling how the chemistry and production will shake out. The Astros are also trying to rebuild their pitching staff around 37-year-old Zach Greinke and Lance McCullers, who is in his first full season back after losing 2019 to Tommy John surgery.
Call me crazy, but I think we are going to see more of the 2020 regular season Astros than the 2020 postseason Astros this year.
Los Angeles Angels
2021 Wins Over/Under: 83.5
Odds To Win 2021 AL West: +350
Odds To Win 2021 AL Pennant: +1800
Odds To Win 2021 World Series: +3900
Outlook: People have been predicting a Los Angeles breakout for the past two years. I haven't bought into the hype for a simple reason: the Angels pitching stinks. L.A.'s team ERA has ranked 25th each of the past two years and they haven't had a top-line starter since the John Lackey-Jared Weaver days about a decade ago. They still don't have one, instead relying on Dylan Bundy and Sideshow Shoehi to lead one of the worst rotations in the American League.
If the Angels are going to make a move, it is clear the area that needs to improve: the bullpen. The Angels had five players with multiple blown saves, with those five combining to cost Los Angeles 11 wins.
If Houston or Oakland implodes – and that's a definite possibility – then the Angels are ripe to move up in the standings. However, at this point this team is more empty hype than actual potential. Mike Trout is a hero. But he can't do it himself, and he doesn't have enough help around him. Things could click into place for this group. But they have finished better than fourth place just one time in the last five years and are 0-5 against their Las Vegas season win total during that stretch.
Oakland Athletics
2021 Wins Over/Under: 86.5
Odds To Win 2021 AL West: +200
Odds To Win 2021 AL Pennant: +1200
Odds To Win 2021 World Series: +3000
Outlook: The A's didn't just win the 2020 A.L. West, they ran away with it, claiming the title by seven games. They definitely overachieved last season, though, and lost several key contributors this offseason. Oakland's intriguing infield will hold a lot of keys to their season. How will newly acquired Elvis Andrus adjust to his new digs? Can Matt Chapman rebound from his injury-shortened 2020 to regain his MVP form? What does Jed Lowrie have left in the tank after two lost seasons? If those three all revert to 2018 form, then the A's could be in good shape. If not, then the A's could tumble in the standings.
Seattle Mariners
2021 Wins Over/Under: 72.0
Odds To Win 2021 AL West: +2400
Odds To Win 2021 AL Pennant: +5500
Odds To Win 2021 World Series: +14500
Outlook: Seattle was the youngest team in baseball last year and they could end up being the youngest team in the Majors again this season. The Mariners were significant overachievers last year, posting the No. 2 most profitable season in the American League and finishing just two games out of the Wild Card race. I don't see this team getting a whiff of the postseason this year, though.
Seattle actually could end up with the best pitching staff in the West. That would require James Paxton to regain his prior form and for Justus Sheffield to turn the corner and build on last year's promise. Even if that does happen, though, I don't know where the run production is going to come from. They were 23rd in runs scored and 24th in batting average last year after finishing 20th and 28th, respectively, in 2019.
Texas Rangers
2021 Wins Over/Under: 67.5
Odds To Win 2021 AL West: +4500
Odds To Win 2021 AL Pennant: +7500
Odds To Win 2021 World Series: +50000
Outlook: It's rebuilding time for the Rangers. Texas has held off on blowing up its organization for a while. But last year's 22-38 campaign (the equivalent of winning 59 games in a 162-game season) forced the hand of the Rangers front office, and now they enter the season with one of the worst rosters in baseball. Texas's Opening Day roster includes five players that made their MLB debut last season. They also have several young arms that will be on innings limits. This team might not be done purging the roster, either, with Joey Gallo likely trade bait. Honestly, I think their 67.5 season win total is absurdly optimistic.
2021 American League West Picks and Predictions: Predicted Order of Finish
1. Oakland A's
2. Houston Astros
3. Los Angeles Angels
4. Seattle Mariners
5. Texas Rangers
Get free MLB picks on every single game, or if you want our very best bet premium picks by the experts, sign up for your free $60 account with a guarantee.
Robert Ferringo is a professional sports handicapper for Doc's Sports. He is considered one of the top MLB cappers in the country and has turned a profit in three of four baseball seasons (and six of his last eight). Robert exploded for an incredible +$13,100 profit run in 2019 from mid-April to late July and he plans on doing it again this year. Robert has posted four of six winning years on the diamond and is looking for another big season. Click here for more information on his MLB picks.