2014 Grammy Awards Odds and Predictions
by Nicholas Tolomeo - 1/20/2014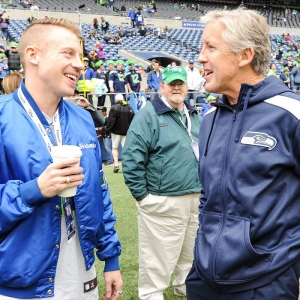 Awards season is in full swing, the Golden Globes are in the books, the Grammy Awards are this Sunday, Jan. 26, and the Academy Awards are fast approaching in early March. One sure way to make award shows more exciting is to make a drinking game for them. Another way is gambling on them. And, of course you can make a drinking game and gamble on them!
When wagering on award shows there are two things you need to be prepared for: concerned looks from your friends when explaining what you are doing and paying heavy juice to secure favorites. As with most pre-determined things, heavy favorites emerge. This is not March Madness; there are no 13 seeds springing upsets over Meryl Streep or a Sun Belt Conference team knocking off Beyoncé.
Upsets do happen (see Eric Clapton over Nirvana, Milli Vanilli winning Best New Artist, Springfield over Springsteen and Jethro Tull over Metallica), but sometimes when something seems obvious, it is.
Consider for example the recently-announced Golden Globe winners. The winners included "12 Years a Slave" (-400), "American Hustle" (-500), Cate Blanchett (-900) and "Breaking Bad" (-380).
Parlays are generally not permitted for award-show wagering, so stringing together a number of favorites in a parlay for a small wager is usually not an option. So be prepared to lay some juice when necessary. All that being said, here is a look at the 2014 Grammy Awards with odds and predictions. All odds courtesy of Bovada.
Album of the Year
Macklemore & Ryan Lewis are favorites for "The Heist," which is listed at -200 ahead of Kendrick Lamar's "Good Kid, MAAD City" at +550, Daft Punk's "Random Access Memories" at +550, Taylor Swift's "Red" at +650, and the long shot, Sara Bareilles' "The Blessed Unrest" at +1000.
At -200, Macklemore & Ryan Lewis are a bargain, and you can even shop around and get them at -150 at 5Dimes among other sites. "The Heist" features three mega hits in "Thrift Shop", "Can't Hold Us" and "Same Love," and there are plenty of social statements in this album, which is cat nip for Grammy voters. With only one real heavyweight in this category in Taylor Swift, this could be a chance for Macklemore & Ryan Lewis to steal one.
Record of the Year
One of the most confusing Grammy categories is Record of the Year. While Song of the Year is a songwriter's award, Record of the Year takes into account the artist, producers, recording engineers and mixers. The dual favorites in this category are Daft Punk featuring Pharrell Williams for "Get Lucky" at +125 and Lorde "Royals" at +175. Other contenders include Bruno Mars "Locked Out of Heaven" at +500, Imagine Dragons "Radioactive" at +600 and Robin Thicke featuring TI & Pharrel Williams "Blurred Lines" at +1200.
Even the untrained eye can take a quick look and see that "Blurred Lines" at +1200 is one of the greatest values in betting history. Bruno Mars and Imagine Dragons do not appear to be real contenders for this one, Lorde may play spoiler to Robin Thicke, and there is always the fear of the Pharrell Williams' vote being split between "Get Lucky" and "Blurred Lines," but regardless this is incredible value. To put in perspective the differing opinions on this category, 5Dimes has "Blurred Lines" listed at +400, and other offshore books have it as low as +300. The Grammys are good for at least one upset; this would appear to be the best chance for it.
Song of the Year
This award goes to the songwriter, and Lorde is the favorite at +125 for "Royals" with "Same Love" by Macklemore & Ryan Lewis (+200) also in the running. Macklemore & Ryan Lewis are likely going to clean up in other categories, and this award is Lorde's to lose. Katy Perry's "Roar" at +1200 is not a real challenger, and neither is Pink's "Just Give Me A Reason" at +500. Bruno Mars' "Locked Out Of Heaven" could play spoiler, but at plus money it's tough to say no to Lorde in this category.
Best New Artist
There are no locks in gambling, especially award-show gambling, but Macklemore & Ryan Lewis listed at -300 to win Best New Artist, may be one of the closest thing to a sure bet. They are favored to win Album of the Year, they are co-favorites for Song of the Year and only priced at -300 to win Best New Artist in a mediocre field. Their competition is Kendrick Lamar (+700), Kacey Musgraves (+700), Ed Sheeran (+900) and James Blake (+1000).
So after you are done Googling who those other people are, focus on Macklemore & Ryan Lewis. Priced at -300 at Bovada, they appear to be a steal compared to -500 and -600 at other offshore books.