2009-10 Indiana Hoosiers Football Predictions
by Doc - 9/1/2009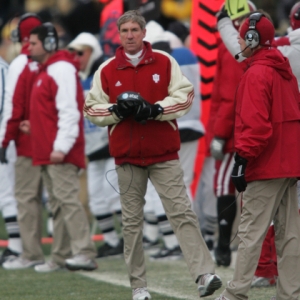 Indiana Hoosiers Football Predictions: 4-8 (1-7 in Big Ten)
With 15 starters back from 2008, one would assume that Coach Bill Lynch would be expecting a much better season. That will not be the case, as the Hoosiers lack top-quality talent on both sides of the football. They do not have any talent at the skill positions and the defense returns nine starters that could not stop anybody last year. Indiana will be better in 2009, however, even if their record states otherwise.
Once again the schedule is brutal and I do not see any conference victories coming until November. Expect some monster numbers in games involving the Hoosiers and they might provide value to bet on if they can keep the score low. This team will play well at times, however the conference is just too strong overall.
Strengths: The defensive line could be much better then in 2008 with lots of experience returning. This is a senior-laden team and if they have some success early with a ton of early home games, they could be thinking bowl game.
Weakness: Offense will be the real question mark! RB Marcus Thigpen and QB Kellen Lewis have departed and it will be interesting to see who emerges as playmakers for this year's team. The receiving corps will be very young but should get better as the season progresses.
Favorable line to play: Purdue at Indiana (Nov. 21). The Old Oaken Bucket Game may be a battle to get out of the basement in the Big Ten Conference. Indiana got crushed last year, 62-10, in Coach Joe Tiller's final game. Purdue lost heavy to graduation as well on offense and the homer gets the call!
Favorable line to play against: Indiana at Iowa (Oct. 31). Trick or Treat all over again with Iowa winning this game in 2008, 45-9, and expect more of the same in 2009. Indiana will likely be coming off a blowout at Northwestern and being on the road for the second straight week will do them in. Iowa will not take this game lightly as they have lost to Indiana two of the last three years.
---
Most Recent Fall Football Preview