2011-12 Los Angeles Clippers Predictions and NBA Futures Odds
by Trevor Whenham - 12/19/2011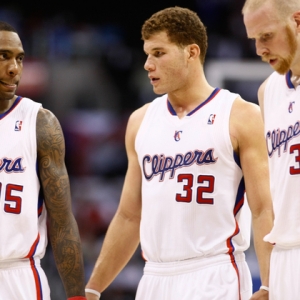 No team has made a bolder move this offseason than the acquisition of Chris Paul by the Clippers. As a result, no team has gained more swagger heading into this shortened season than L.A. has.
When you combine their improvement with the struggles of the Lakers the hype was destined to get out of control, and it has. There are people saying that this could be the best team in the Western Conference.
NBA futures odds don't quite reflect that, but they certainly have this team among the elite in the league. For a franchise that hasn't been particularly relevant at any point in the lifetimes of any of its players that is an impressive feat in itself.
Before we crown the Clippers with anything it is important to remember how bad they have been. This is a team that has made the playoffs just once since 1997, has finished above .500 just once since 1993, and which has won only one playoff series since 1976. They have only made it into the second round of the playoffs twice in their history, and have never gone deeper.
They have never won their division, and as a franchise — dating back to 1970 with time in Buffalo and San Diego before coming to L.A. in 1984 — they have a pathetic .349 winning percentage. They could be dramatically better than they have been throughout their history and still not be a very good team.
Key Changes
If you ever think you are having a bad week just think of the one Mo Williams had. A week ago he was the starting point guard for a team that was likely a solid playoff team. Now he's a third stringer, and he's not happy about it.
First the Clippers added Chauncey Billups in an amnesty claim from the Knicks. Then they added the crown jewel in Paul. Add in the free agent acquisition of Caron Butler — who will be a big help offensively if his knees hold up after the surgery that cost him most of last year — and you have a team that has had a very good month.
You can't gain like that without a cost, though. Eric Gordon, Chris Kaman, and Al-Farouq Aminu now live in New Orleans. They were part of a very high cost for Paul.
Gordon in particular will be missed, and at this point Kaman will be missed since depth at center is a luxury the Clippers just don't have.
At this point rookie Trey Thompkins, a second round pick from Georgia, is the only true center on the roster.
They have a wealth of guards that could be dealt to solve that problem, so they may not yet be done dealing.
Talent
There is obviously no shortage of talent on this team right now. Paul and Butler are big pieces — valuable ones — but the key here is Blake Griffin. He is coming off an easy Rookie of the Year win, and now he needs to take a huge step forward and prove he is truly one of the elite power forwards in the league.
The Clippers are obviously and aggressively building around him, and if he is up to the challenge — physically and mentally — then it will be a good gamble.
The backcourt is loaded. Paul and Billups will likely start, but with Randy Foye, Willie Warren, Williams and Eric Bledsoe around there is all sorts of depth.
Unfortunately the same can't be said about depth up front.
Ryan Gomes and Brian Cook are solid role players, but along with Travis Leslie, another rookie second round pick out of Georgia, they are all the depth they have. There is very little margin for error up front at this point.
Coach
Vinny Del Negro has as much pressure on him now as any coach in the league.
In two years with the Bulls and last year with the Clippers he has a combined record of just 114-132, and has never finished above .500. The Bulls were underwhelming with him at the helm, and took a huge step forward last year after he left.
He's not the most popular coach in the world, and if his team falls at all short of the massive expectations surrounding him then he could be looking for his second new job in a couple of years.
2011-12 Los Angeles Clippers Schedule
The condensed schedule means that the Clippers face a tough road — tougher than many other teams.
Every team faces at least one stretch of three games in three days, but the Clippers have to do it twice. The first comes in January when they play the Nets, travel to Utah, then host Dallas. Two months later they play three road games — at Indiana, Oklahoma City and in an emotional game as Chris Paul returns to New Orleans for the first time.
The front end of the schedule is tough for a team trying to adapt to a lot of changes as well. They open at Golden State, then travel to San Antonio before hosting the Bulls.
Los Angeles Clippers Betting Odds
Before the Paul deal you could get 40/1 to bet the team to win the championship at Bovada. Right after the deal that fell to 12/1. It has since stabilized somewhat higher at 15/1.
They are now the seventh choice in the league to win it all, and the fourth choice in the conference behind the Lakers, Thunder, and Mavericks.
2011-12 Los Angeles Clippers Predictions
I am not drinking the Clippers kool-aid. None of the four biggest pieces of this team have played together before, and they have very little time to get comfortable.
Three of them — Griffin, Butler and Paul — have missed significant amounts of time in the last two years with lower body injuries, and that has to be a concern given the abuse that this compact season will cause.
The brutal lack of depth up front will make it very hard to rest Griffin or Butler. On top of that I don't trust the coaching at all, and I am skeptical that a team that has been a perpetual loser can learn how to win suddenly.
This is a playoff team, but I don't expect the miracles that it has become cool to expect.
Doc's Sports is offering our best price ever for a full season of expert NBA picks! If you purchase a full-season NBA package this week (for our lowest price ever of $499) you will get two free NBA handicappers to try out free for two weeks – after that two weeks you can pick from the three handicappers to continue on with or you can get a great deal on multiple handicappers. Click Here for more information.