NBA Playoff Predictions With Seed Analysis
by Dan Rosenman - 3/9/2020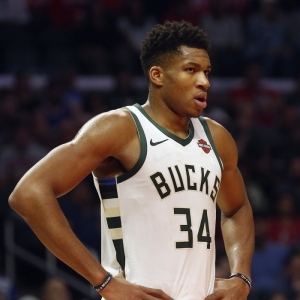 In this article I examine the race for the NBA playoffs in both conferences. The Top 4 seeds are predicted, and a deep dive into each team is provided. This includes players to watch, injuries and schedule analysis. This information can be used by sports handicappers to get an edge when formulating their analysis.
East Rankings: (Milwaukee, Toronto, Boston, Miami)
Milwaukee Bucks: This powerhouse has been atop the league all season long and can still win 70 games if they win 17 of their last 19. When glancing at their roster, a casual fan may think it's just the Greek Freak and a handful of efficient shooters. But digging deeper, you'll realize coach Mike Budenholzer orchestrated a master plan. Khris Middleton has ascended to become a legit number 2 option, and pairing the Lopez twins together was an underrated offseason acquisition.
Player to Watch: Donte DiVincenzo. I loved him at Villanova, but I wasn't sure his skills would translate to the NBA. After a slow start to his career, he's really picked it up and is averaging 10.6 points over his last 10 games. He could start stealing some of Eric Bledsoe's minutes in the playoffs if the combo guard continues to struggle.
Injuries to Monitor: George Hill has a groin contusion. He's missed a few games this week, but nothing to get too worried about.
Schedule Lookahead: There are a few tough games sprinkled in (Rockets, Raptors, Mavs, Heat), but 70 wins is still achievable with the Eastern Conference's bottom feeders on schedule. They close the year with the Cavs, Hawks and Nets.
Toronto Raptors: Everybody wanted to write off the defending champions when Kawhi Leonard skipped town, but they've had a bunch of young talent step up to fill the void. Norman Powell is a knock down shooter but can also create with the ball in his hands. Fred VanVleet proved his clutch gene was no fluke in last year's playoffs, and I expect that to continue. If Paskal Siakam continues to function highly as their go to guy, the sky's the limit.
Player to Watch: Terence Davis. He's a 6-foot-4 combo guard who can shoot but also drive to the basket with force. Undrafted out of Ole Miss last year, the Raptors got another gem. They've done a great job at finding value late in the draft and in free agency. Have to tip your hat to their scouting department, as Davis jumps off the screen with athleticism when you watch Raptors games.
Injuries to Monitor: Marc Gasol has been out for awhile with a bum hamstring, but he's expected back this coming week. Fred VanVleet is also dealing with a minor shoulder injury.
Schedule Lookahead: There's a challenging road ahead with games against the Bucks, Jazz, Nuggets, Lakers and Rockets. With their guards catching fire from three, it should be enough to lock up the 2 seed and defend their crown.
Boston Celtics: Kemba Walker has proved to be a better fit for Brad Stevens offense than Kyrie Irving, and more importantly a better fit in the locker room. This young Celtics team is oozing with talent at every level. Jayson Tatum is showing signs of becoming a legit super star, and Marcus Smart brings the edge and grit every playoff team needs.
Player to Watch: Daniel Theis. In an age where every team is playing "Small Ball" and centers are being phased out, Theis may be the perfect answer. Only 6-foot-8, he plays bigger than his listed height and has surprising athleticism that keeps him on the floor even in an odd matchup such as the Rockets. He's really stepped up his game over the past month and Boston is hoping it continues into the playoffs.
Injuries to Monitor: They've had minor injuries all season with the current ones belonging to Gordon Hayward and Jaylen Brown. Nothing is too serious, though.
Schedule Lookahead: The next 3 games will be challenging with the Thunder, Pacers and Bucks ahead. After that it eases up, and they have the potential to either challenge Toronto for the 2 seed or slip to the 4 seed if the Heat improve.
Miami Heat: A blue collar crew that has been built on toughness via great coaching from Eric Spoelstra. Some credit also has to go to Pat Riley and leadership, who drafted the amazing rookie Tyler Herro. They also snagged Kendrick Nunn and Duncan Robinson, who both went undrafted. I honestly didn't think this team had a chance to lock in a top 4 seed in the preseason, but they've proved me wrong. This team depends on Jimmy Butler for leadership, and he seems happy to lead this team of young players.
Player to Watch: Andre Iguodala. He was a major trade chip at the deadline and the Heat got their guy. So far, the transition to Miami hasn't worked for him, as he's only scored in double digits once since joining his new team. If the Heat are to make a postseason run, they'll need him to right the ship.
Injuries to Monitor: Tyler Herro has been out for a couple weeks with a foot injury, but he expects to return soon.
Schedule Lookahead: The next 4 games should be easy (Wizards, Hornets, Knicks, Bulls), but after that the degree of difficulty rises with Bucks, Pacers, Thunder and Nuggets looming.
Hot Sleeper Team ATS:
Charlotte Hornets: Although just 5-5 Straight Up in their last 10 games, they've been hanging around and keeping games close against good teams. On the season they're 52.4% ATS with a record of 33-30-0. Devonte Graham and Terry Rozier have provided an excellent 1-2 scoring punch, and their young big men such as PJ Washington have shown vast improvement. They had a statement win yesterday against the Rockets, which kept them in the race for the East's 8th seed.
West Rankings: (LA Lakers, LA Clippers, Utah, Houston)
LA Lakers: The preseason hype became a reality, and they've been able to hold the top spot out West all season long. The pairing of Lebron James with Anthony Davis has been phenomenal with their pick and roll game being basically unguardable. I had my doubts about their point guard position and outside shooting, but Lebron has done well bringing the ball up the court and role players such as Danny Green have provided a scoring punch.
Player to Watch: Kyle Kuzma. After an amazing rookie year, he's cooled off somewhat this year. He's been trending in the right direction though while averaging 11 points over his last 10 games. They'll need his 3-point shooting prowess during the playoffs.
Injuries to Monitor: None other than typical load management for Lebron/ AD.
Schedule Lookahead: Their schedule is a gauntlet, but not hard enough to knock them down from the No. 1 seed in the West. Clippers, Nets, Rockets, Nuggets and the Jazz are the upcoming slate.
LA Clippers: Top to bottom, this is probably the best roster in the NBA. Now that Paul George is back healthy, combining him with Kawhi Leonard has proven to be lethal. Their perimeter defense is frightening with Patrick Beverly, Leonard and George locking down opposing shooters. Lou Williams and Montrez Harrell provide strong bench scoring to compliment this team. Coach Doc Rivers also has a championship pedigree to guide them come playoff time.
Player to Watch: Lou Williams. With defenses keying on Leonard and George, Lou has been able to light up scoreboards. Being the 6th man of the year isn't enough for this guy as he craves the spotlight. Look for him to keep lighting it up as defenses sag off in fear of their other playmakers.
Injuries to Monitor: None other than typical load management for Kawhi/ PG.
Schedule Lookahead: They have an East Coast road trip in late March that will be challenging, but all against teams that they should beat. There is little room for error if they have hopes of catching the Lakers for the top seed. It's more likely that they settle into the 2 seed and face off against the Lake Show in an epic playoff matchup.
Doc's Sports is offering $60 worth of member's picks absolutely free - no obligation, no sales people - you don't even have to enter credit card information. You can use this $60 credit any way you please on any of our top NBA handicappers. Get $60 worth of premium members' picks free. Also, for a limited time only get three top NBA handicappers for the price of one! Click Here. Get NBA picks today at Doc's Sports basketball predictions page.
Utah Jazz: Another preseason darling, the Jazz have mostly lived up to their lofty expectations. Mike Conley and Bojan Bogdanovic were brought in to provide spacing and the outside shooting they've lacked in prior seasons. In order to do this, they had to jettison Derrick Favors and Jae Crowder, whose rebounding has been sorely missed.
Player to Watch: Jordan Clarkson. Mid season trades rarely create waves that can alter a team's true ceiling, but this might be the exception. Draft bust Dante Exum was often injured and not a good fit in coach Quin Snyder's system. Dealing him for the sharp shooting Clarkson has done wonders for them. Clarkson has found himself a home and has been lighting it up from deep and in the midrange game since coming to Utah.
Injuries to Monitor: None
Schedule Lookahead: The sledding won't be easy, but I still think they have enough talent to lock up the 3 seed. There are two matchups verses the Lakers and two against Denver which will prove to be meaningful for the playoff race.
Houston Rockets: No team has aligned itself more with the growing trend of "Small Ball" than the Rockets. Trading Center Clint Capela for wing Robert Covington was mocked by most NBA analysts at the time of the trade. Despite a recent bump in the road, the trade has worked out very well for Houston. Convington and PJ Tucker have tried their best to hold down the paint. James Harden will have to show up in the playoffs to prove doubters wrong and having Russell Westbrook look the best he has in years might be the magic ticket.
Player to Watch: Russell Westbrook. I've never been a huge fan of his, but I'll admit he's looked incredible in Rockets red. Coach D'Antoni's system allows everyone to clear out and give Westbrook the ability to attack the rim, where he succeeds. His aggressive nature has been on full display, and the athleticism hasn't subsided one bit.
Injuries to Monitor: Eric Gordon has a swollen knee but will be back soon.
Schedule Lookahead: Of the contending teams listed in this article, the Rockets may have the easiest remaining schedule. They close the season with the Wizards, Spurs, Suns and Grizzlies, which are all winnable games.
Hot Sleeper Team ATS:
Sacramento Kings: They've been on a tear as of late, winning 7 of their last 10 games straight up. The Kings are 53.2% ATS for the year. (33-29-1). The return of Richaun Holmes has solidified their big man rotation, and Buddy Hield has managed to shoot efficiently from 3-point range. They had a big upset win in Portland this weekend, which kept them in the playoff race, so the motivation is there down the stretch.