NBA Western Conference Predictions: Southwest Division
by Josh Nagel - 10/19/2009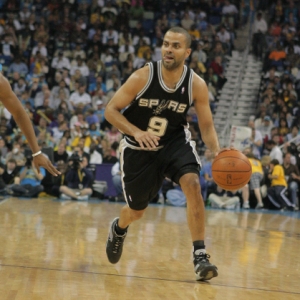 Here are some NBA predictions for the 2009-10 season, with a team-by-team look at the Western Conference Southwest Division.
Team: San Antonio Spurs
Last year's records: 54-28, 40-40-2 ATS
Odds: +800 (NBA championship); +450 (Western Conference)
Key transactions: Acquired forward Richard Jefferson. Drafted forward DeJuan Blair.
San Antonio Spurs Predictions: The Spurs desperately needed a scoring guard-forward with an outside touch to take some of the pressure off Tony Parker and Manu Ginobli, who make most of their offense with drives to the basket. They got one in Jefferson, who has been erratic throughout his career but should help fill the team's biggest void. Blair, the second-rounder from Pittsburgh, is a popular choice for this year's steal of the draft. Although the Spurs are still an aging team, they pulled off another 50-win season last year without much trouble. That's because, with Tim Duncan in uniform and Gregg Popovich patrolling the sidelines, you can count on San Antonio remaining relevant in the Western Conference.
Prediction: 57-25, first place.
Team: Dallas Mavericks
Last year's records: 50-32, 40-42 ATS
Odds: +2300 (NBA); +1400 (conference)
Key transactions: Acquired forward Shawn Marion.
Dallas Mavericks Predictions: The Mavericks didn't cover a lot of NBA spreads last year because their traditional high-scoring, low-defense attack was replaced by a new approach that emphasized getting stops on the defensive end. The team took awhile to come together under new coach Rick Carlisle, but in the end the Mavericks had another winning season, and are better off in the long run for their newfound approach. Dirk Nowitzki remains one of the game's marquee talents, while Jason Kidd enters the twilight of his career as a viable if not spectacular point guard. The addition of Marion provides another athletic scoring threat. Dallas could still use some help in the post, and must hope Erick Dampier can provide production on a nightly basis.
Prediction: 54-28, second place.
Team: New Orleans Hornets
Last year's records: 49-33, 35-45-2 ATS
Odds: +3600 (NBA); +1800 (conference)
Key transactions: Acquired forward Emeka Okafor.
New Orleans Hornets Predictions: Although Hornets fans are bound to miss the highlight-reel dunks Tyson Chandler got off feeds from Chris Paul, the analysis here says New Orleans got the better part of the trade in which they landed Okafor. The former Connecticut standout has a more solid all-around game, providing consistent shot blocking and rebounding to along with a serviceable offensive game. The Hornets showed a lack of toughness in last year's playoffs, and Okafor should help there, too. Paul has emerged as the game's top point guard, and he will continue to single-handedly bail out the Hornets on any given night.
Prediction: 50-32, third place.
Team: Houston Rockets
Last year's records: 53-29, 40-41-1 ATS
Odds: +3500 (NBA); +1200 (conference)
Key transactions: Acquired forward Trevor Ariza.
Houston Rockets Predictions: Yao Ming's career might be in jeopardy, and so the Rockets must proceed as if he's not coming back. They made an admirable run in last year's postseason without him, but will sorely miss his production over an entire season. There are some who believe Houston is better off without oft-injured star Tracy McGrady, as well. Luis Scola is developing into one of the league's top power forwards, but can't replace Yao's size and shot-blocking abilities. This Houston club has long been a gritty bunch, and you can expect more of the same, but it's likely they can't match last year's success.
Prediction: 42-40, fourth place.
Team: Memphis Grizzlies
Last year's records: 24-58, 38-43-1 ATS
Odds: +12500 (NBA); +9000 (conference)
Key transactions: Acquired guard Allen Iverson and forward Zach Randolph. Drafted center Hasheem Thabeet.
Memphis Grizzlies Predictions: Iverson might not be "the answer" to the Grizzlies' problems, but the aging star should give fans a good reason to come check out the team. Iverson would be of great help if he could nurture the development of young players like Mike Conley and O.J. Mayo, but he's never been known to be a mentor. Randolph adds talent to the roster, but gives Memphis another player who never met a shot he didn't like. These veterans might make Memphis more competitive in the short term, but you have to wonder if the Grizzlies would have been better off building from their talented young core.
Prediction: 30-52, fifth place.