2021 NL East Predictions and Expert Betting Advice
by Robert Ferringo - 4/1/2021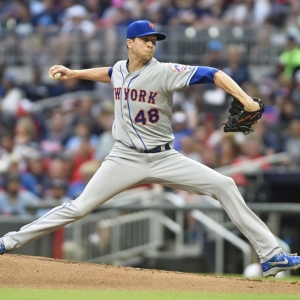 Everyone in this division is loaded up. Now it is off to the races.
The National League East is by far the best division in baseball. It is the only division with four teams boasting season win totals of 81.5 or higher, and this group could produce one of the best pennant races of the decade.
Atlanta has won three straight division titles and is the favorite to do it again. But the Mets loaded up with one of the biggest offseasons in baseball, Washington still has the starting staff intact from their 2019 World Series championship team, and Philadelphia might be the most underrated team in all of baseball right now.
Oh, and there's the Marlins.
Doc's Sports offers free MLB picks for every game on our baseball predictions page.
Here is Doc's Sports 2021 National League East preview:
NEW YORK METS
2021 Wins Over/Under: 90.5
Odds To Win 2021 NL East: +150
Odds To Win 2021 NL Pennant: +550
2021 New York Mets Odds To Win World Series: +1300
Outlook: Anyone that actually thinks the Mets are going to exceed their inflated expectations this year obviously hasn't been paying attention to this franchise for the last 30 years.
Admittedly, the Mets had a monster offseason. Superstar shortstop Francisco Lindor was the crown jewel of their haul. But complementary players like Carlos Carrasco, James McCann, Kevin Pillar, Jon Villar and Taijuan Walker bolstered what was already an up-and-coming roster.
There are All-Stars throughout the lineup. There are four front-end starters in the rotation, including the best pitcher in baseball, Jacob deGrom. And there is a veteran bullpen on hand. New York has all the pieces. Now establishing chemistry and leaving behind decades of underachievement are the next hurdles for this team to jump over.
ATLANTA BRAVES
2021 Wins Over/Under: 91.5
Odds To Win 2021 NL East: +150
Odds To Win 2021 NL Pennant: +600
2021 Atlanta Braves Odds To Win World Series: +1200
Outlook: Atlanta's franchise history is littered with missed opportunities and unfulfilled promise. But last year's near-miss – blowing a 3-1 NLCS lead against the Dodgers, complete with a blown lead in Game 7 – has to be one of the worst in Braves history. Whether or not that loss lingers will be a major subplot to Atlanta's 2021 season.
Atlanta has been knocking on the door for the past three years. They won 90 games in 2018 and 97 in 2019 before last year's ascent to the NLCS. MVP Freddie Freeman and stud Ronald Acuna are cornerstone pieces on a young, talented roster that has been playing together for several years. The Braves also have a stacked farm system that is still producing supplemental starters, with Cristian Pache the latest.
Injuries forced the Braves to patch together a starting pitching staff last year. And guys like Max Fried and Ian Anderson more than answered the bell. Now we will see how the youngsters, along with Mike Soroka and aging Charlie Morton, handle 32 starts. This is still one of the most complete teams in baseball and a group that may not have hit its ceiling yet.
PHILADELPHIA PHILLIES
2021 Wins Over/Under: 81.5
Odds To Win 2021 NL East: +200
Odds To Win 2021 NL Pennant: +2200
2021 Philadelphia Phillies Odds To Win World Series: +4900
Outlook: I like this Phillies team a bit more than I should. I think that they are the most undervalued of the four top teams in the National League East, and I think that they offer the best value for bettors looking to turn a buck betting this group.
Philadelphia was done in by one thing and one thing only: its absolute abomination of a bullpen. The Phillies pen was historically bad, posting a 7.06 ERA and with their five worst relievers combining for 11 blown saves. The frequent, consistent, reliable late game meltdowns had a palpable effect on the Phils locker room and on-field chemistry.
There is a lot of top-end talent on this roster. The Phillies had a Top 5 scoring offense and were in the Top 10 in team batting, OPS, home runs and stolen bases. If their starting pitching can match what it did last year, if the lineup produces and avoids injuries, and if the bullpen can clean it up, there is definitely a chance that this team could win 90 games.
WASHINGTON NATIONALS
2021 Wins Over/Under: 84.5
Odds To Win 2021 NL East: +600
Odds To Win 2021 NL Pennant: +1600
2021 Washington Nationals Odds To Win World Series: +3200
Outlook: You absolutely can't count out a team that boasts Jon Lester as its No. 5 starter. Max Scherzer, Stephen Strasburg and Patrick Corbin are all healthy and comprise the best 1-2-3 starting rotation in baseball. The Nats also added slick closer Brad Hand, and this team is going to be tough to scratch out runs against.
Offensively, Washington is much better than people expect. They finished in the Top 10 in runs, team batting and OPS last year. Juan Soto is one of the best in baseball and there are plenty of proven veteran bats – Josh Bell, Josh Harrison, Starlin Castro, Trae Turner to name a few – to make this team dangerous.
Don't sleep on the Nationals. This team isn't going anywhere.
MIAMI MARLINS
2021 Wins Over/Under: 72.5
Odds To Win 2021 NL East: +2500
Odds To Win 2021 NL Pennant: +4900
2021 Miami Marlins Odds To Win World Series: +12000
Outlook: No, it wasn't a COVID-induced fever dream: Miami not only made the playoffs last year they actually won a series. They finished over .500 for the first time since 2009 and bring back almost the entire team that surpassed forecasts last fall.
Reality should set in for the Marlins this season, though. I don't think that they will fall off the map. But I don't think that their offense is good enough to keep them afloat for a full 162 games. Miami was a massive Pythagorean overachiever last year, finishing over .500 despite getting outscored by 30 runs on the season. They were outside the Top 20 in runs, OPS, home runs, team ERA, WHIP and errors.
Miami has a decent young core and some lively young arms. However, they are playing in entirely the wrong division, and I think it is going to be the hard knock life for the Fish.
2021 National League East Picks and Predictions: Predicted Order of Finish
1. Philadelphia Phillies
2. Washington Nationals
3. Atlanta Braves
4. New York Mets
5. Miami Marlins
Get free MLB picks on every single game, or if you want our very best bet premium picks by the experts, sign up for your free $60 account with a guarantee.
Robert Ferringo is a professional sports handicapper for Doc's Sports. He is considered one of the top MLB cappers in the country and has turned a profit in three of four baseball seasons (and six of his last eight). Robert exploded for an incredible +$13,100 profit run in 2019 from mid-April to late July and he plans on doing it again this year. Robert has posted four of six winning years on the diamond and is looking for another big season. Click here for more information on his MLB picks.