2012 Orange Bowl Predictions: West Virginia vs. Clemson Odds
by Nolan Sinclair - Strike Point Sports - 12/20/2011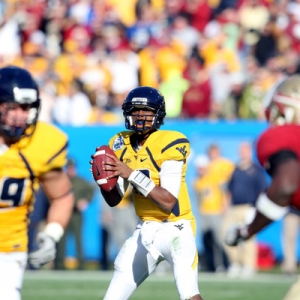 As the calendar turns to 2012 college football fans will be treated to a week of outstanding football. And while random teams from conferences across the country are thrown together, somewhat haphazardly, into odd bowl games, the Orange Bowl promises to be a rare game that has both national and regional significance.
No. 22 West Virginia will take on No. 14 Clemson in the 2011 Orange Bowl. The game will kick off at 8:30 p.m. on Wednesday, Jan. 4 at Sun Life Stadium in Miami.
This game pits the Big East champion Mountaineers against ACC champion Clemson and is a clash between two teams with fan bases comprised of rabid mountain folk and histories full of near-misses. There has been no love lost between the Big East and the ACC; especially considering the latter's recent raiding of some of the former's top schools. And this BCS game should have a little more edge than most as a result.
Clemson is riding high after their first ACC title in over 20 years. That is quite the accomplishment considering that Florida State and Virginia Tech were regarded as the powerhouses heading into this season.
The Tigers rely on a high-octane offense and an opportunistic defense. They jumped out to an 8-0 record with victories over Auburn, FSU and Virginia Tech. Clemson is 3-1 both straight up and against the spread this year against Top 25 teams and their average margin of victory in those games is nearly two touchdowns per game.
However, Clemson hasn't been as efficient recently as they have lost three of their last five quite soundly. Georgia Tech, South Carolina, and North Carolina State, all beat the Tigers by at least two touchdowns.
West Virginia has gone the other way. They have been playing their best ball as of late, winning three of their last four games. The Mountaineers are a mediocre 1-1 versus ranked teams on the year.
The Mountaineers seem to be playing a different type of football over the last month as their scoring offense is down, and their defense has become somewhat stingy. West Virginia averages more than 34 points per game on the year, but they are only hitting pay dirt for 25 points per game over the last three.
Defensively, they give up over 26 points a game on the season, but lately they are only allowing 22 to their opponents.
The West Virginia football schedule has been considerably easier than the Tigers' as they were able to take advantage of a sloppy Big East. Their matchup with LSU was supposed to show that the Big East was a bit tougher than many of us expected but they were shellacked, 47-21. That final was a bit shocking as they outgained LSU by almost 300 yards, yet scored only 21 points.
2012 Orange Bowl Odds
Clemson opened as a -3.5-point favorite, according to college football odds, and that line has held pretty steady throughout most sportsbooks. The total was released at 58.5 but it has risen to 60.5 at most books.
2012 Orange Bowl Betting Trends
West Virginia is 6-0 ATS in their last six Wednesday games.
West Virginia is 5-1 ATS in their last six games as an underdog.
West Virginia is 11-4 ATS in their last 15 games vs. a team with a winning record.
West Virginia is 1-4 ATS in their last five Bowl Games.
Clemson is 5-1 ATS in their last six games following an ATS win.
Clemson is 2-6 ATS in their last eight neutral site games.
Clemson is 0-5 ATS in their last five games vs. the Big East.
Clemson is 1-5 ATS in their last six Bowl Games.
2012 Orange Bowl Predictions
This game features two extremely high-powered offenses that can absolutely light up the scoreboard.
Clemson, at one point, had a chance to be considered one of the best teams in the country. But they came out flat at Georgia Tech. And after playing extremely poorly in two of their last three games (after clinching their half of the ACC) they fell out of favor for many national experts.
But I don't think that Clemson is a fluke this year and I look for the Tigers to rebound in a big way.
If West Virginia doesn't take care of the football and capitalize on good offensive possessions they are looking at a long night. Clemson should put together a full game and beat West Virginia quite soundly.
2012 Orange Bowl Free Pick: Take Clemson (-3.5) over West Virginia
Strike Point Sports is one of the top handicappers in the country and is red hot right now. They have picked up over $6,600 in NFL profit this year and have torn up the books for five of six winning football weekends. They will have their College Football Game of the Month on Dec. 27 and they are a scorching 18-8 on their last 26 plays of 5.0 or higher. Click here for more information and to sign up.