Super Bowl Halftime Betting: Advice and Expert Analysis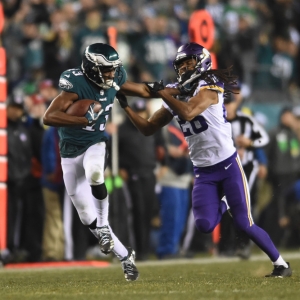 When halftime rolls around in the Super Bowl, most people have the same basic game plan - grab a fresh beer, load up on snacks, make fun of the musical act for a bit, and get ready for the second half. I respect that approach - especially if the snacks involve wings. But if you do that then you are missing out on a potentially strong betting opportunity. Halftime betting is available for every game in the NFL, but for several reasons we will look at later on it can be more attractive in the Super Bowl than any other time. On the surface the advantage is that you don't have to bet on the second half until you have watched the first half, so you can rely on your eyes and instincts instead of the endless opinions and distractions that have weighed you down coming into the game.
Free $60 in Member Super Bowl Picks No Obligation Click Here
Before we plunge into things, let's just make sure we know what we are talking about. Halftime betting is exactly what it sounds like. Books set a line and a total, and some props as well, for the second half of the game, and they make them available when the first half ends. The lines are typically based at least somewhat on the whole game lines, and the oddsmakers adjust them according to what has happened in the first half. There are three significant reasons why these bets are particularly attractive in the Super Bowl:
Your eyes: The biggest problem about the Super Bowl is that everyone has an opinion about the game, everyone is talking about it, and there are two long weeks of empty space to fill, so the amount of content produced and noise to sort through to figure out what you actually think about the game can be daunting. I'll use myself as an example. During a typical NFL week I'll write four or five total articles about the NFL - about 5,000 words in total, and that is split amongst the 16 games played. At most I'll write 1,000 or 1,500 words about one team - and that much attention is rare. By the time the Super Bowl kicks off, though, I'll have written about 40,000 words in total about this one game. That's like a small book, and it's all about a single game. And I'm far from the only writer that will see similar upticks in volume. So much noise can be totally overwhelming, and by the time the game rolls around it can be tough to figure out what you think anymore. In halftime betting, though, you can leave all of that in the dust and rely just on what you have seen. No one else has watched more of the game than you have - there is only 30 minutes to draw opinions on - so you can have clarity about what you expect that can be much tougher before the game.
Time: By the time sides and totals for the Super Bowl are available for public betting the sharpest of sharp bettors have already had their way with them. The best value is gone already, so public bettors are at a disadvantage right out of the gate. When it comes to halftime betting, though, the timeframe is shorter, so you get to see the freshest numbers you are ever likely to see. Don't kid yourself - there are sharp bettors that will still see the lines before you do. But this is better than it will be any other time in the NFL.
The halftime that never ends: When you are betting typical halftime numbers during the regular season you can feel rushed - especially if you are keeping an eye on more than one game at a time. Thanks to the musical act, though, the Super Bowl halftime goes on forever. So, if you are a person who needs a lot of time to figure out what you are thinking then you'll have it here.
As always, we won't know what will happen in this year's Super Bowl second half until we have watched the first half - and maybe not even then. As we are watching the first half, though, there are some obvious factors we will want to pay attention to.
Experience: You only need to look back to last year to see what experience means. The Patriots had a big edge in big game experience and it showed. In the first half the Pats were in trouble. And in the second half they were unstoppable. It was a clear issue in that game, and it will be one again here. Seven players on the Eagles have played in a single Super Bowl game. Tom Brady has played in seven himself, and many of his teammates were along for at least one victory last year. We will have a chance in the first half to get a sense of what impact the experience disparity will - or won't - have.
Offensive momentum: Tom Brady passed for 300+ yards in his first playoff game this year. Nick Foles did the same in his second. So we know that both offenses can have big days. And we also have seen that both offenses can struggle from time to time. Both of these coaching staffs are good, and they both have had all of the time that they need to plan and prepare. By halftime we should have at least some sense of where the offenses are at. It's obviously not perfect because we know that the second half can look a lot different than the first, but at least we have more recent and relevant information by halftime than we have going into the game. And, obviously, we can not only see how the offenses are performing and responding, but how the defenses are.
Get free picks from any of Doc's Sports expert handicappers - and with no obligation or credit card. You can use these free picks for any sport, and you will never deal with a salesman. Get $60 worth of premium members' picks free .
Read more articles by Trevor Whenham