2009-10 Toronto Raptors Predictions
by Robert Ferringo and Nolan Sinclair - 10/26/2009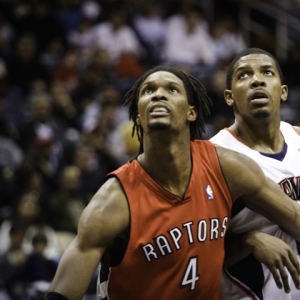 The Toronto Raptors got significantly better this offseason by completely overhauling their roster. Toronto brings back only three starters from last season's disaster: Chris Bosh, Jose Calderon, and Andrea Bargnani. They improved their bench tenfold and good things are on the horizon. Look for Toronto to increase their win total by at least 10 games and make a push for the fifth or sixth seed in the East come playoff time, and that is exactly what will be needed to keep Bosh happy and in the land of universal health care.
When a team only brings back three starters it usually means bad things are on the horizon, like seeing a pink sky in the morning. Yet, in Toronto that means that they were just trimming the fat. Calderon is coming off a season in which he only played in 68 games and in many of those he was less than 100 percent. Calderon is one of my favorite point men in the league as he reminds me a lot of Tony Parker. Since he plays in Toronto and they don't win not as many people get to watch this impressive young player.
Calderon averaged 13 points and nine assists per game last season and both should improve immensely. With more scoring options for the Raptors Calderon will benefit with more open shots and more opportunities to distribute to the open shooter. Toronto will start rookie DeMar DeRozan at the No. 2. We shouldn't expect much from this spot but with his athleticism he can contribute both on the glass and on the defensive end of the floor. This spot has been handed to him somewhat with the Raps suffering through some early injuries. When the Raptors drafted DeRozan they took a chance on potential. He was said to have the most upside of any player in the NBA Draft. If that is the case Toronto may have struck it rich. If not, this was the year to take a chance as they improved their overall depth through free agency and trades. Personally, I thought he was a reach.
At the small forward the Raptors will trot out their big name free agent pickup, Hedo Turkoglu. Hedo will play a huge role on the offensive end of the floor. With his scoring and ball-handling abilities he should take some of the pressure off both Calderon and Bosh. Turkoglu was a huge reason, and in my opinion the main reason, that the Magic defeated the Cavs in last season's playoff matchup.
Bargnani starts at the power forward position, and like many of his teammates is a good scoring option. The knock on Bargnani is that he doesn't rebound that well and he doesn't play defense at all. With Reggie Evans as his backup the rebounding and defense isn't that big of a deal since that is all Evans really does. The Canadians should come up with a way to morph the two and form an uber-player.
The Raps big ticket is Bosh and we should expect big things due to the fact that this may be his last year in Toronto. Bosh averaged a career high in points last season at 22.7 and I have a feeling that will be even higher this year. The downside to Bosh is that he isn't durable, yet he played in 77 games last season, which is the most since the 2004-05 season.
The Raps bench was a detriment last season but with dramatic changes we should expect big things. Toronto has a solid backup at each position, including a tough backup point guard in Jarrett Jack. Jack will add a different dimension to this team when Calderon takes a break. In year's past when Jose missed any time the Raptors were considerably worse off, but not this year. Jack can play, and it won't take long for Canada to appreciate his skills. Rasho Nesterovic hasn't done much since he averaged eight points and eight rebounds in 2002-03 but he does add a big body inside that can rebound and bang with the big men in the East.
All in all Toronto fans have to be excited. Their team is much, MUCH, better than it was last season. They need to cheer as hard as they can for every home game because things may go downhill fast if Bosh decides to skip town. As long as they stay healthy Toronto will make the playoffs and fight for the fifth or sixth seed.
2009-10 Toronto Raptors Predictions:
2009-10 Odds to Win the NBA Championship: 50/1
2009-10 NBA Regular Season Win Totals: 43.5
2008-09 Toronto Raptors Results:
2008-09 ATS:
| | | |
| --- | --- | --- |
| Overall | Home | Away |
| 33-47-2 | 16-24-1 | 17-23-1 |
2008-09 O/U:
| | | |
| --- | --- | --- |
| Overall | Home | Away |
| 47-35 | 22-19 | 25-16 |