Early Season Value Betting MLB Baseball
by Doc's Sports - 4/3/2012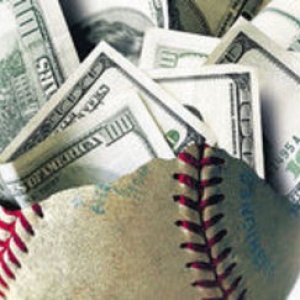 This is Wade from Doc's Sports, please take just 3 minutes and read this important message which I feel will help us have one of our most profitable betting sessions ever. The key is early season value.
"He who hesitates is lost."

This saying is true in life and has been true in sports betting. And as Doc's Sports Services gears up for another successful Major League Baseball betting season the best advice that we can offer our clients and prospective clients is to get in on the ground floor and make sure that you're on board with one or more of our handicappers from Opening Day.
Just like with picking stocks, you want to "buy low" and then watch your profit grow to the maximum.
Doc's Sports Service has the most accomplished team of handicappers in the country. And fresh off a fall and winter of profits in football and basketball we are chomping at the bit to attack the early (and weak) baseball betting lines.
Here are three simple reasons why now is the absolute best time of the year to sign up:
1. You increase your chances of making maximum full-season profits.
We have had an incredible college basketball season here at Doc's Sports – perhaps the best single season in our 40-year history. Here is a look at the profit that our handicappers had turned on the hardwood as of Jan. 7, which was a little less than two months into the season:
Doc's Sports = +$9,000 (+$13,000)
Robert Ferringo = +$8,600 (+$11,400)
Strike Point Sports = +$7,000 (+$7,900)
Indian Cowboy = +$3,800 (+$7,900)
Allen Eastman = +$4,035 (+$6,400)
Jason Sharpe = +$5,900 (+$5,700)
Vegas Sports Informer = +$5,200 (+$2,900)
The first number is the amount that each handicapper was up on Jan. 7 and the second number is how much they were up on the season following the opening weekend of the NCAA Tournament.
As you can see, our group has collectively earned around $55,000 for our $100-per-unit bettors and well over a half-million dollars for $1000-per-unit bettors this year. But you'll also notice that if you didn't sign up at the beginning of the season you would have missed out on about 75 percent of that overall profit.
And, specifically, while five of the seven handicappers showed a profit from Jan. 7 to March 21, only one of the group actually made more money in the second half of the year compared to the first half. So if you had signed up just a couple months late you still would have turned a profit. But look how much money you were leaving on the table by waiting to see those hot streaks happen!
2. You are getting more value on your investment.
Our Early Bird MLB Full Season Package is just $750 and gives you access to any handicapper's selections for the entire baseball season. That is a full seven months – from late March to late October – of selections at less than one-third of the cost if you were to purchase seven individual monthly packages ($325 apiece). This is, without a doubt, the best value of any full-season package on our website.
By signing up early and enjoying premium selections for that entire seven months you are increasing the value of your package. If you to purchase a full-season package in May you are basically costing yourself money by losing out on a month of picks. In essence, it's like buying a ticket to a movie and then missing the first 20 minutes of it. And remember you can always take profits at a certain point and stop.
3. The first few months of any season are the best time to make a profit.
Sportsbooks are most vulnerable early in the season. The books base everything from futures odds to early season odds on how they think the general public will bet and based on how they think that the teams will perform.
Remember, oddsmakers have to set lines and odds on every single game and handicappers and bettors have the luxury of just finding their mistakes.
Sharp bettors and handicappers excel at identifying these overachievers and underachievers and make a living by staying one step ahead of the general betting public. They are able to parlay that knowledge and anticipation into strong early-season profits that you don't want to miss out on.
Fortune favors the bold. Don't hesitate and cost yourself money by missing out on early-season profits. And by starting at the beginning of the year and taking advantage of our best price of the season you are increasing your profit margins. And when your handicapper gets off to a fast start – and as you can see from our recent numbers, most do – then you will be able to cover your full-season package, take a few thousand dollars out as profit, and then play the rest of the MLB season with "house money" and build up your bank roll for football season.
You don't want to lose out on money or miss out on winning because you hesitated; instead, we recommend signing up for a monthly or full season package right away to take full advantage of everything that our service has to offer.
Good luck and good betting!
Wade
GM
Doc's Sports
1-866-238-6696
PS. By Signing up early you can take advantage of our
40th Anniversary MLB Special this year Only! Get 3
handicappers on a trial for the price of one!
Click Here for Details.