2015 St. Louis Cardinals Predictions and Odds to Win the World Series
by Alan Matthews - 4/2/2015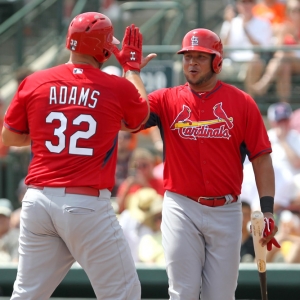 With the New York Yankees no longer anything resembling a powerhouse that simply outspends everyone, the Boston Red Sox having two last-place finishes in the past three seasons, and the Los Angeles Dodgers flaming out in the playoffs the past two years, I think it's fair to say the marquee franchise in MLB right now is St. Louis.
All the Cardinals do is win, even when saying goodbye to a guy like future Hall of Famer Albert Pujols or current Hall of Famer manager Tony La Russa. Let the Cubs get all the publicity in the NL Central this season or have those "experts" pick Pittsburgh as a chic World Series team. The Cardinals just sit back and do their thing rather quietly.
Free $60 in Member MLB Picks No Obligation Click Here
St. Louis finished 90-72 last season, winning the NL Central for a second straight year and making the playoffs a fourth in a row. The Cards weren't supposed to beat Clayton Kershaw and the Dodgers in the 2013 NLCS but did. They weren't supposed to beat Kershaw and the Dodgers in the 2014 NLDS but did, beating the unbeatable Kershaw in Game 1 and the clinching Game 4 with stunning seventh-inning rallies in each. The Cards were favored in the NLCS against the wild-card Giants but ran into Madison Bumgarner and lost in five games.
St. Louis opens the season Sunday night at Wrigley Field against the Cubs.
Cardinals 2015 Projected Lineup
No major losses from last year's lineup other than the shocking death, 10 days after being eliminated in the NLCS, of one of baseball's top hitting prospects, Oscar Taveras, in a car accident in his native Dominican Republic. He was expected to be the foundation of the team's future in right field.
If third baseman Matt Carpenter (.275, eight HRs, 59 RBIs) was in Boston or New York, he'd be considered a blue-collar star in the mold of a Dustin Pedroia, but he still flies under the radar playing in the Midwest. Carpenter leads off and is followed by the big addition, former Brave Jason Heyward. This guy has 30-30 potential but hasn't put it all together yet. He hit .271 with 11 HRs, 58 RBIs and 20 steals in 2014 and plays Gold Glove defense in right field. Taveras' injury was what pushed St. Louis to trade for Heyward even though he can become a free agent next winter.
It's a solid-if-not-spectacular 3-4-5 of outfielder Matt Holliday (.272, 20 HRs, 90 RBIs), first baseman Matt Adams (.288, 15 HRs, 68 RBIs) and catcher Yadier Molina (.282, seven HRs, 38 RBIs). Molina is the guy the Cards can least afford to lose because he's not only a great hitter -- 2014 was a down year as he battled injuries -- but without peer defensively and in working with a pitching staff. Molina will be 33 this summer, so how many games can he realistically catch?
Shortstop Jhonny Peralta (.263, 21 HRs, 75 RBIs) lived up to his big free-agent contract last season and will hit seventh, followed by second baseman Kolten Wong (.249, 12 HRs, 42 RBIs) and center fielder Jon Jay (.303, 46 RBIs).
The 2014 Cardinals hit only 105 home runs, the fewest in the National League and lowest for the franchise since 1992. The team's 401 extra-base hits represented the fewest by any Cardinals club since 1995. This year's offense looks better on paper because I think Heyward has a big year so he can hit the jackpot as a free agent.
Cardinals 2015 Projected Rotation & Closer
The major loss here was likely No. 3 starter Shelby Miller (10-9, 3.74), who was the big piece in the Heyward deal. The Cards obviously felt they had enough young pitching in the pipeline to deal Miller for a needed bat.
St. Louis got a scare this spring when ace Adam Wainwright suffered a late-February abdominal injury that threw off his schedule, but he's apparently fine now and will start Sunday's opener against new Cubs ace Jon Lester. Throw out that missed 2011 season and Wainwright has been very durable, making at least 32 starts every year. He was 20-9 with a 2.38 ERA last season, which often would be good enough for the Cy Young. My only worry is he will be 34 in August and nagging injuries have started to creep in.
Lance Lynn (15-10, 2.74) and John Lackey (14-10, 3.82) slot behind Wainwright. The big question mark is Michael Wacha (5-6, 3.20). He looked like a future Cy Young winner late in the 2013 season and playoffs but was limited to 19 starts last year because of a very unusual shoulder injury (stress reaction in scapula bone). Monitor that for sure.
Carlos Martinez, 23, won the No. 5 job with a strong spring over Marco Gonzales and lefty Jaime Garcia, who starts the season on the DL because of soreness in his surgically-repaired left shoulder. Martinez was 2-4 with a 4.03 ERA in 89.1 innings last year, making seven starts. Thus, no lefty starter for the Cardinals to open the season.
No worries at closer with Trevor Rosenthal (45 saves, 3.20 ERA), and he has a very good new set-up man in right-hander Jordan Walden, who also came over from Atlanta in the Heyward deal.
Cardinals Futures Odds & 2014 Trends
At Bovada , St. Louis is +1200 to win the World Series, +600 to take the pennant, +130 favorite in the NL Central and with an "over/under" wins total of 88.5 (under -125 favorite). Heyward is +2000 to win NL MVP and has total of .269, 17.5 homers and 69.5 RBIs. Molina is given an OU of a .300 average. Wainwright is +2000 to win NL Cy Young and has totals of 15.5 wins, 3.05 ERA and 195.5 strikeouts. The Cardinals were 68-94 against the spread last season with an O/U of 73-82-7. On the moneyline, they were +207 units on the year.
Cardinals 2015 Predictions
FanGraphs projects St. Louis to finish 88-74 and first in the NL Central. Is the gap between the Cardinals and the rest of the division -- namely the Pirates and Cubs -- closing? I don't think there's a question. But you look at this team, and while there aren't any glaring superstars there also aren't really any huge questions. Just solid-to-good players everywhere. Go over the wins, and the Cards win the Central but not the pennant. I'm over on all of Heyward's numbers but under on Molina, Wainwright wins and strikeouts (I think he might see the DL at least once). Go over his ERA.
How about $60 worth of member's baseball picks absolutely free? - You can use this $60 credit for any of our top MLB handicappers. Get on board now.
Read more articles by Alan Matthews
Get all of Today's Free MLB Picks
Get all of Today's 100% Profit Guaranteed Expert MLB Picks