The Ferringo Report: SEC Falls on It's Face in Week 1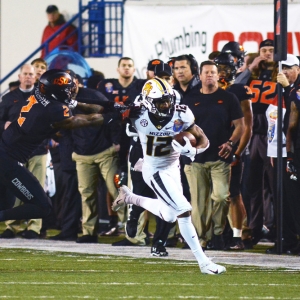 Football betting is all about two things: money and expectations. And it is all about managing both.
Expectations are really at the core of football betting. That's exactly what a point spread is. I understand that on its face it is simply a tool used by the sportsbooks in an attempt to balance action and flaunt their 10-percent house advantage. But at a layer beyond that, the point spread is really just a measure of expectations. It's a mathematical bar for teams to surpass or surrender to.
And that's what betting is. It is trying to predict which teams are going to meet and exceed their expectations and which teams are going to come up short.
No one failed to meet their expectations in the opening week of college football like the SEC. With the exception of the two real powers in the league, Alabama and Georgia, the rest of the league went just 4-8 against the spread and suffered some humiliating outright losses. Missouri lost as a 17.5-point favorite to Wyoming. South Carolina blew an 11-point lead in a loss to North Carolina. And Ole Miss, which entered the game as an underdog, lost to Memphis.
The coup de grace, of course, was Tennessee's incredible outright loss to lowly Georgia State - in Knoxville.
All told, it was an embarrassment for the conference.
That's because the level of expectations for this league are so widely skewed. Sure, Alabama or Georgia are great bets to win the National Championship. But that doesn't mean the league is superhuman. That is how the SEC and its rabid fan base acts. And that is how the conference is portrayed in the media. When the reality is that the SEC has three or four good teams and then a bunch of sloppy messes.
On a more individual note, this is the time when I will remind you, dear reader, that you have to find your own level of expectations and manage them as well. What do you hope to accomplish this football betting season? Do you just want to have some fun, regardless of the outcome? Would a 20 percent return do the trick? Or are you setting your sites on double-or-nothing, like the tourists?
Too many bettors enter the season with no idea what their own expectations are. And as a result, they fail to manage the other most important thing - their money.
So my advice to you is not to fall into that trap. Understand what your expectations truly are and then work to meet or exceed them. (And don't ever trust Tennessee.)
Here are some random thoughts, tidbits and musings in this week's Ferringo Report:
- Cincinnati continues to be one of the more underrated programs in the country, and that defense of theirs is absolutely legit. They held UCLA's fast-paced offense to just 218 total yards and 12 first downs while allowing just 1.7 yards per rush. The result was Cincinnati holding onto the ball for 17 more minutes than the Bruins and simply smothering the life out of them.
- I feel like Clemson had a bit of a misleading final score. Yes, they played about 90 different guys in that game, and they covered a massive 37-point spread thanks to a late field goal. However, the Tigers were lucky early on. Georgia Tech blew a ton of opportunities in the first half. They set up Clemson's first touchdown by fumbling a punt. The Yellow Jackets couldn't take advantage of a Tigers fumble in their own territory, and Tech was stoned twice on fourth-and-one, including once at the goal line. I'm just saying: if the Tigers had been playing a halfway competent opponent - rather than one undergoing the biggest rebuild in the country - they could've been in some trouble early in that game, and there is no way they should've covered.
- Large favorites obviously flopped throughout the weekend. Teams favored by 20 or more points combined to go just 18-26 against the spread (40.9 percent) last weekend.
- All offseason the talk surrounding Michigan State was about their rebuilt offense. Needless to say, I'm still not impressed. The Spartans went 6-for-19 on third down against Tulsa and gained just 300 total yards. Seriously, how the hell do you hold an opponent to -73 rushing yards (and -2.9 yards per rush) and still not cover the spread?
- Jordan Love is the real deal. He has absolutely nothing to work with on an offense that is replacing nine starters. Yet Love finished 33-for-48 for 416 yards, almost singlehandedly leading Utah State to the upset over Wake Forest. Yes, the three interceptions hurt. But, again, with what he has to work with, Love has to be a little daring.
- It is absolutely amazing to watch Jake Fromm, Justin Fields and Jacob Eason all dominate on Saturday and realize that they all passed through the Georgia program within months of one another. All three players could end up as first-round draft picks and eventual starters in the NFL. That is just an obscene amount of quarterback talent to funnel through Athens.
- Like Clemson, Utah tallied a somewhat misleading final. Utah had two interceptions returned for touchdowns and that helped turn The Holy War into a "blowout". Yet the Utes won by 18 points despite only outgaining BYU by 68 yards.
- Let's all slow down on the "Nebraska is a factor in the Big Ten" storyline. The Huskers may be one of the most overrated teams in the country heading into this season. I know that there are a lot of people that want Nebraska to be "back". But that's not reality.
Nebraska looked terrible against South Alabama. They were actually outgained by the Jaguars. In Lincoln! That was just a 28-21 game in the second half, and Nebraska benefitted from three defensive/special teams touchdowns to eke out a 35-21 win as a 35-point favorite.
- This week's USC-Stanford game really is a big one in the Pac-12 race. However, both teams are likely going to have to play without their starting quarterbacks. K.J. Costello left Stanford's game with a concussion, and he is questionable for this week's game against the Trojans. USC lost sophomore quarterback J.T. Daniels for the season with a knee injury and now has to turn to freshman Kedon Slovis.
- What kind of name is Kedon Slovis?
- Anyone that cashed a ticket on Stanford last week used up about a month's worth of karma for that one. The Cardinal scored the game-sealing (and spread-beating) touchdown with 20 second left on a sack and fumble recovery in the end zone to sneak in the front door.
- How does Willie Taggart still have a job? All this guy has done in the last three years is fail to take Oregon to a bowl game, fail to take Florida State to a bowl game (for the first time in nearly 40 years), and then blow a double-digit lead at home to Boise State. This guy is a loser and, frankly, I'll be surprised if he still has a job at this time next season.
- I have to give Florida Atlantic a lot of credit. They were obviously shell-shocked by Ohio State's first quarter blitz, with some shaky play and blown assignments leading to a 21-0 deficit. However, after that, they actually played even with Ohio State for three quarters despite being physically overmatched
- Oregon was definitely the better team in that game with Auburn. I'm not going to dissect all the should've, would've, could've of that game. But it was clear to me that the Ducks were the better team and the Tigers, frankly, got lucky.
- The ACC is going to be a dumpster fire this season. Despite that, don't overlook Virginia's effort in Pittsburgh. That was a key road win for a team that has been absolutely horrible away from home over the past decade. Virginia just kept pounding away and didn't get rattled even after blowing a 10-0 lead. The Cavaliers showed some nice poise and experience and dominated the second half of that game.
- I am firmly on record as not being a fan of Syracuse quarterback Tommy DeVito. He is not half of the player that Eric Dungey was. I know there are a lot of DeVito defenders among the Syracuse football faithful. But Saturday's effort should make them reconsider their position. DeVito completed just 48.6 percent of his passes with zero touchdowns and two interceptions. Did I mention that he did that against a Liberty defense that was No. 123 in the country last year? I don't know what people see in this guy.
- Speaking of quarterbacks, it is a minor travesty that South Carolina quarterback Jake Bentley saw his career end due to injury. He has had a roller coaster career in Columbia and was looking to cement his legacy with a great season on a veteran team. Instead, he's out for the year and his football career (he's a fringe NFL candidate now, at best) is likely over. He was hurt on the final play of the game, and now the Gamecocks season looks shakier than ever.
- It is one thing for Michigan to be sloppy and not cover the spread against Middle Tennessee State. Again, it was Week 1. There was sloppy play all across the country as everyone worked out the jitters. What was concerning to me was the fact that they did not physically dominate MTSU. They weren't pushing the Blue Raiders around at the line of scrimmage. Throw that on top of the sloppy play and turnovers, and I would be concerned if I were a Wolverines fan. Wisconsin, Ohio State, Michigan State and Penn State all physically dominated their opponents, and all of them looked much, much better than Jim Harbaugh's squad last weekend.
Robert Ferringo has been the top football handicapper in the country the past nine years, earning nearly $40,000 in total football profit (average profit: +$4,400). He has also posted 7 of 9 winning seasons (including three straight winning years) and produced an amazing 50 of 76 winning football months over the past 12 years. Robert has eight of 10 winning NFL preseasons and he is at nearly 60 percent winners over his last 1,000 totals picks. Also, Robert's proprietary KING College Football Betting System has posted three of five winning seasons. Robert is looking for a fourth straight winning football year and wants more profit this fall. SIGN UP HERE TODAY AND TAKE ADVANTAGE OF OUR 3-FOR-1 FOOTBALL SPECIALS!
We are offering new clients $60 in free college football picks for Robert's picks or any Advisory Board handicapper of your choosing. Get your free college football picks now!
Read more articles by Robert Ferringo
Get all of this Weeks College Football Picks
Get all of this Weeks guaranteed Expert College Football Picks