Doc's Sports Handicapping - Weekly Newsletter October 1-October 7
by Doc's Sports - 10/1/2014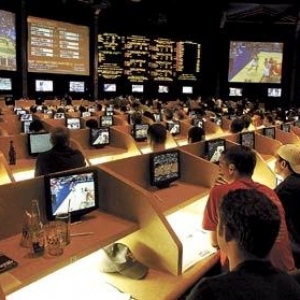 WHAT'S INCLUDED IN THIS NEWSLETTER:
- SEVEN Free Play Winners Below
- Record-Breaking Top Play Run Continues (43-13, $20,570)
- Strike Point Sports Hitting 94 Percent In Football (14-1)
- Raphael Esparza's 8-Unit College Football Game of the Year
- NHL Hockey 3-for-1 Packages Available Now
THIS WEEK'S TOP GAMES FROM OUR TEAM OF EXPERTS:
***THIS IS AN ALL-TIME GREAT TOP PLAY RUN***
Last week our handicappers' top football plays – rated 6.0 or higher – went 10-3 for $4,810, and over the last two weeks they have gone 22-5 for $11,370 in profit. That is an amazing 81 percent success rate and is BY FAR the best in the industry. These top games are available for just $30 apiece from each handicapper, and so far this season, collectively, we have gone 43-13 for $20,570 with our highest-rated football picks. What are you waiting for? Sign up NOW!
THURSDAY
Strike Point Sports – 7-Unit College Football Game of the Month (CLICK HERE)
SATURDAY
Raphael Esparza – 8-Unit College Football Game of the Year (CLICK HERE)
Robert Ferringo – 7-Unit College Football Game of the Year (CLICK HERE)
Mike Davis – 7-Unit College Football Game of the Year (CLICK HERE)
Doc's Sports – 6-Unit College Football Game of the Year (CLICK HERE)
Jason Sharpe – 6-Unit College Football Game of the Month (CLICK HERE)
Mike Davis – 5-Unit SEC Game of the Week (CLICK HERE)
Allen Eastman – 5-Unit College Football Game of the Week (CLICK HERE)
SUNDAY
Robert Ferringo – 7-Unit NFL Game of the Year (CLICK HERE)
Strike Point Sports – 7-Unit NFL Game of the Year (CLICK HERE)
Mike Davis – 7-Unit NFL Game of the Month (CLICK HERE)
Allen Eastman – 6-Unit NFL 411 System Play (CLICK HERE)
Jason Sharpe – 6-Unit NFL Game of the Month (CLICK HERE)
Raphael Esparza – 5-Unit NFL Game of the Week (CLICK HERE)
MONDAY
Mike Davis – 6-Unit NFL Game of the Month (CLICK HERE)
HANDICAPPER'S HOT STREAKS AND NEWS:
Doc's Sports Football is coming off back-to-back profitable weekends. This includes going a perfect 4-0 with our top plays the last two weeks in college and the NFL. Doc's Sports banged out a monster 7-4 weekend, picking up +16 units and allowing $100 bettors to earn a profit of +$1,440. This included a 7-Unit College Football Game of the Year winner late Saturday night when Nevada held off San Jose State, 21-10. Doc's Sports is a perfect 4-0 on our top plays this season, and we will carry all that momentum into Saturday when we pull the trigger on a 6-Unit selection in college football. This will come from one of the key games across the country, and you can purchase it along with our entire football card for $99 with a one-week package. Now is the time to jump on board a veteran handicapper with 43 years of experience.
Doc's Sports MLB is geared up for a playoff run after a wildly-successful regular season. We took home nearly $13,000 in profit for $100 bettors during the regular season – one of the top marks of all-time at Doc's. We see some great postseason matchups and are confident that we can keep the momentum going strong. We have a couple of series matchup and future selections available on Thursday as well, so don't miss out. Join us and get every selection that we make from now thru the World Series for just $99.
Robert Ferringo continues to be one of the most consistent and explosive football handicappers in the country. He exploded for $2,000 in football profit last week and is firing back with another pair of 7-Unit plays this weekend. Robert swept a pair of 7-Unit picks last week and is a phenomenal 22-6 (78.6 percent) with his football plays of 7.0 or higher the last three years. Robert has rattled off three straight winning NFL weeks and 14 of 19 winning NFL weekends dating back to last season. September was another profitable month for Robert's clients, and that is now back-to-back winning months to open the season, 9 of 11 winning months over the last three years, and an unmatched 32 of 46 winning football months over the last eight years! It doesn't get better than that. Robert also swept his KING System picks last week and is now 6-3 with these selections on the season. The KING System has hit at 60 percent over the last three seasons (91-61), and Robert will look to build on his stellar resume again this week. Don't forget: NHL hockey starts next Wednesday, Oct. 8, and Robert is one of the top NHL handicappers in the nation. He has posted four of five winning NHL years, and from 2009-2012 his clients banked nearly $22,000 on the ice. Sign up and take advantage of our Early Bird Special today.
We are running out of superlatives for Strike Point Sports, and they are coming off one of the greatest months of football handicapping in Doc's Sports 43-year history. Strike Point Sports has opened the season 20-7 for $7,700 in football profit. That's over 74 percent winners! The strength of their service has been their big plays, and SPS is on a 14-1 run with football picks of 5.0 or higher. That's a 94 percent success rate! Strike Point has nailed NINE STRAIGHT college football picks, going a perfect 3-0 in each of the last three weeks, and they are looking to start off the week in style with a 7-Unit College Football Play on Thursday night. Last week they won their 8-Unit NFL Game of the Year in a blowout with the Giants, and they see a similar result this week. They will have another 7-Unit NFL Play on Monday, and SPS has gone a perfect 6-0 on their big plays the last two weeks. Runs like this don't happen every day, and you do not want to be the only one missing out on this amazing football season. Also, SPS will continue its selective assault on the books this year with NHL hockey (Oct. 8) and NBA basketball (Oct. 28), and you can sign up for both today.
Mike Davis just keeps the good times rolling and will do the same thing this weekend on the gridiron. He went 3-2 for $1,010 in profit last week, and he is 14-7 for $4,580 in profit over the last four weekends. He has been dynamic with his big plays, going 9-1 with his football picks of 5.0 or higher and a perfect 7-0 with his picks of 7.0 and above. He wants to put that to the test again this weekend with a 7-Unit College Play on Saturday followed by a 7-Unit NFL selection on Sunday. He will cap his weekend off with a slick 6-Unit Monday Night Football prediction that you don't want to miss. Don't forget his 5-Unit Game of the Week out of the SEC as well, along with one final pick to complete the five-back. Get while the getting is good with this red-hot handicapper as he looks to continue his winning ways. Also, check out his Insider's page for daily videos and free plays.
Raphael Esparza just keeps on winning! Esparza has gone 13-5 with is last 18 college football predictions – including a sparkling 6-0 mark with his last six plays of 5.0 or higher – and has raked in an awesome $4,050 in winnings. Esparza is launching his 8-Unit College Football Game of the Year this Saturday, and he said he was absolutely stunned that this spread hasn't moved yet. This is a once-a-year opportunity, and Esparza is going to take full advantage this week has he looks to make it four winning weekends in a row. He will also have another strong weekend of fight predictions, and Esparza is off to a blistering 21-5 open with his picks in the UFC and Boxing. That includes another 2-0 sweep last weekend with a 7-Unit winner (Romero). He'll have two UFC picks this weekend, released Friday at 4 p.m. under "Other Sports". Esparza is also excited about the start of the NBA season in a few weeks. Generally regarded as the top NBA handicapper in the country, he has posted an unmatched 7 of 8 winning pro basketball seasons, and he is going to do it again this winter. And don't forget that for just $99 you can get the rest of his MLB service (16-5 rush). Check him out!
11th Hour Sports has been one of the best and most devastating betting services in the country. Over the last 10 months this service has banked an incredible $133,000 in profit for its $100 per Unit backers and over the last 38 days alone it has been good for over $25,000 in profit! Those numbers are fantastic and you need to sign up immediately. Just text the word "PICKS" to 29022 and you will receive your free, no hassle 11th Hour FREE trial. You'll get these high-roller plays sent to your phone every day. If you don't like it you can cancel any time. But believe me – you're going to love the action and the ridiculous profits. Get on board today!
Allen Eastman is thrilled for this weekend, and expectations are sky high. Eastman has run off two of three winning overall football weeks and has been good for nearly $3,000 in cash during that stretch. He has another full card this weekend that includes a 5-Unit College Football GOTW and a 6-Unit NFL Game of the Month that is straight from the NFL 411 System. This play is on one of the hottest teams in the league right now, and this spread is just begging to be abused. Eastman's NFL 411 System has turned a profit in five of the last six years and is the only documented 60 percent NFL system in the country with nearly 200 trials during that time period (115-76-7). Eastman is also looking forward to putting the wraps on a sixth straight winning baseball season and is looking for that success to translate to the NBA hardwood at the end of the month when the season starts. Sign up today and secure our best price of the year.
Jason Sharpe did what he always does: turned a football profit in September. Sharpe is now a perfect 5-for-5 in the opening month of the season, and now he's looking to translate that into an October surprise. Sharpe has tallied back-to-back winning overall football weeks, and last Sunday his 8-Unit NFL Game of the Year was a no-doubter with Green Bay. Sharpe has hit 8-Unit winners in back-to-back weeks and wants to stay hot with this top picks. He will have a 6-Unit College Football Game of the Month and a 6-Unit NFL Game of the Month on the card this weekend, and he has gone 10-2 dating back to last year with his football picks of 6.0 or higher. That includes a recent 3-1 rush, and he expects a sweep this weekend. Sharpe hit his first MLB playoff pick of the postseason and is working on making it four of five winning baseball seasons. He will also dabble in the NHL, and you can take advantage of our 3-for-1 hockey deal today.
FREE PICKS FROM DOC'S SPORTS EXPERT HANDICAPPERS:
Free NFL Football Prediction From Raphael Esparza:
Take OVER 47.5 Minnesota at Green Bay (8 p.m., Thursday, Oct. 2)
This is the weekend I've been waiting for! I have gone 13-5 with my last 18 college football picks (+4000), and I am going with my 8-Unit College Football Game of the Year on Saturday. I'm so excited I will barely be able to watch this shootout in Green Bay on Thursday. When the Packers offense is clicking they are dangerous, and Thursday night at home I see the Packers offense blowing up on the Vikings. Minnesota's offense looked really good with Bridgewater at QB at home against Atlanta, and yes Bridgewater is questionable with an ankle injury, but I believe he will play Thursday night. Green Bay is coming off a big road win against the Bears on Sunday, and their offense scored 38 points on the road. If Aaron Rodgers has time to throw I see another 30+-point game from Green Bay. This total flies over and wouldn't shock me to see Green Easily cover the big number at home as well. The Vikings are 11-2 O/U in Week 5 games, and the Vikings are 5-2 O/U following a SU win. Green Bay is a perfect 4-0 O/U following a SU win of 14 points or more, and the Packers are 6-2 O/U in their last 8 games. Green Bay is 20-8-1 in their last 29 meetings against Minnesota. Head over to Sportsbook.com you can get a 25 percent sign-up bonus for up to $250 of free cash. Use that as part of your wagering this weekend. Just Click Here.
Free College Football Prediction From Robert Ferringo:
Take #386 Mississippi State (-2.5) over Texas A&M (Noon, Saturday, Oct. 2)
I had my best weekend of the season last week, nailing both of my 7-Unit Plays (one college, one pro) while banking $2,000 in profit. I am going to top that this week, and I feel really great about how I'm seeing the board right now. This free play is a nice example. The public will jump all over A&M because they are an underdog. But it is always an indicator if a Top 10 team is posted as an underdog. Mississippi State's confidence is sky-high right now after a true road win, at night, at LSU two weeks ago. They have had two weeks to prepare for this game, and they will be lying in wait for one of the biggest wins in program history. This team has gone 8-1 ATS in its last nine games, and this is a veteran Bulldogs defense that has seen everything that A&M's offense has to offer. The core of this Bulldogs team is the same as the one that lost by just 10 points (as 19.5-point underdogs) last November. State actually outgained A&M by nearly 20 yards in that game, but they couldn't slow down Johnny Manziel and Mike Evans. The Aggies still have a great system and some nice talent. But games like this are where A&M's inexperience will come back to bite them a bit. The Aggies were really lucky to escape with a win against Arkansas last week (they were down 28-14 in the fourth quarter), and I think they are primed for a letdown. I think this a great spot for the home team. I think the Bulldogs are all-around the better team here, and I think they are going to prove it. Sumlin teams don't really get blown out. But this will be a game that Miss State controls and they win by 13. This one may not be a blowout, but my 7-Unit College Blowout of the Year will be. I love one game this Saturday afternoon that I think is going to be a bloodbath. We are also giving you a $250 free bet - Click Here – at Bovada and you can use that on either of my two big plays this weekend (college or NFL). Sign up now!
Free College Football Prediction From Allen Eastman:
Take #339 Marshall (-17.5) over Old Dominion (Noon, Saturday, Oct. 4)
I have been good for two of three winning football weeks for nearly $3,000 in profit, and the NFL 411 System is going to come roaring back this week with a 6-Unit NFL Game of the Month. Marshall is coming off a bye week. I think they are going to pick up right where they left off. They have scored over 40 points in each of their four games this year and have covered the spread in three straight. They won their first two road games by 15 and by 31 points. I think they will put up even more this week with two weeks to prepare. Marshall is 7-3 ATS in its last 10 games and 13-5 ATS going back to the start of last season. That includes their bowl win over Maryland and a 3-1 ATS start this season. Old Dominion is one of the younger FBS programs in the country. They are 0-3 ATS at home this year, and they just lost to Middle Tennessee last week. They have one of the weaker defenses in the country, and they will not be able to slow down this Marshall attack. The Thundering Herd has one of the best quarterbacks in the country with Rakeem Cato. He will tear this Monarchs team up, and Marshall has their focus on going undefeated and getting inside the Top 25 or even the Top 10. They will win this one going away, so lay the points and take the Herd. Sportsbook.com will give you a 25 percent sign-up bonus, up to $250, if you Click Here, and you can use that bonus money with my NFL 411 System this weekend.
Free College Football Prediction From Jason Sharpe:
Take #410 Michigan State (-7.5) over Nebraska (8 p.m., Saturday, Oct. 4)
Back-to-back 8-Unit football winners have helped me to back-to-back winning football weeks. This weekend I am going for the sweep with both my 6-Unit College and my 6-Unit NFL Games of the Month. Don't miss out! The Michigan State Spartans football program still isn't getting the respect it deserves. Last year they were the first team in Big Ten history to win every one of their conference games by double-digits. They look to have picked up right where they left off last year by dominating all three teams in their wins this year and hanging tough at one of the toughest venues in CFB, Oregon, in their only loss of the season. The Spartans are known for a nationally-ranked, top-notch defense, but it's the play from their quarterback Connor Cook that has turned this team into an elite program. Nebraska comes in a perfect 5-0 to start their season, but I'm still not a big believer in Big Red. The Cornhuskers have faced an easy schedule so far. They were expected to be a bit down overall coming into the year and I don't feel they've shown enough here in their first five games that they have been favored in to change that opinion of them. They lost quite a bit from last year's team that was just a 5-3 Big Ten squad, tying for Bo Pelini's worst record overall for conference play. Click Here and get up to $250 absolutely free from Sportsbook to collect on either of my two big 6-Unit GOTM picks this week.
Free College Football Prediction From Doc's Sports :
Take #387 Utah (+13) over UCLA (10:30 p.m., Saturday, Oct. 4)
Kansas City came through in a big way on Monday night, and that helped me to a blowout football weekend (over $1,000 in profit). I am feeling a major hot streak coming, and I am going with my 6-Unit College Game of the Month this Saturday in one of the biggest and best games on the board. This Utah-UCLA game is a good one as well. The Bruins finally started to flex their muscles last Thursday against Arizona State, putting up 62 points against a vastly-overrated Sun Devils team without their starting quarterback. The Bruins will have a much harder time moving the football against an aggressive Utes defense. Utah is coming off a puzzling loss to Washington State at home last week, but despite that setback they still have a ton of talent on both sides of the football. I just do not see them getting blown out in in this game. UCLA is 5-16 ATS in their last 21 games played during the month of October. Do not miss Doc's Sports weekend football card. Doc's is coming off a Game of the Year winner last Saturday, and you can expect more of the same this week. Jump on board now and let 43 years of handicapping experience work for you. Click Here and Bovada will give you a $250 free play to use this weekend toward my top college or NFL pick with no risk at all!
Free NFL Football Prediction From Strike Point Sports:
Take #453 Cleveland (+2) over Tennessee (1 p.m., Sunday, Oct. 5)
There is not a hotter football handicapper in the country right now, and everything we touch is turning to gold! We are coming right out of the box on Thursday with another 7-Unit Play, and we've gone 14-1 with our top picks (5.0 or higher) so far this season. Seriously? Yes. Seriously, Tennessee favored? Nope. Not for me. This team in no way shape or form should be favored over anyone, and I mean anyone. The only reason they get this line is because of Cleveland's name. This Browns team has looked considerably better than the Titans, and they win this road game outright. I don't care that this game is at Tennessee as the Browns have already proven that they can play teams tough on the road, i.e. a 30-27 loss to Pittsburgh at Pittsburgh. Cleveland comes into this game off their bye while Tennessee comes into this game off two big losses to Cincinnati and Indianapolis. Not saying that the Browns are in that category, but the Titans have absolutely no confidence, and their offense is a mess. The road team is 6-2 ATS in the last eight meetings between the two teams, and the Browns are 16-5 ATS in their last 21 road games versus a team with a losing home record. Tennessee, meanwhile, is 1-7-1 ATS in their last nine games overall and 0-7 ATS in their last seven home games. Take the road dog in this one as they win this game outright. Be sure to sign up for my 7-Unit Plays this weekend for just $30 apiece. Go to Bovada - Click Here – and you can get a $250 free play to use on either of my 7-Unit Plays this Saturday and Sunday.
Free NFL Football Prediction From Mike Davis
Take #468 Jacksonville (+7) over Pittsburgh (1 p.m., Sunday, Oct. 5)
I have gone 9-1 with my last 10 top football plays, and I see no reason not to throw three more of them out there hunting for another big sweep. I have 7-Unit Plays on Saturday and Sunday. The public sees this situation as a chance for the Steelers to "bounce back" after an embarrassing loss at home versus Tampa Bay. However, the Jaguars are in a great position to play their best game of the year this Sunday at home. Blake Bortles makes his second NFL start and his first start at home. Although he threw two interceptions last week at San Diego, Bortles played well most of the game. He was 29-of-37 for 253 yards and a touchdown. Jacksonville's D has struggled, but they have played three great offenses (Eagles, Colts, Chargers). Pittsburgh's defense has struggled against three bad offenses (Browns, Ravens, Bucs). On top of that, Big Ben doesn't look like the same quarterback from years past. This is a perfect opportunity for Jacksonville to get their first win of the season. Take Bortles and the Jags. Go to Bovada - Click Here – and you can get a $250 free play to use on this free selection or any of my three top-rated selections this weekend as I build on my fantastic football start.
THIS WEEK'S MOST POPULAR ARTICLES:
NFL Survivor Pool Picks and Expert Advice: Week 5
Expert NFL Betting Picks: Weekly NFC East Predictions Week 5
Free Expert NCAA Football Picks: Alabama Crimson Tide at Ole Miss Rebels Odds