NFL Survivor Pool Picks and Expert Advice: Week 5
by Matt Severance - 10/1/2014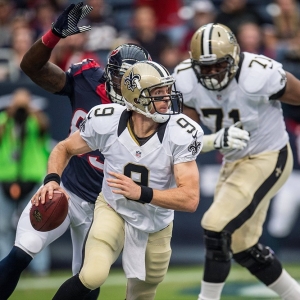 Thank goodness I went with my gut in Week 4 of the NFL season in choosing a Lock of the Week in the Survivor Pool. I originally decided pretty quickly that I wanted Indianapolis at home against Tennessee. But then I started questioning that call if by chance the Titans' injured Jake Locker was going to start. So I looked long and hard at Pittsburgh against visiting Tampa Bay, and of course the Bucs pulled the stunning upset.
Well, I didn't change my mind and Locker didn't play. Predictably, "Checkdown" Charlie Whitehurst was terrible, and the Colts cruised to a 44-17 victory. Now only if I had taken Andrew Luck instead of Drew Brees with my first-round fantasy choice. But I digress. I would have been furious had I gone Tampa Bay because it was the Bucs who knocked me out of my main pool last year when they won in Detroit in Week 12 (stupid Lions).
The Bucs upsetting the Steelers was probably the only major game that affected your pool. One or two might have been bitten by Atlanta losing in Minnesota or New Orleans falling in Dallas. Hopefully you didn't touch New England on Monday night at Kansas City as the Chiefs winning was my Upset of the Week. I have now correctly called the Upset of the Week three times in four tries (and just missed the fourth).
While last week the bye cost competitors some of the NFL's best teams as Survivor options, that's definitely not the case in Week 5 with the Raiders and Dolphins the only teams off.
Lock of the Week
New Orleans vs. Tampa Bay: I don't totally love this. Oh, I think the Saints will win because at home they are a totally different animal, and they can't afford to drop to 1-4. However, New Orleans also looks off offensively and especially defensively. The Bucs will be playing with confidence after that big comeback win in the Steel City. And Mike Glennon looks to be a major upgrade on Josh McCown under center. I think Bucs fans have seen the last of McCown even when healthy. My main concern here is the vast majority of competitors will take the Saints.
Extremely Confident
Green Bay vs. Minnesota (Thursday): I might have had this in Lock of the Week, but there are just too many variables in these quick turnaround games. They generally benefit the home team in a big way, but the Redskins looked totally disorganized in their home blowout loss to the Giants last Thursday. I'm not sure if it would be a good thing for Packers or bad if rookie Teddy Bridgewater is healthy enough to start. Likely won't matter.
Philadelphia vs. St. Louis: Philly scored on a punt return, blocked punt and interception return last week against San Francisco yet still lost because the Niners made Nick Foles look like a JV backup quarterback. It again proves a great defense is always capable of shutting down a great offense (did you see February's Super Bowl?). Alas, the Rams defense isn't anywhere near as good as San Francisco's.
Detroit vs. Buffalo: The Bills' chances of pulling this upset went up a bit in my opinion with the benching of starting quarterback E.J. Manuel -- whom everyone thought was a giant reach in the first round of the 2013 draft, and everyone was right -- for veteran Kyle Orton. He's a good enough game manager to keep Buffalo close. But the 2014 Lions look legit so far.
Denver vs. Arizona: And the last NFC unbeaten will lose. Peyton Manning will throw his 500th career touchdown pass in this game. How funny would it be if the guy who catches it forgets about the milestone and tosses it into the crowd or something?
San Francisco vs. Kansas City: The Niners rediscovered themselves in that win over the Eagles with shutdown defense and a run-heavy, punishing offense. It was statistical domination. Yet you still hear rumors that Coach Jim Harbaugh has worn out his welcome there. Now the 49ers get the Chiefs on a short week.
San Diego vs. NY Jets: Philip Rivers is probably your NFL MVP right now, unless Texans defensive end J.J. Watt is. Rivers could have a monster day because the Bolts can't run at all, and that's what the Jets' defense does best. My only worry here would be Michael Vick coming off the bench for an ineffective Geno Smith and leading a big rally.
Equally Unconfident
Dallas vs. Houston: Sorry, I'm not buying the Cowboys yet. Although it figures that DeMarco Murray becomes a monster this season. I owned him in every fantasy league the previous two years when he would eventually get hurt. Murray is one of just four players in NFL history to rush for 100 yards and a touchdown in each of his team's first four games. The other three were pretty good: Jim Brown, O.J. Simpson and Emmitt Smith. Houston isn't particularly stout against the run.
Indianapolis vs. Baltimore: Since that opening close loss against Cincinnati, the Ravens have looked quite good. They will have their hands full with Luck, who has thrown for at least 370 yards and four touchdowns in back-to-back games. He's right there with Rivers and Watt for MVP thus far.
Chicago at Carolina: My Bears just infuriate me. Their last head coach, Lovie Smith, was great on defense but clueless on offense. The current guy, Marc Trestman, is the exact opposite. I hear some franchises actually have competent coordinators for their head coach. Chicago defensive coordinator Mel Tucker needs to go. Now. That said, Carolina isn't a great offensive team and might be playing a fourth-string running back. Chicago is 2-0 on the road as well.
NY Giants vs. Atlanta: I have no idea what to make of the Giants. But I do know that I don't trust the Falcons -- like the Saints and usually the Lions -- when playing outside a dome.
New England vs. Cincinnati: Sorry if you drafted Tom Brady in the first round of your fantasy draft. It's not his fault; the New England offensive line is terrible. That Logan Mankins trade might have been a disaster. The Bengals come off a bye and get the Patriots on a short week. Yet why do I think all these obituaries of the Brady/Belichick Patriots are too soon?
Seattle at Washington: Seattle played terribly in its lone road game so far. But the Seahawks also have won eight straight Monday night games and enter off a bye week. If the Giants made Kirk Cousins into a turnover-machine, what will the Seattle defense do?
Upset of the Week
Jacksonville vs. Pittsburgh: The Jaguars aren't going 0-16. Probably. Now the Raiders might. I think Jacksonville's Blake Bortles will be a very good player. The Steelers were crushed in one road game this season and then smashed Carolina in their other. It's never easy for a northern team to play in the heat and humidity of Florida this time of year.
Yawn!
Tennessee vs. Cleveland: By the second half of this one it could be Zach Mettenberger against Johnny Manziel in a matchup of rookie quarterbacks, although all signs point to Locker returning from his one-game absence. That shouldn't exactly make Titans fans confident. I only slightly lean Tennessee here because I'm not convinced Cleveland will win a road game all year.
Doc's Sports has been successfully handicapping the NFL for years - more than four decades in the business - and wants to give new clients a chance to try our service for free. Click here for the hassle-free sign up and get $60 in free NFL picks today . Also, get three handicappers for the price of one when you sign up for a full-season football package! Click Here for details.