2018 Super Bowl Trivia Questions and Answers
by Chris Vasile - 1/26/2018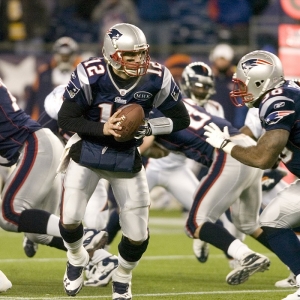 According to a colleague, the key to finding true love is knowing completely obscure facts about a sporting event that has occurred once a year for the last 52 years. If you don't believe me, just read this.
And truth be told, I agree with him. There is nothing worse than starting up a conversation with a supposed "football fan" only to find out they know absolutely nothing about the NFL or one of the biggest spectacles in all of professional sports, the Super Bowl.
Free $60 in Member Super Bowl Picks No Obligation Click Here
If you happen to fall under the category of "football fan who doesn't know who Bart Starr was or which franchise has won the most Lombardi trophies", then you've come to the right place. This 20-question multiple choice test will help you expand your knowledge on key football facts and give you the tools needed to impress anyone around you.
Good luck. The answers are below.
MVP Honors
1. The very first Super Bowl was called "The First World Championship: AFL vs NFL" and was played on January 15, 1967. The Green Bay Packers emerged with a 35-10 win over the Kansas City Chiefs. Who won the game's MVP?
(A) Bart Starr (B) Max McGee
(C) Elijah Pitts (D) Curtis McClinton
2. Besides Starr, who is the only other player in NFL History to win Super Bowl MVP in consecutive seasons?
(A) Terry Bradshaw, (B) Steve Young
(C) Tom Brady, (D) Emmitt Smith
3. Who was the first wide receiver to win Super Bowl MVP Honors?
(A) Jerry Rice (B) John Stallworth,
(C) Fred Biletnikoff, (D) Lynn Swann
4. Who was the first player to win the MVP honors three times?
(A) Tom Brady, (B) Kurt Warner
(C) Joe Montana, (D) Steve Young
5. Can you name the four players that have won both the Heisman Trophy and Super Bowl MVP?
Big Game Performances
6. Who was the first quarterback in NFL history to throw for more than 400 yards in a Super Bowl
(A) Joe Flacco, (B) Dan Marino
(C) Tom Brady, (D) Kurt Warner
7. Who holds the Super Bowl record for rushing yards in the big game?
(A) Terrell Davis, (B) Jim Brown
(C) Timmy Smith, (D) Marshall Faulk
8. Which QB holds the record for most consecutive completed passes in a Super Bowl?
(A) Drew Brees, (B) Trent Dilfer
(C) Tom Brady, (D) Joe Flacco
9. How many yards did the longest completion in Super Bowl history go for?
(A)74 yards (B) 84 yards
(C)85 yards (D) 92 yards
10. Which quarterback owns the dubious record for most interceptions thrown in the Super Bowl?
(A)John Elway (B) Craig Morton
(C)Jim Kelly (D) Kurt Warner
It's A Team Game
11. Which team holds the record for the most consecutive Super Bowl appearances?
(A)New England (B) Dallas
(C)Miami (D) Buffalo
12. With New England seeking their sixth Super Bowl Title, which team will they tie if they win?
(A)Dallas (B) New York Giants
(C)Green Bay (D) Pittsburgh
13. Which franchise holds the record for most Super Bowl losses?
(A) New England (B) Buffalo
(C) Denver (D) Minnesota
14. Which two teams combined for the most yardage in a Super Bowl?
(A) New England/Carolina (B) Washington/Denver
(C) Indianapolis/Chicago (D) St. Louis/Tennessee
15. Only one team has ever recorded just three points in a Super Bowl game. Who was it?
(A) New England (B) Buffalo
(C) Denver (D) Miami
Obscure Trivia
16. Which teams took part in the latest Super Bowl to suffer an extended power outage?
(A) New England/Seattle (B) Seattle/Denver
(C) Baltimore/San Francisco (D) Pittsburgh/Arizona
17. Which performer made the term "wardrobe malfunction" relevant?
(A) Lady Gaga (B) Justin Timberlake
(C) Nelly (D) Britney Spears
18. Which side of the coin - Heads or Tails - has been flipped the most?
(A) Heads (B) Tails
(C) Tie (D) They flip a coin?
19. What was the worst regular-season record ever to advance to a Super Bowl?
(A) 10-6 (B) 8-8
(C) 9-7 (D) 7-9
20. Who was the first African-American coach to win the Super Bowl?
(A) Mike Tomlin (B) Tony Dungy
(C)Dennis Green (D) Herm Edwards
*
*
*
*
*
*
*
(1) Quarterback Bart Starr. He completed 16 of 23 passes for 250 yards and two touchdowns. He would add another MVP trophy the next season.
(2) Terry Bradshaw. He won consecutive Super Bowl MVP's in 1979 and 80.
(3) Lynn Swann - Pittsburgh Steelers- (four catches, 164 yards, one touchdown) - Super Bowl X
(4) Joe Montana. 1982, 85 and 90.
(5) Roger Staubach (Navy, Cowboys), Jim Plunkett (Stanford, Raiders), Marcus Allen (USC, Raiders), Desmond Howard (Michigan, Packers);
(6) Kurt Warner threw for 414-yards and two touchdowns in a 23-16 triumph.
(7) Timmy Smith rushed for 204 yards and two touchdowns in Super Bowl XXII
(8) Tom Brady completed 16 straight passes against the New York Giants in Super Bowl XLIX
(9) 85 yards. Delhomme to Muhammad for a touchdown in Super Bowl XXXVIII
(10) This dubious distinction is owned by John Elway. In five Super Bowls he had 8 passes picked off.
(11) Buffalo holds the record with four straight Super Bowl trips - all losses.
(12) Pittsburgh owns the record for most Super Bowl Titles with six.
(13) Denver has lost five Super Bowls - XII, XXI-XXII, XXIV, XLVIII. One more than Minnesota, Denver, Buffalo and New England.
(14) Washington and Denver combined for 929 yards in Super Bowl XXII. Sixty-one more yards than second place New England/Carolina in Super Bowl XXXVIII.
(15) Miami was held to just three points in a 24-3 defeat by the Cowboys in Super Bowl VII.
(16) The Ravens and 49ers were delayed just under an hour due to a power outage in Super Bowl XLVII
(17) Justin Timberlake's infamous on-stage mishap with Janet Jackson at Super Bowl XXXVIII made the term "wardrobe malfunction" a relevant term.
(18) If you read our latest piece on the Super Bowl Coin Toss - you would know that tails has been flipped 27 times compared to 24 by heads, and is on a four-game flipping streak.
(19) 9-7 - held by the Rams, Cardinals and Giants.
(20) - Tony Dungy accomplished the feat in 2007, when his Indianapolis Colts defeated the Chicago Bears.
Doc's Sports is offering $60 worth of member's picks absolutely free - no obligation, no sales people - you don't even have to enter credit card information. You can use this $60 credit any way you please for any handicapper and any sport on Doc's Sports list of expert sports handicappers. Get $60 worth of premium members' picks free .