World Cup 2010 Handicapping: Odds for the First Games
by Trevor Whenham - 3/26/2010


Get more World Cup betting information including betting bonuses, World Cup odds and our famous World Cup picks, which in 2006 earned $100 bettors over ten times their initial investment. ($100 bettors earned $1,820 click here for details)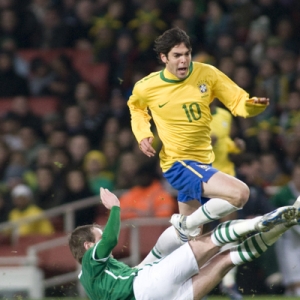 The World Cup can't get here soon enough. There is far too much time to kill between the drawing of the field and the start of the tournament. With this much time we are able to over-analyze, over-speculate, and generally drive ourselves crazy. That's why the NCAA Tournament is so perfect - just four days from the draw to the first tip-off. There is one particularly interesting aspect to this delay, though - the odds for the first game played by every team in the round robin round are posted for six months before the games ever start. That almost never happens in sports, so it is certainly worth a close look. Here's a look at four of the 16 first round games that seem to offer the most value when looked at from the end of March (all odds are from Bodog).

Mexico (+140) vs. South Africa - Mexico is very deservedly favored here - South Africa is at +185 - but if this game were being played anywhere other than in South Africa they would be favored by a whole lot more. All you need to do is to look at the stats for these games to see the mismatch. Mexico has scored 2.15 goals per game over their last 20 games, while South Africa has netted just 0.95. South Africa has allowed 1.05 while Mexico has allowed just 0.75. Mexico has scored in all but two of those 20 games, while South Africa has gone scoreless in 11. Mexico is a dangerously explosive team, and South Africa just doesn't have the firepower to keep up or the defensive prowess to shut them down. The impact of the home crowd is a major wild card, but on the surface Mexico has a very solid edge here. The Mexicans are coming off a mystifying 0-0 draw against Iceland, but that's not enough to rob this game of the value that is there. My strong suspicion is that this isn't going to be the only game we see in which the opponent is attractive when facing South Africa.

Brazil (-1000) vs. North Korea - I'm not actually suggesting that you should bet any game at -1000, but if you are so inclined then this one would be worth it. It's likely to be even more lopsided by the time the game actually starts. Brazil is ridiculously dominant, and they are going to be in championship form like they always are. North Korea is largely an unknown entity, but what we have seen doesn't get me too excited. They have played just two friendly matches since qualifying for the tournament - against teams far worse than Brazil - and they have lost both. This is perhaps the best team in the world playing against likely the worst in the tournament. If a price like this could ever offer value it just did.

Italy (-120) vs. Paraguay - Italy is a clear favorite here, but it's not hard to make the argument that they should be favored by even more. For one thing, Italy is very good at getting their act together early in the World Cup - they got hot from the start last time around and never looked back. They have played solidly in international play lately, and they score twice as many goals as Paraguay while allowing half a goal less per game. Italy is clearly in a good spot here. More significantly, Paraguay is in lousy form. They don't have a win in their last four, though they do have three losses over that stretch including one particularly ugly one to Qatar. Italy is a fairly public team, and it's doubtful that Paraguay is going to look consistently better by kickoff than they do now, so this is a fairly attractive price for Italy right now.

Netherlands (-130) vs. Denmark - I think that this match is more one-sided than this price indicates. More significantly, it's at a better price now than it is going to be later o n - people love the Netherlands. The reason I have so little faith in Denmark is that this is a brutal mismatch for them. They aren't a great defensive team, but they find what success they do by outscoring their opponent. Scoring goals is one thing they do well. The problem, though, is that they are up against one of the truly elite defensive teams in the world. Denmark's offensive strength doesn't look so dominant when matched up against a world-class defensive unit, so this game could be ugly. The Dutch will be able to play their preferred game, while the Danes will have to make significant adjustments. I'm just not confident that they have the talent to do that effectively.
---
Most Recent World Cup Betting