World Cup Props Predictions: Best Team in Each Region
by Trevor Whenham - 5/28/2010


Get more World Cup betting information including betting bonuses, World Cup odds and our famous World Cup picks, which in 2006 earned $100 bettors over ten times their initial investment. ($100 bettors earned $1,820 click here for details)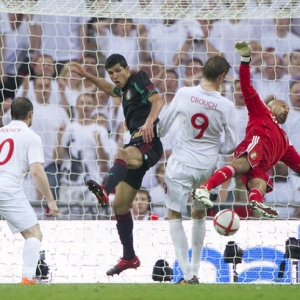 There are already an amazing number of prop bets available on the World Cup, and the number and range should be up in the Super Bowl range by the time the tournament kicks off. What really stands out when you look at the range of props on offer is the number of them that are truly interesting and challenging. That's definitely not the case with the Super Bowl.
One of the many ways to bet on the teams in the tournament is to bet on where they will finish in their qualifying groups. Bodog offers odds on five different regions (they have combined Asia and Oceania because neither region is large or particularly competitive). Here's a look at how each region breaks down:

CONCACAF - There are only three teams in this region, and only two that are really a factor here. Honduras gets credit for qualifying for the tournament, but they'll have to be happy with just being there because they aren't likely to go deep. They have to play Spain, and that's just not going to go well for them. They could also struggle against the explosive Chileans. they are at +1100, and even that price isn't high enough to be attractive.
That leaves the favored Americans at -120 and Mexico at +110. I'm not particularly optimistic about either team, but it sure feels like the Americans are overbet on this North America-based site. Mexico is in a weak group and can score goals in bunches, so they seem like a better bet to me.

Africa - Ivory Coast is rightly favored at 3/2. I really like this team, but at this price I think the right move is to try to beat them. They play in an impossibly tough first group, and could wind up playing Spain in the second round if they survive the first. They are also facing health questions surrounding best player Didier Drogba - he's dealing with a recurring hernia problem. I'd rather look for a team at better odds to back given those issues.
I like Cameroon at 5/1 - hey are in a reasonably soft Group E, and have some nice talent. The team I like even more, though, is Nigeria at 9/2. They are young and probably a tournament away from their best, but they have had a lot of success at tournaments for younger players, and could finally put it together at the senior level here. Group B won't be that hard for them to get through if they play well, and no matter what happens in Group A they will face a winnable game in the second round.

Europe - Spain is the obvious favorite here - they are at 2/1. They have easily the softest draw of any major contender, and would have to play impossibly bad soccer to fail to advance. The biggest concern that stands in their way, though, is the second-round pairing when they will be matched up with Group G. That means that they will likely play Portugal, Ivory Coast, or even Brazil. None of those games will be easy at all. I tend to think that they will be okay, but you could argue that the risk makes the price unattractive.
The price that stands out as at least a little interesting is Portugal. There's a lot against them - tough group and all. They are in Group G, the World Cup Group of Death. If they can survive their group then they will be clearly in good form, and if they can avoid Spain then they'll face a very beatable second-round opponent. That's a lot of ifs, but it could be worthwhile at 14/1.

Asia and Oceania - This is not an interesting region. Actually it's a bad one - there isn't a team here that is going to do any damage.
Australia is the favorite at +140, and I guess it's their region to lose, but it's hard to get excited about them. They could advance out of Group D, but they could also go winless. South Korea at +200 isn't much more inspiring. Japan, also +200, could be a total trainwreck. I truly expect nothing from them. New Zealand is terrible, and doesn't justify the +2000 price. North Korea is a bad joke. They are in the toughest group in the tournament, and they spend most of their time playing in domestic leagues and keeping secrets. It's hard to justify a bet on anyone here.

South America - It's all about Brazil here. They are favored at -135 in the five-team region, and they justify it. They don't have an easy path, but they are the class of the group and, in my eyes, of the whole tournament.
The only team that could challenge them is Argentina at +160. The Argentinians are talented, and they have perhaps the best player in the tournament in Lionel Messi. They were not strong in qualifying, though, and coach Diego Maradona is a dangerous combination of volatile and unproven. Chile (+1400), Paraguay (+1600), and Uruguay (+2500) are hard to like - a whole lot would have to go wrong for them to make an impact here.

LOOKING FOR WINNING WORLD CUP PICKS and PREDICTIONS? Doc's Sports has been professionally handicapping all major sports since 1971 and we have a great reputation for winning in our industry. In 2006 our World Cup picks clients hit 71% winners and $100 bettors made $1,820 in profit (1,482% ROI). Click here for World Cup picks from Doc's Sports, Robert Ferringo and Vegas Sports Informer and get live World Cup odds from top sports books.
---
Most Recent World Cup Betting