World Cup Predictions: Spain Odds to Win World Cup Group H
by Robert Ferringo - 5/12/2010


Get more World Cup betting information including betting bonuses, World Cup odds and our famous World Cup picks, which in 2006 earned $100 bettors over ten times their initial investment. ($100 bettors earned $1,820 click here for details)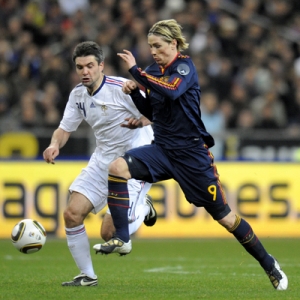 I start my Major League Baseball preview the same way every year: by saying that the Cubs aren't going to win the World Series this year.
I suppose you could start any FIFA World Cup soccer predictions article the same way. Only in this realm it would be Spain playing the role of the Loveable Losers and continuously disappointing their desperate fan base.
This year Spain is the obvious favorite to win Group H and one of the top favorites to claim the overall World Cup championship. Spain enters the 2010 World Cup as the No. 2 team in the world, according to the current FIFA rankings, and they are situated in Group H along with Chile, Switzerland and Honduras.
They are currently 3-to-1 to hoist the trophy in South Africa and no team has been more impressive since the 2006 Cup in Germany. Between November 2006 and June 2009 Spain went undefeated for 35 straight matches, including a 15-game winning streak, and vaulted to No. 1 in the world. They earned the 2008 European Championship, their first national title of any kind since 1964, and they finished third in the 2009 Confederations Cup. All of that helped them become the first team in the history of the FIFA rankings to earn a No. 1 ranking despite never having won a World Cup.
Spain is hoping that this can be The Year. However, I just can't shake the feeling that this team is set for yet another letdown on the biggest stage. Their best finish was a fourth place nod back in 1950. And while their raw numbers have been excellent in the last six World Cup finals – they have advanced out of their group in five of the past six Cups and outscored opponents 54-27 during that time – they simply haven't shown enough moxie and grit to make me think that they can be overall champions.
That said, they have shown an abundance of talent. You don't win 15 straight matches without being able to play. They were flawless at 10-0 in their World Cup qualifying out of Group 5 (although Bosnia and Herzegovina was the No. 2 team in that group). They have proven that they can beat the best teams on the planet, as evidenced by wins over No. 10 France and No. 7 Argentina in the past 12 months. They have top-end talent and an offensive flair that few can rival, or handle.
But history is history. And the litany of past disappointments that this country has posted is also a resume that few can rival. This team is banged up at the moment with four key contributors (Cesc Fabregas, Fernando Torres, Xavi Hernandez, and Andres Iniesta) all nursing injuries just a month out from the team's first match.
And looking at the expectations for this Spanish squad I can't help but be reminded of the 2006 Czech Republic team that entered the World Cup ranked No. 2 in the world. That team was considered one of the favorites to win the Cup yet didn't even make it out of the Group Stage.
Now, Spain will make it out of the Group Stage. The question now is whether or not they will walk through this stage like they did in both the 2006 World Cup and the 2008 Euros. In the 2006 World Cup they went 3-0 while outscoring their foes 8-1. In the 2008 Euros they went 3-0 while outscoring opponents 8-3.
The Red Fury will begin its quest for the championship on June 16 in Durban against Switzerland. The Swiss are No. 26 in the world and are not a pushover by any means. They advanced to the Knockout Round in the 2006 Cup and were the only team in the tournament that didn't give up a goal in regulation. They co-hosted Euro 2008, and though they didn't advance while going 1-2, their victory was over powerhouse Portugal, 2-0. This is a defensive-minded team that is willing to grind and that is exactly the type of team that has traditionally given Spain fits.
Their second game comes against No. 40 Honduras on June 21 in Johannesburg. These two have never met but I doubt that the soft Honduras back four will be able to handle the aggressive Spanish attack. Honduras is the lowest-ranked team in the group, which speaks to Group H's overall depth, but they should be amped up for their first World Cup since 1982.
Finally, Spain will take on Chile in Pretoria on June 25. Chile is the second highest rated team in this group at No. 15. (That ranking is just one spot higher than the U.S. team that was the last to beat Spain.) These two met in Villarreal back in November of 2008 and the Spaniards easily dispatched the visitors, 3-0. This game could definitely be the determinant of which club wins this group.
Odds To Win World Cup Group H:
Spain (-350)
Chile (+500)
Switzerland (+1400)
Honduras (+2800)
World Cup Group H Prediction:
I don't think there is any doubt that Spain is the most talented team in this group. And the lack of a top-end challenger surely opens the door for them to finish on top. However, there is a lot of balance in this group. And any one of their three opponents could definitely knock them off in any of their matches. Also, with the injury concerns the team is dealing with I think that this price is a little steep. While they have talent to compensate this team will need all of its stars at full strength and playing their best game if they have any hope of earning that elusive title. I'm not betting on it. Especially since they would have to match up with Portugal and/or Brazil in the Knockout Round.
---
Most Recent World Cup Betting