Teams That Can Win the 2010 World Cup
by Trevor Whenham - 5/17/2010


Get more World Cup betting information including betting bonuses, World Cup odds and our famous World Cup picks, which in 2006 earned $100 bettors over ten times their initial investment. ($100 bettors earned $1,820 click here for details)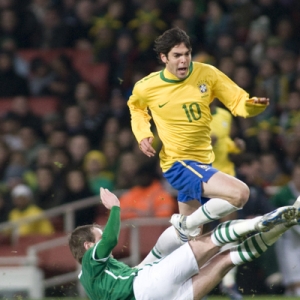 There are 32 teams in the World Cup. That means that there are 32 potential World Cup champions. Don't kid yourself, though - there aren't enough cheesy Disney sports movie writers in the world to craft a believable script about some of these teams winning it all. There are many teams that just have to content themselves with the fact that they made it this far - they should just be happy to be there. Realistically, less than a third of the field comprises teams that can win the World Cup. Here's a look at each of the 10 teams who could win it all if things fall exactly as they must (all odds are from Bodog):

Spain (15/4 to win the championship) - It's hard to believe that a team as good as Spain has never won the World Cup. They have always found a way to disappoint under the spotlight, though. There are signs that things could be different here - they won Euro 2008 to finally show that they can perform when it matters. They are very deep and almost impossible for most teams to match up with. There are injury concerns, but the two most pressing should be remedied before the qualification rounds starts, and the team shouldn't be particularly challenged until then.

Brazil (5/1) - There are two things that make Brazil so scary. First is their experience. They have won the tournament five times and made the final twice more. No team is better at rising to the occasion and doing what they have to do. Scarier than that, though, is their depth. The players that didn't make the roster for this tournament are better than the players who are on many of the rosters in the field. There isn't a position on the field that is a weakness, and they have players in the midfield and up front that will terrify opposing teams.

England (13/2) - England has had a rough couple of months - David Beckham was injured, and questions have arisen around several of their top players. It's not a wonder that supporters of this team are questioning themselves, though - it's been a long time since this team has tasted success. They have lost far too early in the last three World Cups, and they didn't even make the field at Euro 2008. Despite the concerns, this is a team that can still compete. They are skilled, and most of their players are seasoned in the toughest, most physical league in the world.

Argentina (15/2) - Diego Maradona, arguably the best player of all time, is at the helm of this team. It's not yet certain that he can be a top-level international coach, but you can't argue about his success at the tournament as a player. He's leading a very talented team onto the field. The concern is that they can tend to be lazy. They should have easily been at least the second best team in South America in qualifying, but they didn't focus early and was just the fourth team - and the last guaranteed qualifier - in their region. They need to be doing better than that if they want to realize their potential here.

Italy (12/1) - You can't rule out Italy. We know they can win it because they are the defending champions. There are concerns about their front end ability, but that was the case last time as well. This is a team that relies on their defensive ability like no other. They are absolutely stifling without the ball, and they can confuse and confound any opponent. The aren't a top-level contender here, but they are also going to be very hard to knock off of their game.

Germany (12/1) - Germany has some serious injury woes - they are without their top goalkeeper, and now superstar Michael Ballack is going to miss the competition. Either of those setbacks could be fatal, but it's still hard to rule this team out. They always seem to find a way to step up in the biggest tournaments - regardless of their expectations coming into the tournament. They have been second and third in the last two World Cups, and second in Euro 2008, so a deep run here certainly isn't out of the question.

Netherlands (12/1) - The Dutch are another team that has posted disappointing results at the World Cup given their talent. They appear to be hungry to make a difference here, though. They rolled through qualifying in absolutely incredible fashion - they didn't lose or tie a game, and outscored opponents 17-2 in those eight games. They have a talent deficit to some of the top contenders, but can obviously play together very well.

France (16/1) - The French have a lot to prove. Their Euro 2008 appearance was a disaster, and their qualification for this tournament was as controversial as it can be. I'm not at all convinced that this team is ready to be an elite contender. Counting this team out is very dangerous, though - they were second last time and won it in 2002, and they weren't the favorites either time. They need to elevate their team significantly, and find a way to overcome an aging roster, but they can't be ignored.

Ivory Coast (25/1) - The African fans are going to be in a frenzy for this first African World Cup. The team with the best chance of pleasing those fans is Ivory Coast. They are led by striker Didier Drogba, the Chelsea star who led the Premier League in scoring. He's a goal scoring savant, and leads a team that is talented and explosive. This team is in a very tough qualifying group, but if they can escape that then they have what it takes to go a long way.

Portugal (28/1) - Portugal had a very impressive fourth place showing at the last World Cup, and they'll be looking to build on that here. They have one of the best players in the world in captain Cristiano Ronaldo. It seems like he has been around forever, so it's hard to believe that he is just 25. Now is the time that he needs to prove that he can step up in the biggest of competitions and carry his team. He didn't have to do that in 2006, but he will here.
---
Most Recent World Cup Betting