24 Seconds Around the NBA
by Nolan Sinclair (with Robert Ferringo) - 12/8/2009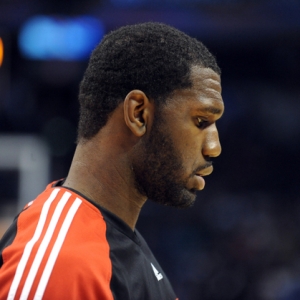 Here is quick trip 24 Seconds Around The NBA:
24. The Bulls are looking to trade Tyrus Thomas and the New York Knicks are possible suitors. News is that Al Harrington would be involved. As a Knick fan I would hope that there is more to this discussion because the Knicks would be losing their best scoring option for a guy that has never lived up to his potential as the No. 4 overall draft pick.
The latest news out of NY on this topic is that they have no interest in moving Harrington for Thomas. But when it comes to the NBA you never know what to believe. And even if they don't swap Harrington for Thomas I think it's clear that Big Al is on the block.

23. Oh man, it must suck to be Greg Oden. Well, not really. He is wealthy, so he has that going for him, which is nice, but that is about it. Oden is injured AGAIN, and out for the rest of the season. Portland has played plenty of games without Oden but he was playing well this season averaging more than 11 points and eight rebounds a game. Look for the Blazers to push the tempo a bit and challenge the totals.
22. A.I. is back in Philly. The 76ers need a shot in the arm as they are playing some awful basketball right now, and A.I. could be the answer. But what will they do when Luis Williams comes back? Williams was playing great basketball when he broke his jaw and deserves the right to be the starting point guard. Iverson will do nothing but start and will cause havoc on this team if he doesn't. Look for a two-point guard system when Williams suits back up and look for the 76ers to continue to struggle.

21. When Kevin Martin went down for the Kings most people, including myself, thought that this bad team just got considerably worse. Since Martin's injury Sacramento is 11-2 ATS. Well done Maloofs, well done.

20. Chris Kaman of the L.A. Clippers wants to go home to Michigan. A rumor, and yes this is just a rumor, is that a possible Tayshaun Prince (once he is healthy) for Chris Kaman trade could go down. This would send Kaman home to Michigan and Prince home to L.A. Awww, isn't that sweet. But I would be stunned to see it.
19. Do yourself a favor and keep an eye out for one of the "Big Four" Eastern Conference teams as an underdog. Atlanta, Boston, Cleveland, and Orlando are a combined 10-0 ATS and 9-1 SU when they are getting points.
18. The Portland Trailblazers are looking to get rid of Andre Miller because their superstar Brandon Roy prefers to play with Steve Blake. Really? I guess Brandon has his reasons, even though it was clear last postseason that Blake was a defensive liability and not the guy to get this franchise over the hump.
If this trade does go down and the Blazers get some help at the forward spot they should return to being one of the better teams in the league. At 12-8 and losers of four straight it looks as if they are just a step off night in and night out. I really like Andre Miller but something needs to be done. They aren't playing with the chemistry that they had last year.

17. Only six of the 15 Eastern Conference teams are over .500 ATS. It's been about 10 years since this conference was any good.
16. Well, Knick fans, you can check Amare Stoudemire off your list of possible big names arriving in NY in the summer of 2010. Stoudemire stated that he wants to play for a winner and we all know that "Knicks" and "winner" aren't uttered in the same sentence. Where is Patrick Ewing when you need him?
15. I hate to mention it, as a buddy of mine is a Nets fan, but are you serious New Jersey? 1-19. Get some wins for goodness sakes. The New Jersey press is trying to make things better by saying they are on a similar path as the Dallas Mavericks when they were one of the worst teams in the league before Mark Cuban took over. Since then the Mavs have won 50 games every season. Russian billionaire Mikhail Prokhorov has the deep pockets that this team will need to improve on its future and they do have some solid young players. The Nets will get a top draft pick this year and if they can land an impressive free agent class the Nets could be back in business. Maybe Prokhorov will try and sell of cold fusion to get more people to buy season tickets. What movie???? (If you said, "The Saint" you have as many wins this year as the Nets.)
Oh, and what is stunning me is how small the lines on the Nets have remained lately. They have been catching less than seven points in four of their last five games heading into Tuesday's action.

14. Jason Williams has done an impressive job filling in for the injured Jameer Nelson. Orlando is 6-3 ATS and against the total in the nine games since Nelson went out. I guess Williams' job isn't that difficult though: he just brings the ball up the floor and kicks to shooters or dumps it inside to Superman. Must be nice. But regardless, I can't tell you how happy I am to have him back in The League.
13. The Hornets were 4-4 SU without Chris Paul and they were playing some solid basketball. Now that Paul is back keep an eye on the lines as they will be inflated and the Hornets were not a good bet when Paul was playing earlier in the season.

12. In non-overtime games the 'over' is 147-127 thus far this season.
11. Oh LeBron, how could you now be 50/50 for the dunk contest? I used to love watching MJ versus Dominique, with each dude jumping from outer space and hammering it home. Now I get to watch Nate Robinson wear green shoes and Dwight Howard put on a cape and throw the ball at the rim from five feet away. Thanks a lot.

10. NBA oddsmakers are incredible. Out of all the categories that one considers when placing a wager (home and road favorites, and home and road dogs) none are more than four games over .500.
9. Does anyone else think that the Tim Donaghy situation would make a great TV show? Oh wait, I think it already was and James Gandolfini starred in it. I just wish he would have passed on some of his insider information to me and I, like all other bettors, am left wondering how much money that guy cost me with his shadiness.
8. My coach always told me that rebounding and defense wins games. That isn't the case when it comes to covering lines, however. The top three teams in rebounding margin (Portland, Memphis, and San Antonio) are just 27-31 ATS.
7. Syracuse Orange Update: The Orange are looking like a legit Final Four team after their rout of Maine. Not that the "W" over Maine makes them look that good but you can't downplay the fact that they went on a 32-0 run on the Black Bears. Syracuse has a huge game in Tampa versus Florida on Thursday night, and I would suggest you take a look and enjoy the Orange and their 2-3 zone.
6. Ref Watch: My face lights up when Eli Roe officiates a game, as the home team is 11-2 ATS in games that he calls. David Jones isn't far behind as the team that sleeps in their own beds is 11-4 ATS with Jones calling the shots.
5. The Detroit Pistons are doing a great job playing without two of their stars. With Tayshaun Prince and Rip Hamilton on the shelf the Pistons have started the year 12-8 ATS. Ben Gordon is now banged up and Detroit's bench continues to thin. I don't know how much longer they can hold up.
4. The Toronto Raptors were this year's Jacksonville Jaguars (the sexy pick to make the playoffs). The Raptors are 9-13 SU and 10-12 ATS. To make matters even worse, news out of Toronto is that Chris Bosh might be out of Canada sooner than people thought.
3. Are you kidding me Chicago! The Chicago Bulls sat on their asses as Jarret Jack tied his shoe - with the ball, during live play - at the end of the third quarter on Saturday night. The Bulls lost by 32 points and watched Jack tie his shoe without one Bulls player running at him and trying to steal the ball. Nice effort. Maybe it was an attempt to be chivalrous. But Jack and Co. didn't return the favor while humiliating Chitown.

2. Calling all Kings and Nuggets fans: if you get your hands on a ticket to see your respective teams on their home floor make sure you page your bookie. Denver and Sacramento are a combined 15-5 ATS at home.
1. Check back soon for more 24 Seconds Around The NBA.