Six Best Bowl Matchups
by Trevor Whenham - 12/7/2009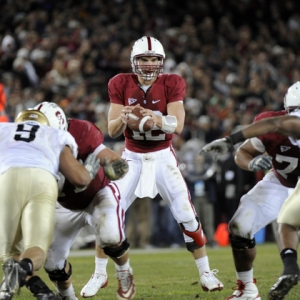 The bowl game schedule is set, and I'm sure I'm not the only one who sat down this morning to track out my viewing plans. Who am I kidding - I'll watch all of them. Still, some of them have me more excited than others. Here are the six that immediately struck me as more intriguing that the rest.
You'll note that the championship game isn't on this list. I'm actually quite a fan of the BCS and am one of the few that doesn't endorse or long for a playoff, so my lack of excitement about that game isn't in response to the system. It's just that I'm not yet convinced that it is going to be a good game. The most relevant stat to me is that Colt McCoy has faced Top 40 passing defenses three times this year, including his disaster against Nebraska. He has two TDs and five picks in those games, and has averaged less than 200 yards passing. Alabama is much better defensively than any of the other teams Texas has faced, so I don't have high hopes.

Las Vegas Bowl, Dec. 22, BYU vs. Oregon State - Both of these teams deserve to play later than the 22nd, and they will put on one heck of a game. BYU are either sick of Vegas by now or they feel like they own the town - this is the fifth straight year they have played in this bowl. Both teams have explosive offenses that rank in the Top 22 in point production. Both have mind-boggling players who are guaranteed to make highlight reels. Both are very well coached. Neither seems to have much interest in playing defense - at least compared to their offensive interest. Both teams are probably feeling like they don't get as much respect as they deserve. What's not to like?

Emerald Bowl, Dec. 26, USC vs. Boston College - I'll be watching this one to satisfy the same desires that force us to stare at car accidents. USC has been a disaster, and they certainly aren't used to landing in a spot like this. If they were to play their best they would have a big talent and speed advantage over Boston College. Then again, I'd have said the same thing about every team that beat them except for Oregon. The Trojans could play for pride and run away with this one, or they could pout and get run over. I won't have a real sense of which outcome is likely until the game starts.

Sun Bowl, Dec. 31, Stanford vs. Oklahoma - Stanford is a whole lot of fun to watch, and this is a huge game for them - a chance to earn a bowl win, a rare thing for them lately, and to do it against a proud, respected program, even if it is one having a lousy year. I'm mostly excited about this one because it is the last chance to see Toby Gerhart in college and he's certainly worth watching. A little of the luster has come off of this game with the news that Stanford QB Andrew Luck is unlikely for the game after requiring finger surgery. The redshirt freshman is the most impressive young QB in the country, and he's a pleasure to watch.

Sugar Bowl, Jan. 1, Cincinnati vs. Florida - This one won't be as good if Brian Kelly makes what I think would be a terrible decision and takes the Notre Dame job. Beyond that, though, this is packed with intrigue. Cincinnati's BCS-clinching win over Pitt was one of the most entertaining games of the year, and I have yet to see the Bearcats play a boring game. Florida has seemed vulnerable despite their success this year, and their disastrous showing against Alabama really emphasized that. This is the silver spoon against the blue collar upstart, and it's always easy to find a cheering interest in a game like that. It's also Urban Meyer against his alma mater, so that's another twist to the plot.

Tostitos Fiesta Bowl, Jan. 4, TCU vs. Boise State - This one will be exciting because these teams are so good and so deserving of the recognition of the BCS spot. That being said, I really wish that this wasn't the pairing the Fiesta had chosen. These teams know each other well - TCU won a bowl game over Boise State just last year. Both teams had impressive seasons and are clearly capable of playing with the big boys. It would have been far more interesting to see these teams play major conference teams to see how that would have gone rather than playing a game that, though likely a classic, won't prove much. I'd be much happier if this bowl and the Sugar Bowl had each traded a team.

GMAC Bowl, Jan. 6, Troy vs. Central Michigan - These are two exciting mid-majors who don't get enough attention, and they match up very well. They both score 33 points a game, both have well-balanced offensive attacks with explosive elements. Neither program was quite ready to play with the big boys when they had their chances this year, but against teams of similar skill and talent they rarely failed to entertain. On top of all that, this is the last collegiate game for Dan LeFevour, the most productive touchdown scoring QB in college football history. The senior is the poor man's Tim Tebow, and watching him never fails to amaze.