College Football Handicapping: Betting Large Spreads
by Nicholas Tolomeo - 9/30/2009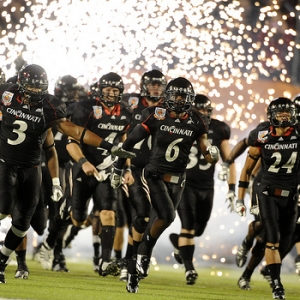 College football is the home of rivalries, rankings, upsets and the four-touchdown plus point spread. As more and more teams open their season with sacrificial lamb opponents scattered throughout the first two months of the schedule, oddsmakers have been forced to inflate lines all the way up to 72 this season. Likewise bettors looking for action in these frays have had to wager while calculating things like second team defenses and a coaches tendency to run up the score.
This year alone through four weeks of college football, 19 point spreads have been 28 points or higher. In those cases the underdog is an impressive 12-7 ATS.
In the NFL, point spreads over 20 are almost unheard of. Since 1980 only six times has a spread been over 20 with the highest recognized spread in NFL history, the Steelers -24 against the expansion Tampa Bay Buccaneers. The Steelers won that game 42-0.
In college football laying four, five, six or seven touchdowns is nothing uncommon. And this week is no exception. Four teams enter Saturday already trailing by at least 28 points. Well, at least in the minds of bettors.
No. 11 Cincinnati, not exactly known as a powerhouse in years past, is a 28.5-point favorite, on the road no less, at winless and hapless Miami (Ohio). No. 10 TCU also finds itself in an unusual position, laying 28-points at home against a 2-1 Southern Methodist team.
The Pac-10 seems to be the originator of these obscene point spreads thanks to powers like USC, Oregon and California and bottom feeders like Washington State, Washington and Stanford. This week is no different as Washington State travels to Autzen Stadium to play Oregon as 32-point underdogs.
Texas Tech one-ups everybody as they host New Mexico as 35-point favorites. Because of its offense Texas Tech may be the only team in the country that can be 2-2 yet still be favored by five touchdowns.
It can be argued that betting these games takes more skill than simply betting on the big games this week like No. 4 LSU at No. 14 Georgia (-3) or No. 7 USC (-5) at No. 19 California or No. 8 Oklahoma (-7) at No. 21 Miami.
In all those cases a bettor is looking at two teams pretty much. But if you are looking to take Oregon -32 over Washington State, you have to look a little deeper. Who are the second stringers, when do they come in on offense and on defense, what has the coach done in past situations in terms of running up the score? These games beg a thousand questions compared to the big time marquee matchups. And another thing maybe even more frustrating for bettors, these games are hardly ever on television and for good reason obviously.
While the trends over the past few years have favored the underdog in these situations, a case like these four-touchdown plus point spreads requires individual attention on a per team basis.
Miami (Ohio) has already faced a large spread than this. In Week 2 at Boise State the Redhawks were steamrolled by 38.5-point favorites Boise State 48-0. The most alarming thing about that game is Miami (Ohio) was only down 20-0 at halftime. This speaks volumes of the Redhawks lack of resiliency and lack of ability to shutdown a team that is not even really trying to score.
I would sell Miami (Ohio), who is also 0-4 ATS this season.
When it comes to breaking down Texas Tech, the only bigger factor than the shootout style offense is the brain of mad scientist coach Mike Leach. Never afraid to run it up, Leach has posted a 5-1 ATS record when the point spread reaches 24 points. Poor New Mexico on the other hand enters the game 0-4 SU and ATS. I'm buying the Red Raiders.

In the Pac-10 Washington State has undergone a remarkable turnaround project, well at least in the eyes of bettors. After an awful 0-9 stretch against point spreads of 24 or more, the Cougars have clamped down and started to keep things somewhat respectable. In the last four games of last season, the Cougars faced point spreads of 41, 36 and 27.5. It covered each game and actually won one game in that stretch too, as 7-point dogs against Washington. This season Washington State showed bettors plenty when it fell down to USC 20-0 in the first quarter as 45.5-point underdogs but only allowed another touchdown the rest of the game in losing 27-6. Buy, Buy, Buy the Cougars.
The last team we will look at is Oregon. This is only the second time in the last four seasons that the Ducks have found themselves entering a game laying such a large number. The one thing that should worry bettors in a high point spread situation like this is unfamiliarity playing as a large favorite. Oregon did take care of business last year as 35-point favorites against Utah State but the Ducks were outscored 10-7 in the fourth quarter and Utah State nearly covered. Looking at fourth quarter scoring is a good indication of a team's killer instinct or lack of one. Oregon lacks that, sell the Ducks.