College Football Teams That Start Off With Cupcakes
by Nicholas Tolomeo - 9/11/2009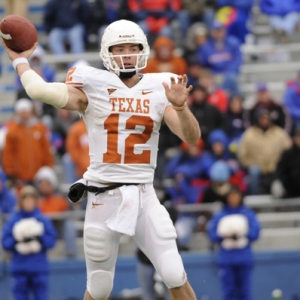 For as long as college football teams have been allowed to schedule teams from Division I-AA, there have always been two schools of thought on what to do with the opener.
Some teams like to schedule huge conference or inter-conference games to kick off the season. Just last week two Top-10 ranked teams, Alabama and Virginia Tech, squared off on national TV in front of 75,000 fans. On Monday night Florida State and Miami put on a classic in a 38-34 thriller that has been a Labor Day tradition for over two decades now.
On the other hand, there were the top teams like No. 1 Florida trouncing Charleston Southern, 62-3, (yet not covering the spread) and No. 2 Texas winning, 59-20, over overmatched UL-Monroe.
Both strategies have their negatives. Virginia Tech and Florida State had no preseason game to fully prepare for a big showdown and both ranked teams suffered an early loss that in college football, is usually enough to deny a team a shot at the national championship.
Florida and Texas, on the other hand, still do not really have much in terms of a measuring stick to gauge what kind of team they have this season. Ohio State suffered even more, scheduling Navy, a team that was supposed to be out their league, and nearly losing to them. On top of that Ohio State paid the Naval Academy a record $1 million to schedule the game and the Buckeyes dropped two spots in the polls after their 31-27 squeaker of a win. ACC teams like Virginia and Duke suffered even more than that. They both scheduled Division I-AA teams but neither was able to win with William & Mary winning, 26-14, at Virginia and Richmond handing Duke a 24-16 defeat. Both defeats are incredibly embarrassed and these losses will have long-term repercussions for the programs.
And then there is the worst of both worlds. No. 3 Oklahoma scheduled a ranked team, to be fair, but nobody thought that No. 24 BYU as 23-point underdogs were going to give the Sooners a game. The Cougars gave them that and then some, winning 15-14 and knocking out Heisman Trophy-winning quarterback Sam Bradford for the foreseeable future. They probably also knocked Oklahoma out of the national title picture.
As evidenced by the previous results there are negatives and positives with the scheduling strategy. What bettors want to know at this point is which strategy has a positive effect on a team heading into Week 2.
Breaking down the numbers over the course of the last few seasons, taking your lumps Week 1 and scheduling so-called measuring stick games seems to be the way to go. And for bettors, backing those teams that challenge themselves in Week 1 is a solid way to build an early season bankroll in college football.
Last season teams that played against Top 25 opponents in Week 1 went 9-1 ATS and 8-2 SU in Week 2. Compare that to the dozens and dozens of teams who scheduled Division I-AA cupcakes. Those teams went 15-14 SU in the second week of the season and 12-17 ATS.
There are glaring examples of the disadvantage teams have that play what amounts to a preseason game in the regular season opener. Last season Ohio State had an easy time with Youngstown State in the first week. Seven days later back in the Horseshoe, Ohio State was in a dogfight with Ohio and eventually won, 26-14, but never came close to covering the 33.5-point spread.
As mentioned before, the Buckeyes came close to blowing the game against Navy as 23-point favorites last week. It's no wonder that next week USC has already been pegged as touchdown favorites at Ohio State.
More examples include West Virginia last season, who won, 48-21, against Division I-AA Villanova in Week 1 but had its flaws exposed a week later in a 24-3 loss at East Carolina. The Mountaineers were favored by 7.5 points against ECU.
Maryland won, 14-7, against Division I-AA Delaware in a season opener only to lose the following week against Middle Tennessee State as 13-point favorites.
A glaring example of the difference between the preparation for a ranked opponent and a rank opponent (read Division I-AA) gives a team is especially obvious in what happened in the Arkansas/UL-Monroe game last season.
Arkansas scheduled Division I-AA Western Illinois last year to open the season. The Razorbacks had their hands full in a 28-24 game. The next week the oddsmakers still pegged Arkansas as 14-point favorites against lowly UL-Monroe, who was just coming off of a 34-0 beating at Auburn.
In Week 2, however, it was the Warhawks giving Arkansas everything it could handle, losing, 28-27, and easily covering the two-touchdown spread.
The reasons are obvious why college teams schedule Division I-AA opponents. It's an extra home game and generally an easy win. Looking at it from this angle it seems the costs of Week 2 and beyond outweigh the benefits of Week 1.
For bettors looking for this scenario this week there are two games to keep an eye on. Virginia Tech and Oklahoma State both played in competitive games Week 1 against ranked teams. Marshall and Houston played Division I-AA opponents.
The matchups to watch this week are:
Marshall at Virginia Tech (-19)
Houston at Oklahoma State (-15.5)