College Football Handicapping: West Virginia Seeks Revenge
by Matt Severance - 9/30/2009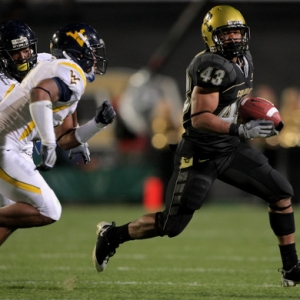 It's certainly not the best Thursday night ESPN game of the season this week between Colorado and West Virginia, but, hey, you can bet on it so that's reason enough for this preview. Currently the Mountaineers (2-1) are 17-point favorites on BetUS.
If the Buffs (1-2) have any prayer of reaching a bowl game (unlikely), they will need to win on Thursday heading into Big 12 play. CU did beat WVU out in Boulder last year, 17-14, on a field goal in overtime in the schools' first-ever meeting.
This season, Colorado didn't look good at all in losing its first two games, to Colorado State and Toledo, allowing more than 1,000 yards of offense in the process. But the CU defense bounced back last week by shutting out Wyoming, 24-0, as the scheme was simplified. Sophomore running back Rodney Stewart returned from a hamstring injury to carry 32 times for 127 yards and two touchdowns against the Cowboys and watch for him on Thursday as he torched WVU for 166 yards on 28 carries last year. Plus CU isn't throwing the ball well this season, as it ranks 99th nationally in passing efficiency. Cody Hawkins is completing just 52.6 percent of his attempts.
West Virginia's defense has been even worse than Colorado's so far, at least points-wise, allowing an average of 27.0 per game. The last time out the Mountaineers were beaten 41-30 by Auburn. The reason for that was six turnovers, including five by QB Jarrett Brown. But when WVU wins the turnover battle it has won 50 of the past 53 games. And the fact that WVU scored 30 points and that loss was a shocker as it is 60-2 since 2000 when scoring 30 or more in a game.
Other than the Auburn game, Brown has been pretty good in place of Pat White. Brown has completed 61-of-89 passes for 798 yards and five TDs while rushing for 208 yards and a TD. That total number of yards is the most through three games in the history of the program. Brown is much bigger than White was and has a better arm. Meanwhile, RB Noel Devine is averaging 6.3 yards per carry; he had 133 yards rushing last year vs. the Buffaloes in the only game of his career where he had more than 19 carries. The Mountaineers have scored at least 30 points in each game this season and rolled up more than 500 yards of offense (207 rushing, 302 passing) against Auburn.
Brown left the Auburn game with an injury to his left (non-throwing) shoulder and sat out the final few minutes, but he has been declared good to go this week by coach Bill Stewart. Starting linebacker Reed Williams will return after missing the Auburn game, but top defensive tackle Scooter Berry is likely to miss a second straight game with a shoulder injury.
For Colorado, tailback and kick returner Darrell Scott, who missed the Wyoming game with a knee injury, is supposed to play.
Colorado hasn't won a road game since October 2007, while West Virginia is 15-2 in night home games since 2002 and 6-0 in ESPN Thursday night home games.