College Football Handicapping: Conference Championship Games
by Trevor Whenham - 12/1/2009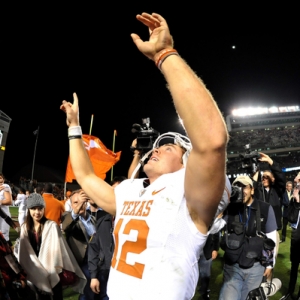 It's Conference Championship season in college football. I think you're either a fan of conference championship games or you're not. Personally, I think they are ridiculous, but then again I'm a Big Ten fan. The BCS conferences are perfectly split on the issue - the ACC, Big 12, and SEC have them, while the Big East, Big Ten, and Pac-10 don't. Add in C-USA and the MAC, and you have five conference championship games coming up. Whether you like them or not you are probably going to want to handicap them. In some ways they are just another game, but they are unique enough that you need to think about them differently in other ways as well. Here are seven things to consider when you are getting ready to handicap these games:

Potential for rematches - It's possible that the teams playing in the conference championships have already played each other during the season. This year that happens once - Georgia Tech beat Clemson 30-27 in Week 2 of the season. Rematches are such a rare occurrence in college football that they need to be thought about carefully. Will the familiarity favor one team over the other? Did one team have a specific, significant edge in the last game? Is that edge likely to be repeated here, or will they be able to compensate for it?

Different motivation levels - In the SEC championship this year both teams desperately need a win because the winner will play for the National Championship. Teams having the same levels of motivation like that are relatively unique. More often teams are in different places and have very different motivations. For example, Texas needs to beat Nebraska to compete for the national championship, but Nebraska would gain little from a win other than some pride and perhaps a slightly better bowl. Assessing the relative motivation of the teams involved is important to handicapping success.

Divisional strength - In a surprising number of cases the two divisions in a conference are far from equal. The Big 12 South, for example, has long been significantly stronger than the North. A team that goes 6-2 in the South, then, is almost certainly a better team than one that earns the same record in the North. You need to look beyond the records to get a sense of how good the teams actually are, how much they have been tested, and how they have fared against team similar to the one they will be facing.

Site - The location of the game can have a huge impact on the game. Theoretically the games are in neutral sites, but it doesn't always work out that way. Texas, for example, will have significantly more fan support at the Big 12 Championship in Dallas than Nebraska will. Central Michigan is also like to receive a warm welcome when they enter Ford Field in Detroit to play Ohio.

Experience in big games - For many players in championship games this will be the biggest game they have ever played. The games are nationally televised, the crowds are usually big, and the spotlight burns hot. Teams that have been in high-pressure situations before are going to be better suited to that pressure. Teams that are led by a strong core of veteran players and/or a seasoned coach may have a similar advantage.

Health - It's important to remember that this is a 13th game for all of these teams, and in most cases they have only had a week off all season. That's a tremendous physical strain for the players. Injuries are always more of a factor as the season progresses, so they will certainly come into play in this extra game. I would guess, and hope, that looking at the injury reports is a big part of your handicapping process regularly. It needs to be even more so at this point in the season.

Quality of coaching - For every game up to this point the coaches on both sides have known months in advance who they will be playing when. That has allowed them to get ready for those games at their own pace, and to implement systems and approaches over the long term that will best suit their schedule. Those coaches only know who they will be facing in the conference championship games a week or two in advance. This is the only case in college football where teams have to get ready for a previously unknown opponent on such short notice. It makes sense, then, that the better coaching staff will do a better job of getting their team ready in these unique circumstances.