Disappointing College Teams Against the Spread
by Trevor Whenham - 10/7/2009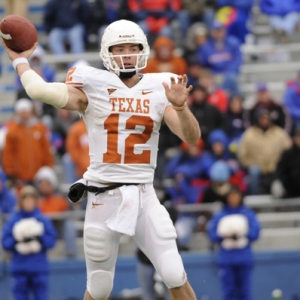 With so many high profile college football teams out there it is inevitable that there will be several that wind up being big betting disappointments. Some teams win but aren't as dominant as people expect so they can't cover spreads. Others just struggle when people expect them to excel. Here's a look at five teams that have been particularly frustrating and damaging to the bankroll this year:

LSU - Surely I'm not alone in feeling that the undefeated Tigers are a long way from scary right now. They have yet to lose, and they are highly ranked, but they haven't exactly looked crisp or dominant. That's a big reason why they have failed to cover three of their five games. I also don't think that it is a particular fluke that they are just 1-2 ATS against what I would call decent teams. They covered against Georgia last week, but the Bulldogs have more troubles by far than the Tigers and have looked far less impressive. Before that, not only did they fail to cover against Mississippi State, but they needed a minor miracle at the end of the game just to win. They opened their season with a win against Washington that was far closer than the public expected it to be. We'll have a better sense of what this team has to offer on Saturday after they play Florida, but for now this is a frustrating squad that has burned bettors more than once.

Texas - The Longhorns are ranked second in the country, are undefeated, and have one of the Heisman favorites at quarterback. That's a recipe for a public team. Given that they have played a soft schedule so far this season it's also not that surprising that they have faced spreads too big for them to cover so far this year. Or at least they have been too big to cover given the generally lackluster play that they have exhibited so far. The team is just 1-3 ATS. They won their first two games by wide margins, but beating Louisiana Monroe by 39 and Wyoming by 31 wasn't enough to cover the spread in either case. Neither was beating Texas Tech by 10. Their ATS record is obviously disappointing, and it has made books lots of money so far. It's not a particularly good indicator of what the team has to offer bettors, though. We won't know that until we see them face more realistic lines against better teams. That will start in two weeks with Oklahoma and Missouri in back-to-back games.

Penn State - Before losing badly to Iowa, the Nittany Lions were seen as the class of the Big Ten. That loss hurt their chances, but the wallets of their backers had been hurt well before that. Penn State has played a weak schedule this year, and they failed to cover each of their first four games. Like Texas, the Lions faced ridiculously large spreads in their first three games against weak opponents - Akron, Syracuse, and Temple - and they couldn't overcome the burden of those spreads despite playing reasonably well in each. They obviously didn't cover in the surprising home loss to Iowa either. They covered easily when they visited Illinois, but that wasn't yet enough to win back the trust or faith of bettors given their earlier performance.

Nevada - The rest of the teams on this list have been successful in the standings despite being ineffective at covering spreads. The Wolf Pack, on the other hand, have just been an outright disappointment. They were widely picked as a team to watch by wiseguys and college football analysts. It made sense given that they were coming off a solid season and that junior QB Colin Kaepernick has all sorts of potential. The problem, though, is that the team has been a total disaster. They started the season by getting humiliated by Notre Dame - the only impressive win that the Irish have had. Next, they lost to Colorado State as the favorites, then couldn't keep up with Missouri. They beat pathetic UNLV, and were able to cover the spread that was much smaller than it should have been because of the previous struggles, but that was the only sign of success this year. It has been a serious disappointment, and a costly one for many.

Tulsa - The Golden Hurricanes have garnered some national attention, and some respect, over the last couple of seasons because of their offensive prowess. Fringe teams like this can be particularly dangerous for the betting public. They may pay enough attention to them to notice that they can pile on the points, but not enough to notice the changes a team goes through that could impact that ability. That has clearly happened here. Given the fireworks of the past the public has assumed that no total is safe, so they have bet the over with reckless abandon. That has allowed oddsmakers to set high numbers - so high that Tulsa has gone under in all five games. It's not that surprising that the team has struggled to overcome the big numbers - they have had to break in a new QB for the second time in two seasons, and they are doing it without offensive coordinator Gus Malzahn - the offensive guru who moved on to Auburn this season.