College Football Betting: Early Season Time to Pad Bankroll
by Trevor Whenham - 9/2/2009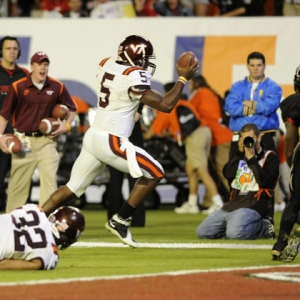 For a lot of people, college football can be a more attractive betting prospect than the NFL. The lines are often less accurate when they are set, lower betting volumes mean that the value can remain in lines longer, lower profile games can have really inaccurate lines for astute bettors, and the huge number of games means that there are sure to be attractive games each week regardless of what you like to bet. If you are a fan of betting college football then you should probably be a fan of betting the first couple of weeks of the season. In the NFL those early games can be tough to call, but in college they can provide some of the best betting opportunities of the year.


Free $60 in Member MLB Picks No Obligation Click Here


In the NFL there is a staggering amount of information available. Every single move by every team is closely monitored and analyzed a thousand times,. Before the regular season starts we have seen teams play four different times, and we are able to know a lot about every player on the field. In other words, the oddsmakers have all the information they could possibly need to set accurate NFL odds. Further, there is a whole lot of smart money aimed at the NFL each week, and that money quickly corrects any errors that may be in the lines. That coupled with the uncertainty of the opening of the season makes it a tough time for bettors.

In college, the information is much harder to get ahold of in most cases. Teams don't practice for as long before the season as they do in the NFL, they don't play preseason games, and their practices and players aren't covered by the media in nearly as much depth as the NFL is. Oddsmakers succeed by having more information than the rest of us, but in a lot of cases that just isn't the case early in the college football season. They are forced to rely on much of the same information that the rest of us have access to when they are setting early lines. That takes away much of their edge - at least until the teams have played a couple of games and the oddsmakers have tangible numbers to work with.

The sports books know that they are at a disadvantage early in the season. That's why you'll see a lot of books offer lower limits early in the season. You'll also often see strange things happen with lines if you watch closely. Generally, lines move in response to betting action, and they move gradually. Early in the season you can see wider swings than normal, and you can see them happening without evidence of the money that caused them. Books are guessing, and they have to quickly refine those guesses in an attempt to minimize their losses. This is one of the few times of the year that sportsbooks are vulnerable and they know it.

In order to take advantage of these lines the first thing you need to do is do your homework. This is a rare opportunity - like playing roulette without zeros so the casino has no inherent advantage and you are virtually guaranteed to lose over the long term. By taking the time to study specific teams and matchups carefully you stand a good chance of spotting value. You may not be able to outsmart the sports books, but if you work hard enough then you can face the books at an even advantage. That's what every astute bettor dreams of.

Beyond doing your homework there are a couple of particular circumstances that you will want to look out for. The first is to try to spot teams that you don't think are as strong as they are widely perceived to be. In a lot of cases preseason assumptions are formed by the reputation of the program and by the stories surrounding the program. That often leads to high-profile programs getting more credit than they have earned, or than they deserve based on their talent level and ability to shine against their schedule. The public reacts heavily to these perceptions early in the season, so the books have to keep that in mind. When the perceptions and reality are in different ballparks there is money to be made. The same goes in reverse as well. The public will react particularly harshly towards teams that have had a lot of negative press in the offseason and especially in the weeks leading up to the season. Michigan, for example, is a team that isn't going to be as bad as the average person thinks they will be because of the the negative press they have received in the last week.

The biggest indicator of strength that most bettors have available to them are the preseason polls. If you know anything about these polls then you know that there are at least a couple of problems - the people who set the polls aren't always particularly informed, and the polls are set well in advance of the season and can't be changed. It's that last reality that can present opportunities. The public will be swayed by how a team is ranked regardless of whether they would be ranked the same way if the poll were done today. That can create a real opportunity if a team doesn't deserve a ranking it has been given in your mind, or if the team has suffered serious injuries or setbacks that would significantly impact that ranking. In those cases you have the public assuming a team is better than it is, and that can mean real value.