Football Betting: Early Week Line Movements
by Robert Ferringo - 9/22/2009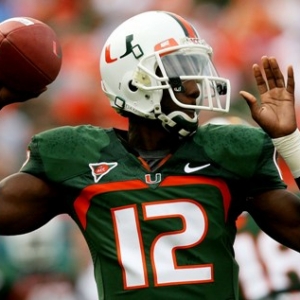 According to legend, early in the week is the time when professional bettors make some of their moves - the other most important time is just prior to kickoff - and they tear apart the ripe lines from the Las Vegas Sports Consultants. For the last two years I have tracked the opening steam movements of lines in both college football and the NFL. The idea was to see if the "sharp" money was really that, or if the idea of trailing these severe early line movements was merely a myth. Well, I'm glad to say that we are back at it this season and ready to build on last year's research.
Here is the basic methodology. If a line starts as Penn State (-1) and moves to Penn State (-4.5) then we're going to track Penn State as our side, because the Lions are getting all of the money and driving the spread up. If the line starts as Penn State (-4) and then moves to Penn State (-1) we're going to track the opponent because they are taking the heavy action and it's moving the line lower.
I have not nailed down a specific movement - either passed on percentage of the spread changed or overall points changed - so I have to admit that my research is a little unscientific and based a bit on "feel". However, having done this as much as I have I would have to say that I have an eye for the odd movements.
That said, two years ago the "sharp" money went just 20-30 for the season and we had a solid fade system. But last year I think I opened the parameters up way too much and our tracked teams went 76-69, which was not statistically significant. This year I want to try to tighten it up and keep the total tracked plays somewhere in the range of 70-90 for the season.
Once again, those people late to the party came up short on the early line movements. Last week the college teams we tracked went just 2-4 against the spread while the NFL teams went 1-1. For the season, the heavy line moves are just 7-13 ATS in college and 10-15 ATS overall.
Here is this week's action:
Fresno State at Cincinnati (Noon, Saturday, Sept. 26)
Open: Cincinnati -14.0
Current: Cincinnati -16.5
Tracking: Cincinnati
The money on this game is pretty split but the books feel they need to fatten up No. 15 Cincy's numbers. The Bearcats dominated Oregon State over the weekend and now are suddenly the easy Big East favorite. Fresno State is coming off an emotional home loss over rival Boise State, and now they have to travel cross-country for a noon (9 a.m. Fresno time) kickoff.
Army at Iowa State (3:30 p.m., Saturday, Sept. 26)
Open: Iowa State -7.0
Current: Iowa State -10.0
Tracking: Iowa State
Army was pretty unimpressive in a win over Ball State last week and the Black Knights have now failed to cover in their last two games. Iowa State was severely underestimated against MAC foe Kent State and the Cyclones posted a 20-point road win. Iowa State is still a Big 12 team with a significant talent edge over the Black Knights.
Vanderbilt at Rice (7 p.m., Saturday, Sept. 26)
Open: Vanderbilt -11.0
Current: Vanderbilt -7.5
Tracking: Rice
After three straight road games the Owls finally have a home opener and I think they are getting a little bump from it. Vanderbilt was smothered by Mississippi State last week and the idea that the Commodores were one-year wonders last season isn't so much an opinion as a statement of fact. Vandy won by 17 last year so apparently the revenge factor is being weighted for the Owls as well.
Miami at Virginia Tech (3:30 p.m., Saturday, Sept. 26)
Open: Virginia Tech -2.0
Current: Miami -2.5
Tracking: Miami
Miami is suddenly the new "it" team in college football. This is all despite the fact that they were a dropped pass in the end zone away from losing to Florida State and then the fact that they had a week off to prep for a big revenge situation against Georgia Tech. Hey, I like what I saw too. But Tech is still 7-1 ATS in its last eight games against the Hurricanes and now the Hokies have the revenge edge after a 16-14 loss at The U last year.
Arizona at Oregon State (7:30 p.m., Saturday, Sept. 26)
Open: Arizona -2.5
Current: 'Pick"
Tracking: Oregon State
Apparently the sharps think that Oregon State is going to bounce back strong after getting embarrassed by Cincinnati. The Beavers are 9-2 ATS in their last 11 home games and they are 9-1 ATS in the last 10 meetings with Arizona. Wildcats are 0-3 ATS so far this year with uninspiring wins over Central Michigan and Northern Arizona, followed by a sloppy loss at Iowa. Also, looks like a quarterback change is being made in Tucson and we'll see how that impacts the Cats.
Toledo at Florida International (7 p.m., Saturday, Sept. 26)
Open: Toledo -3.0
Current: 'Pick'
Tracking: FIU
Early action clearly favors the home dogs even though I have seen sights listing as much as 80 percent of the action on Toledo. FIU is 2-0 ATS so far this year in tough games at Rutgers and at Alabama. The Panthers are actually a pretty good bet at home. They are also 5-0 ATS in their last five nonconference games and 9-3 ATS overall. Toledo is 7-19 ATS on the road. Looks like the books are trying to stem the tide.
Chicago at Seattle (4 p.m., Sunday, Sept. 27)
Open: Seattle -3.0
Current: Chicago -2.5
Tracking: Chicago
This one is pretty simple - most of this movement is a response to Matt Hasselbeck being ruled out for this Sunday's game. But that's really just the tip of the injury iceberg for the Seahawks, who will likely be missing key pieces on both sides of the ball. Bears have had some success against the Seahawks in recent years and are just coming off an upset win over the Super Bowl champions.
New Orleans at Buffalo (1 p.m., Sunday, Sept. 27)
Open: New Orleans -3.0
Current: New Orleans -6.0
Tracking: New Orleans
New Orleans' offensive display through the first two weeks - 100 points in two games are video game numbers - have made them more and more of a public team. And I think folks might be overlooking the fact that the Bills are 7-3 ATS as a home underdog and are always feisty in Orchard Park. But the books have to do something to try to keep up with the Saints offense.
Washington at Detroit (1 p.m., Sunday, Sept. 27)
Open: 41.5
Current: 38.5
Tracking: 'Under'
This one is pretty straightforward - both of these teams suck. Washington's offense could only manage nine points against the Rams last week. Not good. Detroit posted just 13 at home against Minnesota and they are sticking with the completely ineffective Matt Stafford at quarterback. This game likely won't be pretty and is still above some key totals numbers.
Robert Ferringo is a professional handicapper and you can purchase a full season's package of his football selections for just $25 per week! Click here for details.