College Football Handicapping: Idaho One of Betting's Biggest Surprises
by Nicholas Tolomeo - 10/22/2009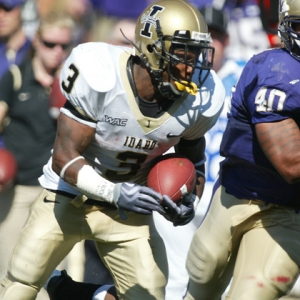 There are programs in the midst of downturns and programs that are turning things around and then there is Idaho, who is completely remaking itself. The Vandals are 6-1 straight up this season and 7-0 against the spread and they find themselves as a big underdog this weekend against Nevada.
Those numbers are absolutely incredible for a program that has been one of the worst if not the worst programs in Division 1-A the past decade.
Of course, being Idaho and playing football in a little town called Moscow, Idaho, the Vandals may as well be playing in Moscow, Russia. The success had gone unnoticed by most major college football news outlets for most of the season.
Last season Idaho went 2-10 with one win coming against Division 1-AA Idaho State, which proved that Idaho is not the worst program in the state. The year before Idaho could only muster a win over Cal Poly, another Division 1-AA program. It was only a seven-point win but during that season Idaho would take whatever it could get its hands on. The year before it was a 3-8 season and 2-9 before that and 3-9 before that and 3-9 again before that and 2-10 before that and 1-10 before that and…. well you get the point.
You know it's bad when a supposed underdog program like Boise State casts an enormous shadow over your program in the state.
You know it's bad when your school sends out a press release to herald the fact that Idaho received a vote, yes one vote, in the latest AP Poll.
But the publicity has not just come from that one vote. In publications from the LA Times, to online media outlets like CBS Sportsline and ESPN.com, Idaho has gotten plenty of national attention, from articles about the surprise of the season to mentions of Robb Akey being a Coach of the Year candidate.
The question bettors want to know is how long can Idaho keep up this perfect ATS record. Even with the amount of publicity coming out in recent days, the Vandals still seem to be relatively unknown in the grand of scheme of things. That may explain the 15.5 points they are getting Saturday at Nevada (3-3 SU, 2-4 ATS).

This feel-good Idaho story seems to have legs beyond just Week 7. The decision to keep Akey for a third season after his teams only combined to win three games the first two seasons is a good example of patience paying off. Idaho had gone through four coaches in five years when Akey was hired.
Now a bowl game seems to be a lock, something that seemed out of the question entering the season. The last time Idaho surpassed six wins was during a 7-4 campaign in 1999. Things are different in Idaho. While a WAC title is still in play, the Vandals would love nothing more than a chance to play in-state rival Boise State, with a lot of chips on the table, later this season. A bowl game, possibly the home-state Humanitarian Bowl, would be a tremendous boost to the program.

The 15-point spread in the Nevada game looks to spell the end of the road for this five-game winning streak -- or does it? Idaho covered a 15-point spread earlier this year, winning outright in a 34-31 upset win at Northern Illinois. It also won outright as an underdog five times. Last week in a 35-23 win over Hawaii was the first time they were favored.

The Vandals have done it with a combination of players. On offense Max Komar leads the team with 33 catches for 438 yards and a pair of touchdowns. Without question he is the main target on offense. For Idaho to have a chance against Nevada, the defense will have to slow down the pistol attack. The onus will be on defensive back Shiloh Keo, who leads the team with three interceptions including one in the waning minutes of a home game against Colorado State that sent the Kibbie Dome into a frenzy.
Even with all the talk of Coach of the Year floating around, Robb Akey is still a relatively unknown commodity in college football. But there is a trend with Idaho coaches going on to bigger and better things. Tom Cable made it as head coach in the NFL after going 11-35 at the helm in Idaho. If Cable can get a head coaching position in the NFL with those numbers, then Akey seems ready to run for governor of the state. Other former Idaho coaches, Dennis Erickson (Arizona State) and Nick Holt (USC), have also used the job as a springboard. For some reason I see Akey sticking it out for the long haul.

There is still plenty of room on the Idaho bandwagon and now is a good time to be hopping on. Many consider the Broncos of Boise State as a dark horse BCS team and rightfully so. But while Idaho has no real chance for a BCS game, it has done a far greater job of lining the pockets of its backers this year compared to its in-state brethren Boise State (3-3-1 ATS). If you are looking for a true darkhorse underdog on the way up, buy low with this band of Vandals.