Tuesday TNT NBA Preview: Boston at Cleveland
by Robert Ferringo - 10/27/2009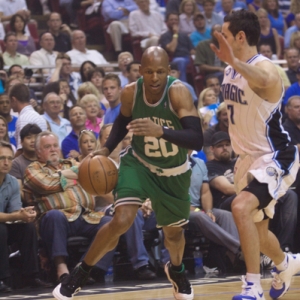 The Eastern Conference race, quite literally, begins and ends in Cleveland on Tuesday night.
I know that Orlando is the defending conference champion. But that was last year and this is this year. And when the Boston Celtics and Cleveland Cavaliers take the court at 7:30 p.m. tonight at Quicken Loans Arena in the NBA season opener it will be a matchup of the two favorites to represent the East in the NBA Finals. Cleveland and Boston were the top two seeds in the East last year as is, and some key summer pickups have bolstered both squads.
Cleveland has been installed as a 4.5-point favorite and the total rests around 185.5 at most offshore books. That total has been bet down from an open of 193.0.
The home team has absolutely dominated this series with the host winning 16 straight. Cleveland has been particularly overwhelming against the C's at home, winning 11 straight in the series by an average of 12.8 points per game with their last loss coming in 2004. As a result, the favorite has also been the money side when these two get together. The chalk is 7-3 against the spread in the last 10 meetings.
We'll see if the past trends hold firm considering that both of these teams made significant offseason additions to improve their rosters. Cleveland brought in Shaquille O'Neal in order to help LeBron James get over that championship hump while the Celtics signed Rasheed Wallace and Marquis Daniels to give them added depth, talent and experience. Add those big names to an already star-studded cast and we got ourselves a ballgame.
Both of these clubs enter the 2009-10 with the weight of tremendous expectations on them. For Cleveland, this is potentially LeBron's last season with the Cavaliers, as he will be a free agent next summer. Boston, just two years removed from winning their 17th world championship. And after a rash of injuries derailed their attempt to defend last season this year's fortified lineup, with several former All Stars on the back end of their careers, is ready to make a final push toward another ring.
Of course, both teams are smart enough to realize that the championship can't be won on Tuesday night. And while the Hype Machine can pump this game up as much as they'd like the reality is that this is just another wagering opportunity. And while there may be more eyeballs on it this situation isn't any bigger or better for a gambler than a Golden State-Toronto matchup in March.
For what it's worth, Boston finished the preseason at 6-2 with a plus-7.8 point differential. Cleveland was just 4-4 with a plus-2.6 differential.
Interestingly, these teams also met in their respective preseason finales last Wednesday night at Value City Arena on Ohio State's campus. Despite the "home court" and the fact that Boston didn't play Kevin Garnett, Ray Allen or Glen Davis, Boston dominated that game en route to a 96-82 victory. The Celtics shot 51.4 percent from the field and were 9-for-18 from three-point land and won by double digits despite getting outrebounded 38-28.
Adding a subplot to an already plot-rich game was a minor skirmish between the two teams in last Wednesday's meeting. Cleveland guard Mo Williams threw a shoulder into the chest of Boston forward Shelden Williams, setting off a minor hold-me-back-no-hold-me-back push-fest between the guys on the court. It's not as if this rivalry needed any more juice going into opening night, but I'm sure that minor altercation will be on a few people's minds heading into tonight's matchup.
Both teams managed to dodge any injuries to their marquee players this preseason. However, Boston didn't make it out of October unscathed. Glen "Big Baby" Davis injured his thumb and is expected to miss several months, if not the whole year. Allegedly the injury occurred in an altercation with a friend from Louisiana and had nothing to do with basketball.
Cleveland is not without its own off-court issues heading into Tuesday's opener. Cavs point guard Delonte West was reported for domestic violence over the weekend after an altercation with his wife. There hasn't been any word from the team as to what his status is on Tuesday or going forward. This is just the latest incident for the oft-troubled West. He was absent from several workouts this preseason while dealing with "personal problems" and legal issues related to a recent arrest on weapons charges. The Cavs are weak behind him at the point and the uncertainty surrounding his status - whether he plays or not - is just the type of distraction that this team doesn't need heading into a big game.
As far as value goes, I, personally think that Boston has the better team and that their offseason maneuvers have done more to make them a better club. That clearly makes those points seem enticing. As does the West issue rolled into the fact that Boston creamed the Cavs without two of their best players last week. I know it was only a preseason game, but it proved once again that the depth on Boston's squad trumps the Cleveland bench.
However, it's pretty foolish to ignore the recent domination by both the home teams and the favorites when these two get together. NBA teams in their home openers have been a solid wagering proposition in recent years. And just because I think that the C's long-term prospects might be better that doesn't necessarily mean that they are the play for this evening.
Regardless, it should be a great game and an excellent way to tip off another great season on the hardwood.
Robert Ferringo is a professional handicapper and he has gained nearly +300 Units over the past three college basketball seasons. You can purchase his basketball picks here.