Thursday Night Football Preview: No. 21 Nebraska at No. 24 Missouri
by Matt Severance - 10/6/2009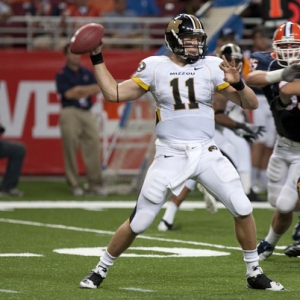 No team has handled the Nebraska Cornhuskers like the Missouri Tigers have in the past two seasons - a factor that Huskers coach Bo Pelini no doubt will remind his players of as a little extra motivation this week.
Last year, Mizzou scored 52 points and crushed Nebraska, 52-17. It was the most points the Tigers had scored against the Cornhuskers since 1943 and was the Huskers' most lopsided home loss in 53 years and fifth-worst in Lincoln in the program's 119-year history. And if you go back two seasons, Mizzou has outscored Nebraska 95-23 in the past two meetings. Yet the host Tigers are three-point dogs this week on BetUS.
This certainly appears to be a much better Nebraska team, one that should probably be 4-0 along with Missouri heading into this Big 12 opener. The Cornhuskers had Virginia Tech beaten at the Hokies' place but let the game get away late. However, Nebraska bounced back on Sept. 26 with a 55-0 win over Louisiana Lafayette for the program's first shutout since 2006. The Huskers are first in FBS in scoring defense (7.0), and their 28 points allowed are their fewest yielded through four games since 1990. But they also have played a cupcake schedule outside of Virginia Tech.
Tigers QB Blaine Gabbert has been spectacular in place of the departed Chase Daniel, with Gabbert leading the Big 12 in passing efficiency and the nation in second-half efficiency. He already has thrown seven touchdown passes of 25 yards or more and hasn't thrown a pick. (By the way, Gabbert committed to Nebraska his senior year of high school. Then Bill Callahan was fired and Gabbert changed his mind, becoming the first five-star quarterback to choose Missouri.)
Pass defense has been the main problem on the Nebraska defense for the past few years, and it was mainly responsible for the loss to Virginia Tech. The Huskers should have success stopping the Missouri running game, which is averaging just 3.8 yards per carry -- down almost a yard and a half from last season. NU has allowed an average of just 85.8 rushing yards in its past eight games.
Nebraska hasn't won in Missouri since 2001. The winner of this matchup has been the North representative in the Big 12 title each of the past three seasons. And the Huskers do well in league openers, winning 32 of their 34 conference-opening games since 1975. The only blemishes were a 2002 setback to Iowa State and last year's Missouri victory.
This also is one of those series that usually favors one team in a big way. In the past 10 meetings, none of the matchups have been decided by single digits. The closest game in that stretch is a 24-13 Nebraska victory in 2002. Overall, Nebraska has dropped 10 straight games against ranked opponents.
The public doesn't seem to care, with about 65 percent of the lean on the Huskers as of this writing.