NFL Survivor Pool Picks: Week 1
by Matt Severance - 9/9/2009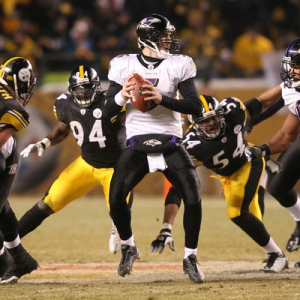 Hello readers, we are back this year with our weekly NFL Survivor Pool advice. If you are reading this, I am going to assume you know what a Survivor Pool is, but if not check out some archived stories here on Doc's for tips on how to run one, basic rules, etc.
Last year was not great with my picks, as I was knocked out in Week 6 thanks to the Redskins gagging at home to the Rams. I thought of coming up with more unique ways of doling my advice this year, but I am confident in my abilities to bounce back and at least make it to double-digits this season.
So in the spirit of clichés, I will give you a list of teams to swear by and some to be scared by each week - notice I didn't say swear at, but by! Obviously the swear teams I believe you should play, while the sell teams have too much risk for one reason or another.
As usual, the worst thing you can do is try and plan out your season ahead of time. Just focus on the week at hand. Tom Brady taught us that last year. And try to steer clear of road teams and rivalry games.
Welcome back NFL! Here we go:
TEAMS TO SWEAR BY IN WEEK 1
New Orleans Saints - This is my top choice for the week. How can you not pick the host Saints, who are the biggest favorites on the board this week against Detroit? New Orleans beat the Lions up, 42-7, in Detroit in Week 16 last year. Now, I actually think the Lions might cover here, as they will be better in 2009. And the Saints not likely having starting running back Pierre Thomas this week bothers me slightly. But there's no way the Saints lose in Week 1 to a team on a 17-game losing streak. My only argument against this, if you want to risk it: A huge chunk of your league is also going to jump on this game, so an upset could have you sitting pretty right away if you stay away and New Orleans goes down.
Baltimore Ravens - The visiting Kansas City Chiefs have been pretty bad this preseason, not that that means a whole lot. But they just fired their offensive coordinator, and how healthy will QB Matt Cassel be after injuring his knee a few weeks ago? It's still not a sure thing he plays, although he has been back at practice this week.
Houston Texans - The visiting New York Jets are without arguably their two best defensive players, Shaun Ellis and Calvin Pace, for the opener. Maybe I am a sucker, but I'm a huge Texans guy this year. However, stay far, far away from this game if Texans QB Matt Schaub doesn't play. His status is still officially "day-to-day," and backup Rex Grossman scares me to death.
TEAMS TO BE SCARED BY IN WEEK 1
New England Patriots - This would be the top team to stay away from. Yes, the Pats have owned the Buffalo Bills in recent years, to the tune of 11 straight wins, and are at home. But of all those people who don't take the Saints in Week 1, many will jump on this one. It seems like that trade of Richard Seymour has upset team chemistry a bit in New England. And I could see Buffalo's Terrell Owens having a big game on the big stage - it may be one of the last times he has it. Marshawn Lynch is out for Buffalo, but Fred Jackson is a more than capable backup. Even with the Bills dumping their offensive coordinator recently as well, this one I believe will be close. And it's not like you won't be using the Patriots later!
Minnesota Vikings - I don't know why, but this one feels like it has upset written all over it. Is Brett Favre really ready after so little time with the team? And maybe the fact that the Browns are hiding their starting QB choice gives them a little advantage in preparation. Cleveland is always a tough place to play, as well.
San Diego Chargers - I know, I know, the Bolts have won 11 straight games against the Oakland Raiders. But this one is in Northern California, and the Raiders are 15-4 all-time at home on Monday Night Football. In addition, Oakland has won five of the six times they have opened against San Diego. Will the Raiders have Richard Seymour to deal with LaDainian Tomlinson and Co., however?
So the pick for this week is New Orleans. Happy betting, and see you in Week 2 (unless all my swear teams lose, then I'm probably fired from this assignment!)