NFL Survivor Pool Picks: Week 15
by Matt Severance - 12/16/2009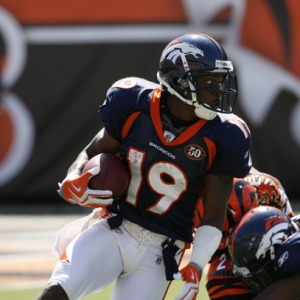 Have you cashed in yet? It's somewhat rare that Survivor Pools drag on to Week 15, but it of course depends on how many players you began with. If you have been following my advice and taking my top pick each week, you are still going.
Last week I recommended the Titans, which just goes to show how bottom of the barrel we are in terms of teams remaining. And Tennessee took care of business against the sad Rams, but that has to be the first time I have chosen a below .500 team this late in a Survivor Pool competition.
I am thinking that the Cleveland Browns' upset of Pittsburgh last Thursday night knocked a few competitors out of your Survivor Pool, and maybe the 49ers upsetting the Cardinals on Monday night. But it was another one of those chalk weeks.
Not a lot to choose from on the table, but here we go -- only the first choice will be a team I haven't used.
FIVE TO SWEAR BY IN WEEK 15
Denver Broncos (vs. Oakland). I believe earlier in the season I said I would never be using Denver this year. Well, the Broncos are clearly the best team of what I have left. Seriously, I can't even really give you a reason not to take them even though I am not super confident here. Correll Buckhalter is hurt for Denver, and Knowshon Moreno is banged up too. And if Denver can't run it is in trouble. But in Week 3's 23-3 win over Oakland, the Broncos had one of their best rushing days of the year with 215 yards on 45 carries. I am also liking the fact that the Raiders won't have QB Bruce Gradkowski and Charlie Frye will start in his place.
Arizona Cardinals (at Detroit). I've used Arizona, but the Cards seem a lock to win in Motown because the Lions are for sure without No. 1 RB Kevin Smith and likely without starting QB Matthew Stafford. Stafford's backup, Daunte Culpepper, hasn't won a game as a starter in years (0-8 with Detroit). There is a slight concern with Cards coming off the short week and the knee injury to Larry Fitzgerald, but Kurt Warner loves playing in domes.
Houston Texans (at St. Louis). I'm just reaching at this point, but the Rams have been good to me as an opponent all season. St. Louis RB Steven Jackson is a stud, but he will be running behind two new starting guards this week. And some guy named Keith Null starts at QB for St. Louis.
Baltimore Ravens (vs. Chicago). I'm a Chicago fan … or at least I was. That offense is pathetic, so I can't see it doing much against a very good Baltimore defense. Plus this game means everything to the Ravens in terms of fighting for the playoffs and nothing for eliminated Chicago.
Seattle Seahawks (vs. Tampa Bay). It's the second-longest cross-country trip in the NFL for the Bucs (only Miami to Seattle being worse), and Tampa Bay QB Josh Freeman has started to look like a rookie. Plus it will be typical Pacific Northwest weather - cold and rainy - which favors the home team. What can I say, it's a dog game and not very many good options this week.
FIVE TO BE SCARED BY IN WEEK 15
This late in the Survivor Pool, you should never play what would be a consensus play. I'm not necessarily saying there are any of those this week, but if you steer clear of them you stay alive and quite possibly win if there's a big upset.
Indianapolis Colts (at Jacksonville): I'm not saying the Colts "want" to lose a game, I'm saying they don't care if they go 16-0. This is easily their biggest test remaining, and it's a very short week, which favors the team not traveling. Plus it's a rare sellout this year in Jacksonville, and most of the Jags' injured players (John Henderson, Rashean Mathis) are likely back in this must win.
New Orleans Saints (vs. Dallas): If the Cowboys don't have DeMarcus Ware, I don't think they have a chance. But I also think the Dallas offense is one of the rare ones than can almost keep up here. Of course, I thought that of the Patriots too.
Minnesota Vikings (at Carolina): Only because it's a road game and outdoors. It's supposed to be pretty chilly on Sunday night, although that shouldn't bother Brett Favre too much.
Philadelphia Eagles (vs. 49ers): You no doubt saw what that very good Niner defense did to another high-flying offense on Monday night. Plus Philly will be without second-leading receiver Jeremy Maclin.
Green Bay Packers (at Steelers): Obviously the Steelers are dead in the water this year, but I keep expecting them to show some pride and at least finish the season strong. The Packers also have five turnovers their past two games and are the league's most-penalized team. I would just never risk any Suicide Pool on winning in Pittsburgh.
To recap, I recommend the Denver Broncos as your top choice this week. That means off the board for me are the Broncos, Titans, Bengals, Cowboys, Cardinals, Vikings, Patriots, Chargers, Colts, Steelers, Eagles, Texans, Redskins, Ravens and Saints.
Good luck.